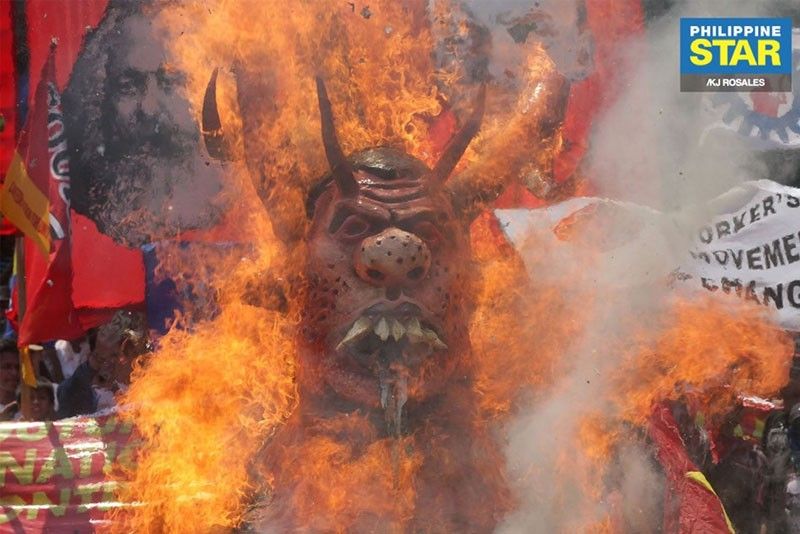 "The PNP finds the peace and order situation nationwide to be generally peaceful and orderly," PNP spokesman Col. Bernard Banac said in a statement.
Workers mark Labor Day with protests
Rey Galupo
(The Philippine Star) - May 2, 2019 - 12:00am
MANILA, Philippines — Thousands of workers yesterday marched to Liwasang Bonifacio and later to Chino Roces (formerly Mendiola) Bridge near Malacañang in Manila and demanded a wage increase, job security and an end to contractualization that the Duterte administration had promised.
More than 8,000 policemen from the National Capital Region Police Office (NCRPO) were deployed in Metro Manila to secure the Labor Day protests that ended peacefully, except for the litter left behind by the workers and ashes of the effigy of President Duterte that was burned at the Chino Roces Bridge past 1 p.m.
NCRPO chief Maj. Gen. Guillermo Eleazar visited his troops manning the bridge hours before the bulk of rallyists arrived in the afternoon and ordered them to exercise maximum tolerance.
"We are not the enemies of the rallyists. I assure that the NCRPO is always ready to secure the public from any eventuality as well as guarantee that your police force will deal with those who will conduct rallies with maximum tolerance and outmost respect for human rights," Eleazar said.
The marchers led by the Kilusang Mayo Uno (KMU) and Unyon ng mga Manggagawa sa Agrikultura called on their fellow workers to push for a P750 national minimum wage, an end to all forms of contractualization and guarantee that they are safe in their places of work, especially during calamities.
"Millions of agri-workers in haciendas and plantations growing export crops, such as sugarcane, oil palm, bananas, pineapple and tobacco, are one of the most exploited sectors… They are the productive force behind the country's export economy but they lack benefits, endure low wages and hazardous working conditions," said Anakpawis party-list Rep. Ariel Casilao.
He said the oppressive conditions and exploitative practices by big companies are among the reasons why the workers should organize themselves into unions so they can assert their legitimate rights.
PNP spokesman Col. Bernard Banac there were no untoward incidents that marred rallies by members of militant groups in Metro Manila and other parts of the country.
"The PNP finds the peace and order situation nationwide to be generally peaceful and orderly," he said in a statement.
Banac lauded the protesters for conducting their activities in a peaceful manner.
PNP chief Gen. Oscar Albayalde paid tribute to the workers whom he described as the lifeline of the country's economy.
He urged workers to remember the essence of Labor Day, which is the further growth of the country.
Bulk of the activities of labor groups were held in the National Capital Region where about 5,750 protesters joined mass actions in Manila.
Banac said about 1,435 demonstrators also held programs in the provinces of Cavite and Laguna. Mass actions attended by at least 150 people in Angeles City, Pampanga and 190 persons in Camarines Sur were also held. – With Emmanuel Tupas, Elizabeth Marcelo, Ramon Efren Lazaro