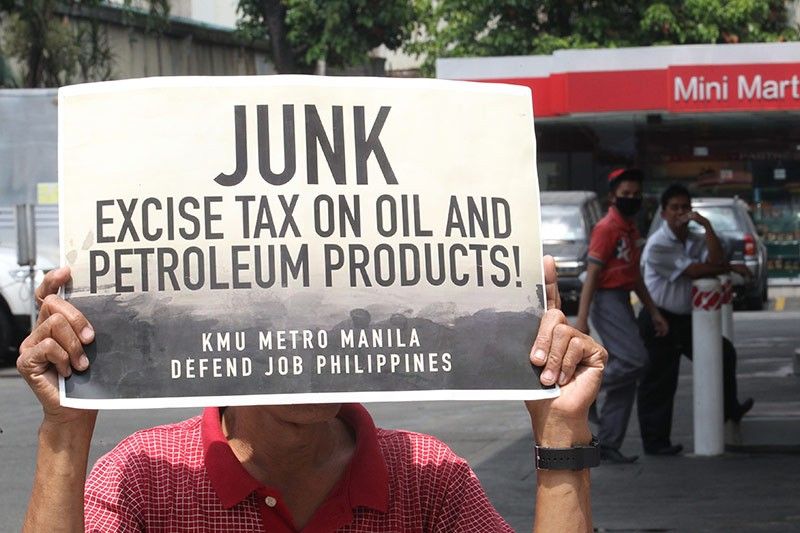 In this Feb 26, 2019 photo, Kilusang Mayo Uno members hold a protest at a gas station in Balintawak as oil companies implement another gas hike.
The STAR/Michael Varcas
Palace accuses KMU of scaring away foreign investors
MANILA, Philippines — Malacañang Wednesday accused militant labor group Kilusang Mayo Uno and their allies of conducting "anti-government" activities that scare away foreign investors.
Presidential spokesperson Salvador Panelo said KMU and its allied groups have been blaming the government for what they perceive as ills that plague the labor sector.
"The KMU criticizes the government for being anti-poor and anti-worker while blaming the government for the lack of jobs and alleged worsening labor conditions," Panelo said.
"What seems to escape them is the truth that their anti-government activities could scare away foreign investors in the country resulting in job losses to the people they are fighting for and vow to protect," he added.
Panelo said the militant groups seem to ignore the "pro-labor" initiatives of President Rodrigo Duterte, which resulted in him signing into laws beneficial to workers.
"The Filipino worker is the president's most valued resource as labor is one of the engines that will propel the country's growth and development," the presidential spokesman said.
"The Duterte administration has been in the forefront in improving the labor conditions of our workers," he added.
Panelo said among the pro-labor laws signed by the president are measures strengthening occupational safety and health standards, making work from home as an alternative work arrangement, increasing female workers' maternity leave period, and providing a handbook on the rights and responsibilities of migrant workers.
READ: Duterte signs work from home, higher pension for war veterans bills into law
He said the president has also signed executive orders increasing the employment compensation funeral benefits for employees in the public and private sectors, protecting the right to security of tenure of all workers, increasing employees' compensation benefits in the private sector and career's allowance in the public sector and granting of gratuity pay to job order and contract service workers in the government.
Panelo said the administration has also prioritized the welfare and concerns our overseas Filipino workers. He cited the creation of a one-stop service center for OFWs, a 24/7 OFW Command Center and an Overseas Filipino Bank. Bilateral labor agreements designed to improve the working conditions of OFWs were also signed with Cambodia, Saudi Arabia, United Arab Emirates and Kuwait.
READ: Duterte signs into law OFW Handbook bill
"The administration's resolve is the promotion and protection of the rights and welfare of Filipino workers not only in the country but in foreign soil as well. We are committed in creating jobs as we look forward to welcoming more Filipinos in the workforce," Panelo said.
Militant groups have been accusing Duterte of abandoning his campaign promise to prohibit labor contractualization or end of contract (endo). Duterte has issued an executive order implementing labor law provisions against illegal contracting but officials admit a law is needed to prohibit all forms of contractualization.
COMMENTARY: Should government enforce total ban on contractualization?
No public appearance for Duterte
While militant groups are protesting the problems hounding workers, Duterte chose to spend Labor Day in his hometown in Davao City.
Duterte did not have any public engagement Wednesday but the government's labor day programs and job fairs pushed through.
Panelo previously said Duterte had agreed to speak during a Labor Day event in San Fernando, Pampanga.