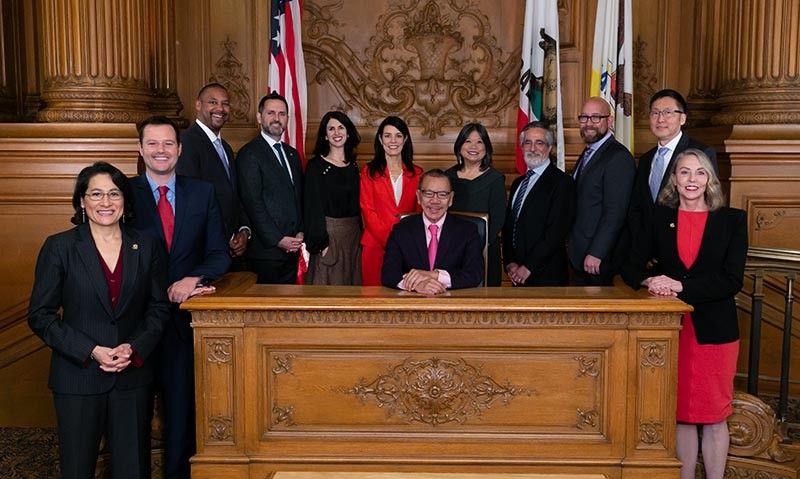 The Board of Supervisors is the legislative body of the City and County of San Francisco in California.
San Francisco Board of Supervisors website
Palace bristles at SF board's resolution on drug war
(Philstar.com) - April 28, 2019 - 10:52am
MANILA, Philippines — The Palace has condemned a non-binding resolution adopted by the Board of Supervisors of the City and County of San Francisco condemning the government's war on drugs as "an outrageous interference" in Philippine affairs.
The Board of Supervisors is San Francisco's legislative body. Its resolutions are "policy statements to express approval or disapproval" much like those passed by legislative bodies in the Philippines.
Palace disputes SF Board of Supervisors' move to condemn Duterte-led drug war in PH. "It is astonishingly incredible & amazingly perplexing why men & women of arts & letters such as the San Francisco's Board of Supervisors could believe the false narratives...

— christina mendez (@xtinamen) April 27, 2019
"The resolution is a toxic and unacceptable intrusion to our legal processes and an outrageous interference with our country's sovereignty," presidential spokesman Salvador Panelo is quoted as saying by The STAR.
"Like some US senators, the San Francicso supervisors have either developed an amnesia or have not outgrown their colonial mentality. They should be shaken from their stupor and wake up to the fact that the Philippines had long ceased to be a colony of the US and will never be a vassal to it," Panelo also said.
RELATED: Study: Gov't circulars on 'drug war' affect constitutional rights
The board resolved on April 23 to condemn the "war on drugs" that it said "has taken thousands of lives without due process" as well as to call on the US Department of Defense to "divest from the Duterte administration and the Philippine military and police.
The board also resolved to express support for similar resolutions at the US House of Representatives and Senate.
RELATED: US senators file resolution condemning 'ongoing human rights abuses' in the Philippines
"The San Francisco Board of Supervisors urges our San Francisco representatives Speaker Nancy Pelosi, US Senator Kamala Harris, US Senator
Feinstein, and Congress member Jackie Speier to support a congressional hearing on the consequences of US tax dollars going to the Philippine military and police and to champion cutting US military aid to the Duterte regime," it also said.
Aside from the deaths linked to the government's campaign against illegal drugs, the board also raised concerns over the continued detention of Sen. Leila De Lima and over cases filed against Rappler CEO Maria Ressa.
"More than 16 mayors and vice mayors have been killed since President Duterte took office, and Duterte has blatantly spoken in press conferences advocating for the
killing of Catholic bishops during a period when three Catholic priests were assassinated," the resolution also read.
Palace: Board misinformed
Panelo, in his statement, said that the members of the board, whom he described as "men and women of arts and letters" based their decision on "the false narratives as well as the bogus statistics cited in the Duterte Administration's drug war fed to them by biased news agencies, anti-Duterte trolls and a biased alleged labor and environmental activist from San Francisco and Richmond."
Although the board cites data from rights groups Human Rights Watch and Karapatan, it also said that "Philippine government agencies themselves report 4,948 suspected drug users and dealers including 60 children died during police operations from July 1, 2016, to September 30, 2018."
According to government data, there have been 5,176 "drug personalities" killed in anti-narctics operations as of January. The board did not state the source of the figure that 60 children had died in anti-drug operations.
Alamin ang tunay na numero tungo sa tunay na pagbabago.#RealNumbersPH pic.twitter.com/Oi5RITBKdn

— Radyo Pilipinas (@radyopilipinas1) February 28, 2019
"For the San Francisco supervisors' education, extrajudicial killings or deaths arising from drug-related killings are absolutely not state-initiated nor sponsored, proof of which is the death of scores of policemen coupled with the serious injuries to hundreds of others," Panelo said.
He pointed out that a Manila Police District cop has been dismissed and indicted for murder over the 2017 death of 23-year-old Djastin Lopez, who was shot while having an epileptic seizure.
Panelo said the conviction of three police officers for the murder of 17-year-old Kian delos Santos in Caloocan City also in 2017 "underscores the policy that this administration does not tolerate police abuse."
Duterte's pronouncements and remarks about shooting suspected criminals has been repeatedly explained by his supporters and spokespersons as hyperbole, expressions of frustration and part of his personality.
De Lima, Ressa cases
Panelo also said that the cases against De Lima, who is in detention on drug-related cases, and Ressa, who is facing a raft of cases including cyberlibel and tax evasion, were not filed because of criticism for the Duterte administration's policies.
"The cases of Senators De Lima, [Antonio IV] Trillanes and Miss Ressa, are being tried before our local courts, which belong to a separate and independent branch of the government," he also said. Trillanes was not mentioned in the board resolution.
"They have been afforded their rights to due process. Their criminal prosecution is anchored on their transgressions of our laws and it has absolutely nothing to do with their being critical of the administration," he said.
RELATED: Palace calls US senators' resolution on De Lima, Ressa 'unwanted intrusion' | Press groups: Ressa arrest is 'malice, manipulation of the law'
Rights and press freedom groups have said that the cases against De Lima and Ressa are part of the government's attempts to silence dissent, a n allegation that the government has vigorously denied.
Panelo said that "other harsher critics do not face any criminal complaint simply because they have not violated any law but just exercising their freedom of speech." He did not say who those "other harsher critics" were.
The Palace has routinely dismissed statements of concern from abroad as interference in domestic issues.
Panelo: Failing in convincing the majority of the Filipinos of their peddled falsities against the President, the few vociferous anti-Duterte personalities turn to foreign politicians or international human rights groups vulnerable to misinformation...

— christina mendez (@xtinamen) April 27, 2019
Panelo: ...and gullible to untruthful narrations against this Administration who then either unwittingly lend hand to - or ignorantly parrot - the detractors' pretended patriotism and politically motivated advocacy.

— christina mendez (@xtinamen) April 27, 2019
'SF has significant immigrant Filipino community'
In its resolution, the San Francisco board pointed out that the city and county are "home and continues to be the port of entry to a significant immigrant Filipino community with a population of 36,479 individuals many of whom continue to support family and maintain close ties with the Philippines."
It added that "many San Franciscans are either directly impacted or deeply concerned about the plight of those in the Philippines who are victims of the government's drug war and martial law in Mindanao."
The board also said that "the US government allocates money to the [Armed Forces of the Philippines] and [Philippine National Police] through appropriations for the Department of State, and Foreign Operations and Related Programs, and the current appropriations in the amount of $184.5 million go to the Philippine military." — with a report from The STAR/Christina Mendez