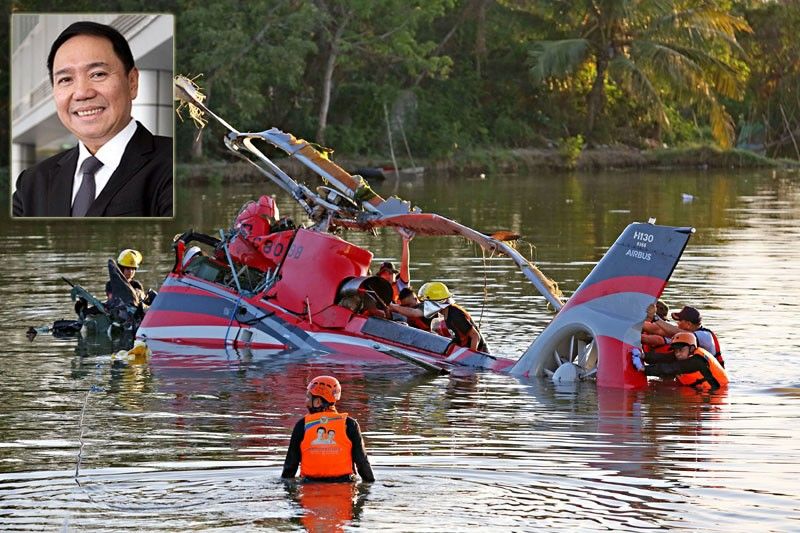 Bureau of Fire Protection members examine the wreckage of a private helicopter that crashed into a fishpond in Barangay Anilao, Malolos, Bulacan yesterday. Among those killed was prominent Pampanga businessman Levy Laus (inset).
Russell Palma
Pampanga businessman, 2 others killed in helicopter crash
MANILA, Philippines — Businessman Liberato "Levy" Laus and two other people were killed when their helicopter crashed into a fishpond in Malolos, Bulacan yesterday.
Authorities confirmed that Laus, chairman of Carworld Inc. and Central Luzon TV 36, was among the fatalities, along with pilot Everette Coronel and companion Wilfran Esteban.
The three victims succumbed to multiple injuries while being treated at the Bulacan Medical Center, officials said.
The Civil Aviation Authority of the Philippines (CAAP) said the helicopter was bound for San Fernando, Pampanga and crashed into a fishpond in Barangay Anilao, 19 minutes after it took off from the Ninoy Aquino International Airport's General Aviation Hangar.
CAAP director general Jim Sydiongco said a team of investigators from the Aircraft Accident Investigation and Inquiry Board (AAIIB) had been dispatched to the crash site.
Officials said the helicopter, with body number RP C8098, crashed at around 12:47 p.m. yesterday.
Initial reports said the helicopter was owned and piloted by Laus himself.?Laus, 68, was chairman of the Laus Group of Companies (LGC), a diversified conglomerate with automotive dealership as its core business.
According to the company's website, it is the largest multi-brand dealership network in the country with over 45 dealerships in Metro Manila, Central Luzon and Northern Luzon.
He was also co-publisher of Sun Star-Pampanga.
Laus served as president of the state-owned Clark Development Corp. from 2006 to 2008.
Laus was instrumental in saving San Fernando and other areas in Pampanga from being buried by lahar when Mount Pinatubo erupted in 1991.
Laus was able to organize a group, the Save San Fernando Movement, in bringing together government leaders, businessmen and other members of civil society to compel the government to build a protective dike and save the capital town from disaster.
"His untimely passing unfortunately came at a time when he was looking forward to greater things, not only for the LGC, but also for the whole province of Pampanga, especially his beloved city of San Fernando. ?"He unfailingly demonstrated the exceptional values in business, integrity and compassion in all his work. His enthusiasm, quick wit and endless charm will inspire and stay with us always. He will be remembered for his love of and dedication to the LGC as a group of companies, as a brand, as a family. He will be greatly missed," the LGC said in a statement. – With Rudy Santos, Emmanuel Tupas