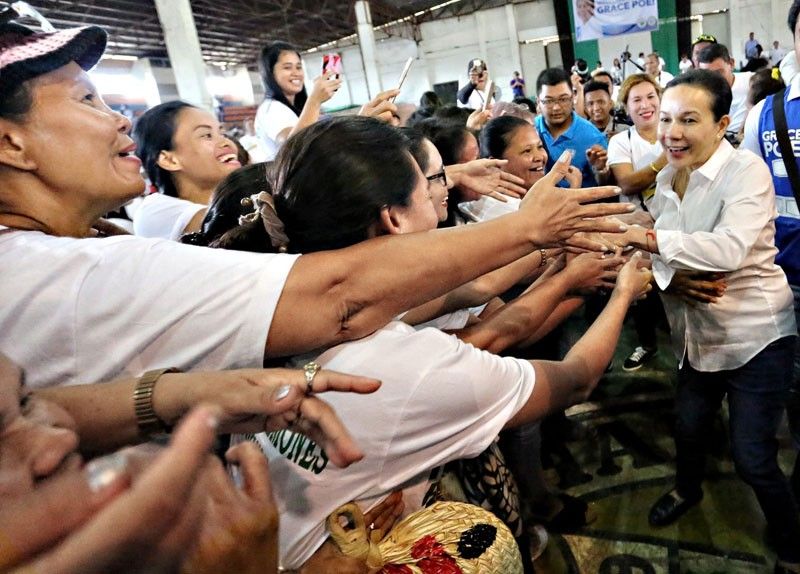 Poe: I am grateful for the trust of our countrymen. I am happy that we are leading in the surveys, but we must not be complacent.
File
MANILA, Philippines — The only child of two Philippine movie icons is working hard to stay number one.
Sen. Grace Poe, who according to the latest Pulse Asia survey "remains the topnotcher in the senatorial race" if elections were held during the survey period (March 23 to 27), isn't cooling her heels just yet in this blistering heat.
"I am grateful for the trust of our countrymen. I am happy that we are leading in the surveys, but we mustn't be complacent," says Grace, only child of the late Fernando Poe Jr. or FPJ and his wife Susan Roces.
Grace, in an exclusive interview with The STAR, said she believes a resounding vote for an independent candidate like her is good for democracy in the Philippines.
"The role of the Senate is to provide the necessary check and balance to the executive branch. In order to accomplish this, it is vital that the Senate remains independent. It is especially true with this current political environment. Since we have a strong and popular executive, and a House of Representatives that is dominated by pro-administration congressmen, we need an Upper House with senators who have the courage and the political will to vote according to their conscience," Grace, who is gunning for her third term, stressed.
In short, that is why she is still working so hard for a resounding vote.
"I support the initiatives of the administration when I feel they are good for the country. But I speak out against certain policies that I feel are not in the best interest of the people," she pointed out. "As a senator, I am proud to have authored more than 300 bills, more than 50 of which have become laws."
Despite the survey numbers, Grace prefaced her answer to my question on a second term with, "If God will give me a spot in the Senate…."
Given this "spot," she aspires "to pass laws that will ensure good governance and transparency in government."
"I will continue to push for laws that will benefit the people by addressing food security, providing better public services, advocating for more affordable telecommunication services, ensuring better internet connectivity and providing the right to freedom of information," she added.
The recent Easter Monday earthquake made her more determined to see the passage of a bill she filed for the creation of a Department on Disaster Resilience and Emergency Management.
"This is why I filed a bill which proposes the creation of a Department on Disaster Resilience and Emergency Management, which is envisioned to be the lead agency in disaster mitigation, disaster preparedness, emergency response and post-disaster rehabilitation projects," she stressed.
"We cannot keep doing things on an ad hoc basis and act only when a disaster strikes. We need to establish a more permanent body that will have command responsibility," adds this mother of three. "We also need to review our Building Code."
No regrets
Now a Golden Girl, Grace still draws inspiration from FPJ.
"My father is always a source of inspiration. Every time I go to the provinces I hear about all the people whose lives he had touched. I am in awe of how loved he still is after all these years. In all my actions, I am guided by this lesson from my father: Be fair to everyone and be kinder to people who have less in life."
Grace has no regrets about having run for president in 2016. She prefers to look back at the grueling 2016 presidential campaign as a privilege.
"It was a privilege to have shared my vision and platform and give Filipinos a choice. A silver lining to the many cases that were thrown against me is the landmark victory of my citizenship case. Foundlings were rightfully given a voice and recognition as natural born Filipino citizens."
She remembers buckling down to work again right after her loss to President Duterte.
During her last term, "I have championed the free lunch program law for public elementary school children and the First 1000 Days Act for the health of mothers and children. I'm also proud of having pushed for services that will make life better for our kababayans like free vaccines and vitamins for mothers and their newborns, and even the extension of passport and driver's license validity to 10 years and five years, respectively."
For Grace, being number one isn't an entitlement. It's the clarion call of duty.