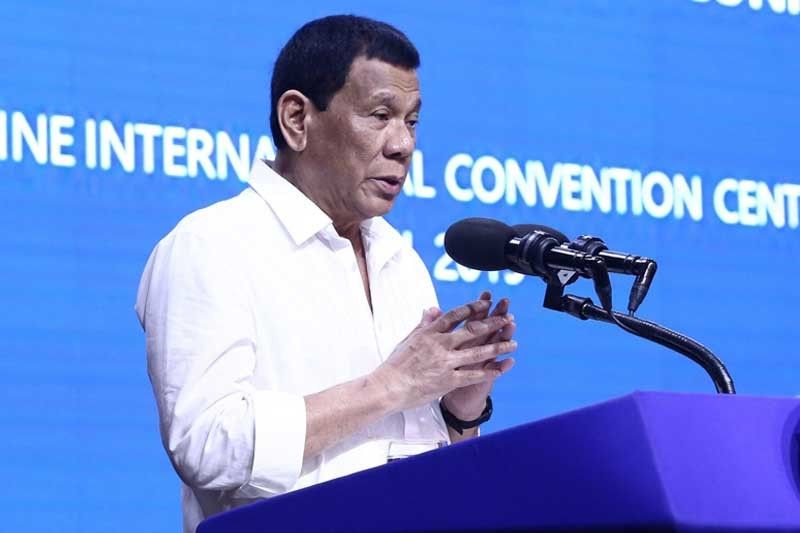 vention Center in Pasay City. "I'm 74 years old, I do not want to die of TB. I do not want to die of lung cancer," Duterte told attendees of the 7th Union Asia-Pacific Regional Conference the other day.
Duterte admits getting routine blood tests to monitor health
MANILA, Philippines — President Duterte has admitted getting routine blood tests to check on his health during a conference of doctors at the Philippine International Convention Center in Pasay City.
"I'm 74 years old, I do not want to die of TB. I do not want to die of lung cancer," Duterte told attendees of the 7th Union Asia-Pacific Regional Conference the other day.
The President revealed he has been getting regular blood tests as part of his routine checkup, including the monitoring of his Buerger's disease. He was earlier diagnosed to have the disease because of heavy smoking in his younger days.
"As a matter of fact, I acquired Buerger's disease from smoking. That is why my doctor is here. She gets my blood. Was it... Ah, see? Almost every other day," he said, calling out to his physician who was among the participants.
Duterte then joked about losing blood due to the extractions.
"And I said, 'Doctor, leave me some… to survive and this is just a week... It's about Buerger's disease. But I have stopped smoking," he added.
The President had ordered a crackdown on public smoking since he was mayor of Davao City. When he became President, he ordered a nationwide campaign against smoking, where smokers can only light up in designated areas to protect non-smokers from disease.
"I became mayor in Davao City, I stopped smoking and said it cannot be done, because Filipinos, you know, blah, blah, blah," he said.
Sometime last year, Duterte had a health scare after he underwent endoscopy. In September, he revealed the findings which showed that he was negative for cancer.
The President also admitted that his colon has been "badly eroded" after years of drinking.
"If you mean was I found positive of cancer? No, it's not the colon. It's my Barrett's (esophagus). It's badly eroded because I was told to stop drinking years ago," Duterte said.
"As of late, I went back to the habit. I don't know for one reason or another, I just like to drink, brandy. Now, actually, before I sleep, even if I'm alone, nag-three shots ako bago matulog (I have three shots before I sleep)," he said.
"Hindi naman ako (I'm not) cancerous so don't be afraid to come near me," he quipped.
'Sartorial insanity'
If people do not understand his demeanor, Duterte has taken pains to explain that all his cussing and lack of statesmanship were part of his "sartorial insanity."
Duterte said his expletives are just a form of expression, a habit he has been used to even while he was still busy running Davao City as mayor for 23 years.
"But I have been in this kind of characterization of my sartorial insanity and I just don't follow rules," said a more "behaved" Duterte, speaking about how he uses street language even after he became President in 2016.
Duterte took potshots at critics for hitting his leadership style and his use of foul language during public engagements. He noted that bad words are used even in Netflix movies.
"And the rich language abounds in (Netflix). I counted one movie with the word "F" and they – in one movie I purposely did the listing. They said it 400 times in a one-hour-45-minute movie," he said.
"And besides, I was not schooled in statesmanship. There is no course of that kind in the Philippines. Otherwise, I would have enrolled (in) it and improve on my demeanor," he added.
The Chief Executive is aware that some have noticed the way he wore his barong – with folded sleeves even during formal events. He is also known for wearing his tie loose when he dons a coat.
"But I said I've been mayor and I seemed to – they do not like my barong folded this way because it's a national attire," he said.
Dealing with TB
During the event, Duterte said that tuberculosis and other respiratory diseases need to be cured. He described TB as a disease that would need "a lot of care, antibiotics, periodic injections" and require a lot of money.
It is crucial for health workers to find a way to get their services to the poorest people and those who are in mountain areas, according to the President.
"They are the ones who need it most. They are the ones who live in squalor, in blighted areas. No nutrition and very susceptible to bacteria and virus," he said.
"The health workers have to penetrate the mountains and areas where I said plight of squalor abounds," he added.
Duterte also underscored the role of health workers in dealing with diseases, especially in the countryside. He noted that health workers "do their work with a little bit of patriotism" to reach out to the intended beneficiaries. – With Sheila Crisostomo