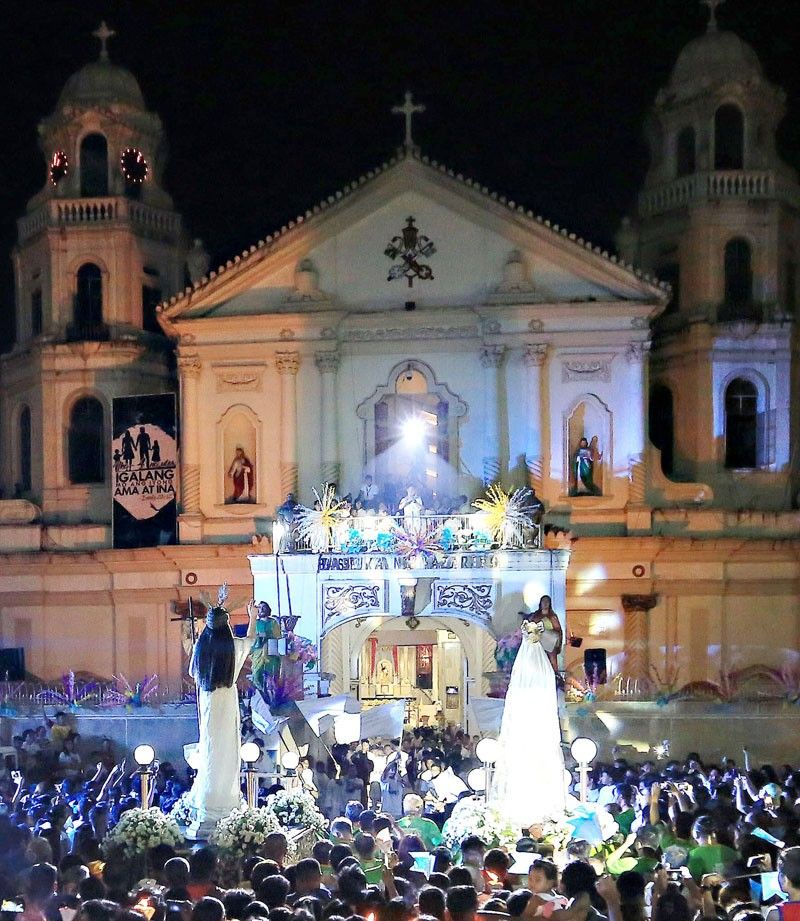 Devotees attend the traditional salubong to celebrate Easter Sunday at the Minor Basilica of Black Nazarene in Quiapo, Manila yesterday.
Edd Gumban
Duterte: Choose what is good
MANILA, Philippines — President Duterte has urged Filipinos to "choose what is good" to do their part in nation-building as the midterm election nears.
In his Easter message, Duterte said the "triumphant" day of Christ's resurrection is an "occasion of hope and inspiration" for Filipinos who commemorated Jesus' sacrifice on the cross and how He restored humanity to the fullness of life.
"May this time of new beginnings inspire us to always choose what is good and uplifting," the President said.
"I trust that this season of Easter will be a blessed time for us to rekindle our shared commitment in nation-building, especially in the upcoming midterm elections," he added.
Duterte also expressed hope that the election would become "an exercise of integrity" that would reflect the true will of the people.
"It is my hope that the evil caused by the societal ills we are confronting today will be swept away by our strong faith in the Almighty," he said.
Duterte also called on Filipinos to strive to be "instruments of peace" in their families and communities and "to foster greater harmony and understanding wherever and whenever it is most needed."
Easter, the most important Christian holiday, celebrates Jesus Christ's resurrection from the dead, three days after He was crucified.
It was Duterte's first Easter message since he made his controversial "stupid God" comment. In June, the President was widely criticized for saying that God must have been stupid for letting temptation tarnish his work.
Officials have claimed Duterte's comment was meant to criticize the wrongdoings of some members of the clergy, including their sexual abuses. They have also argued that the Chief Executive also has the right to freedom of expression.
Duterte has been at odds with some Catholic bishops who criticize his war on illegal drugs, which has left more than 5,000 drug suspects dead based on police data.
Chance to correct mistakes
Vice President Leni Robredo yesterday urged Filipinos to take the opportunity to "correct their mistakes" and improve themselves in her message on Easter Sunday.
"Let us remember, we each have the ability and opportunity to change and improve ourselves not just for our own interest but for the welfare of our fellowmen and our beloved country," Robredo said in Filipino.
The Vice President said Easter should remind Filipinos not to lose hope despite the challenges they face.
"No matter what we have been going through, may Christ serve as an inspiration to all of us to continue our journey. Let us not be discouraged to start anew," she said.
Robredo also called on Filipinos to remember those who fought for freedom in the face of threats to democracy.
"At a time when there seems a lot of threats to our democracy and rights, may Christ's strength and sacrifice light our paths to stand up and defend our freedom," she said.
"May this day also serve as a reminder to us that in the end, despite the darkness and the difficulties, goodness and love will prevail," she added.
The opposition leader has repeatedly warned against threats to freedom and democracy under Duterte's administration.
Meanwhile, senators called on Filipinos to be more courageous and contribute to bring positive change as the nation celebrated Easter Sunday yesterday. – Helen Flores, Paolo Romero