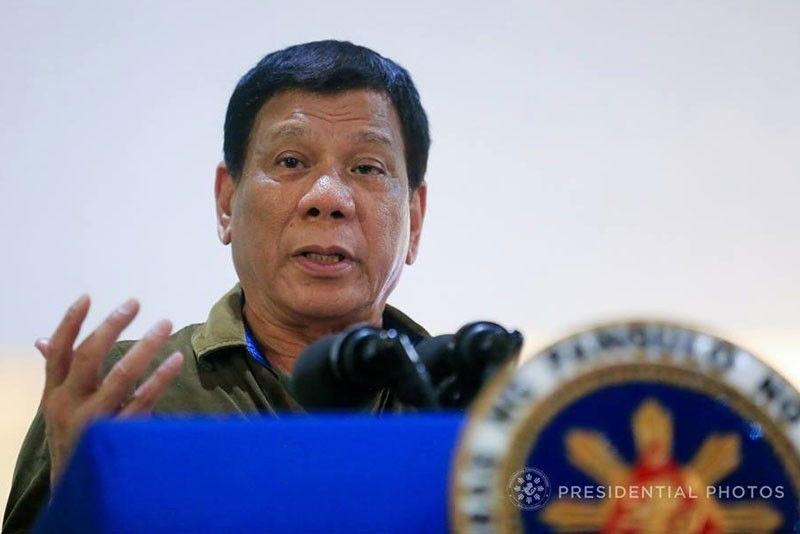 President Duterte expressed his displeasure that the drug menace has not been addressed in the two vote-rich provinces.
Duterte flags Batangas, Lucena in drug map
MANILA, Philippines — President Duterte has put Batangas and Lucena in the drug alarm list, noting how rampant the illegal drug trade is in the Southern Tagalog region, which has grown to become a multibillion-peso industry during the present administration.
"Apparently, Lucena and Batangas right now appear to be with red flags in the map in the drug scene," he said at the campaign rally of Partido Demokratiko Pilipino-Lakas ng Bayan (PDP-Laban) in Batangas City last Wednesday.
Duterte expressed his displeasure that the drug menace has not been addressed in the two vote-rich provinces.
"Talagang sabi ko, pupunta ako ng (I really said I will come to) Batangas. Please do not be offended. Tutal para sa bayan man 'to at wala ho akong tinutukoy na tao dito (This is for the country and I am not referring to any person). I talk on general terms," the President said.
Duterte warned anew that the administration's drug campaign would remain relentless, short of saying it would be bloody.
He took offense that many residents of Batangas and Lucena have adopted a nonchalant attitude on the drug menace.
Despite his head-on campaign, Duterte lamented how the drug problem in the country has worsened compared to the time of his predecessors.
He noted that the country's long shorelines make the country more vulnerable to the illegal drug problem.
"Iilan lang ang nahuhuli noon? Ilan lang? Buy-bust, dalawa, tatlo, apat. Panahon ni Aquino, ganoon rin (How many were caught then? Two, three, four. During Aquino's time it was the same). Well, 100,000 then by the millions," he said, referring to the administration of former president Benigno Aquino III.
It was during his term when the drug operations have reached billions.
"Panahon ko, billion na ang pasok. Kaya ginagawa ko man lahat, ganun pa rin. Billion na. At ang drugs, right and left, hinuhulog sa dagat (In my time, billons come in. I'm doing everything I can, it's still the same. Billions. Drugs, right and left, being dropped in the seas)," he said.
He also underscored that fighting illegal drugs today is a gargantuan task due to the increasing international drug cartels from Latin America and Asia.
"Klase-klase 'yan...mga Thai...lahat na...China. Not the country but the citizens. 'Yung mga gangster nila. Kaya hirap tayo (Their gangsters, that's why we're having a hard time)," he said.
Duterte then warned local officials, especially around 44,000 barangay captains involved in illegal drugs, that his government would be relentless in its anti-drug campaign.
"Maaabutan ko rin. Maniwala ka, maabutan ko rin kayo. May three years pa ako. Ubusin ko talaga kayong lahat para wala ng problema 'yung next generation. Prangka-prangka tayo (I will get you believe me. I still have three years. I will finish all of you so the next generation won't have this problem. Let's be frank)," he said.
Duterte said people may not find him a very important President but as long as he is an employee of the national government his job is to protect the people and preserve his country.
"Huwag sa panahon ko na masira, huwag sa panahon ko (Not during my term). Do not do it because I will not, human rights sabihin nyo, p*** ina mo, papatayin ko, pati kayo kasali (don't talk of human rights… I will kill you too)," he said.
He cited the case of the late Ozamiz City mayor Reynaldo Parohinog who was killed in a drug raid last year.
Duterte also mentioned former Iloilo Mayor Jed Mabilog, who he has repeatedly linked to the narcotics trade and who has since left the country.
"Pakulong mo ako? Patayin mo ako? Pag nabuhay ako katayin kita. Kainin pa kita (You will jail me? Kill me? If I live I will kill you, I will even eat you)," he added.
Duterte again lashed out at the Philippine Center for Investigative Journalism and Rappler, saying he will soon reveal the funders of agencies behind the investigative report on his family's wealth.
He said the investigative journalists are all paid, and that they would not be able to make a living on writing alone. – With Arnell Ozaeta