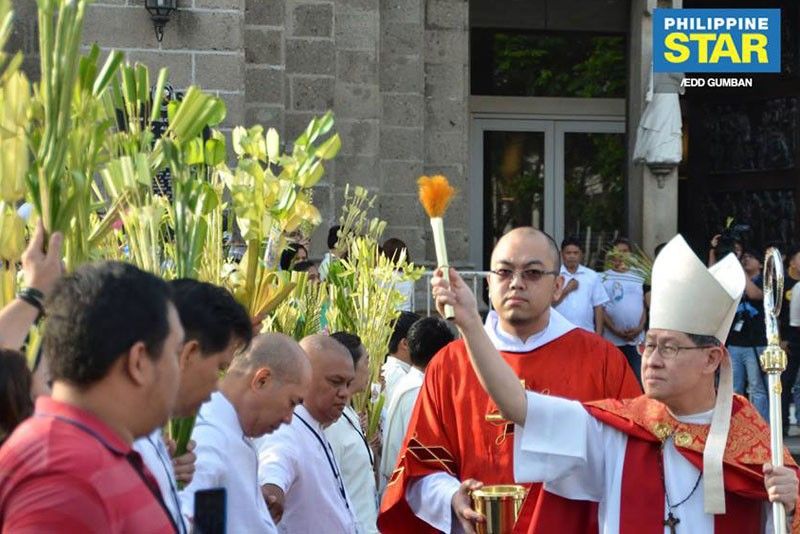 "If we look more carefully, more intently at people and situations, it is then that we see love revealing itself," Cardinal Tagle said.
Cardinal Tagle preaches lifestyle of love
MANILA, Philippines — Manila Archbishop Luis Antonio Cardinal Tagle reminded the Catholic faithful not to despair because sometimes it is during the darkest moments in life that love reveals itself.
In his Easter Sunday message "Where is Love?" released yesterday, Tagle cited the experience of Jesus Christ, when there were still persons who showed their love for him in his darkest hour.
"Sometimes we find ourselves in a dark place, like Jesus on the cross, and our lives can seem loveless. When hunger, unemployment, addiction, indignities, abuse, hate speech, false accusations, killing, corruption, human trafficking run wild and seem to reign, our world appears dark," Tagle said.
"But if we look more carefully, more intently at people and situations, it is then that we see love revealing itself," he added.
Among the moments of love, Tagle said, were when the Blessed Virgin Mary bravely stood at the foot of the cross.
There was also the good thief who asked Jesus to remember him when he enters his kingdom.
Joseph of Arimathea overcame his fear and asked Pontius Pilate for Christ's body; the Roman governor Pontius Pilate saw the injustice of the situation and wanted to release Jesus.
"What these actions have in common is that they seem insignificant, especially if you compare them to the violence of the crucifixion and all that had gone before it. What difference can one act of kindness make in the face of unrelenting evil? It can make all the difference in ways we can't even imagine because these small acts of care and love are crowned by the total self-giving of Christ crucified on the cross," Tagle said.
The Manila archbishop said following the example of Christ who tended to the poor and healed the sick, "our faith has been built on personal encounters and on people who empty themselves, enabling them to see people and their situations with deep understanding, compassion and solidarity."
Being Christians, the prelate added, means humbly walking with others without judgment or pretension of having the answer to all their problems.
"It is through these encounters of love and caring that persons, families and communities are transformed from prisoners of despair into bearers of hope," Tagle said.
"Love is not just a word, it is lifestyle of seeing, encountering and understanding other people. It is the lifestyle of Jesus, crucified and risen. It is the lifestyle of being with and living for others in the belief that light will always overcome darkness," Tagle added.
Catholic Bishops' Conference of the Philippines-Public Affairs Committee executive secretary Fr. Jerome Secillano said despite the difficulties and challenges that people experience in their lives they should not give up and instead draw inspiration and hope from Christ's resurrection.
"No matter how difficult our circumstances in life, we should not give up. The painful and bloody moment of crucifixion is not the end for Christ; there is the empty tomb signifying his glory," he said.
"The resurrection of Christ offers us hope. When human capacity cannot anymore accomplish things or overcome the odds, be brave and be confident. Let us turn to the risen Lord and allow him to make things happen for us. Hope tells us not to put a limit to what God can do," Secillano added.
Meanwhile, the Philippine National Police (PNP) has reassured Church leaders of protection amid the continuing threats to their lives.
PNP spokesman Col. Bernard Banac said they are not discounting the threats against Church leaders, taking these incidents "very seriously."
Banac also said they have yet to establish why Catholic clerics are being targeted with threats.
"At this time, we haven't established possible motive or any reason why Church leaders and priests are being subjected to threats. Just the same, we will not be complacent. Any report or threat on the lives of our priests, we take it very seriously," he said in an interview over Cignal TV One News' The Chiefs.
The police official told Church leaders that the PNP is ready to provide security and protection to priests following validation of the threats.
President Duterte has repeatedly criticized the vocal Catholic clergy who oppose the administration's war on narcotics.
Banac said the President's pronouncements cannot be linked to the threats made against the clergy.
"As of this time, there has been no incident connecting the statements of the President (to the threats against priests). In fact the President gave assurance to Church leaders that he would be the one the criminals would be up against if they do that," Banac added. – With Romina Cabrera