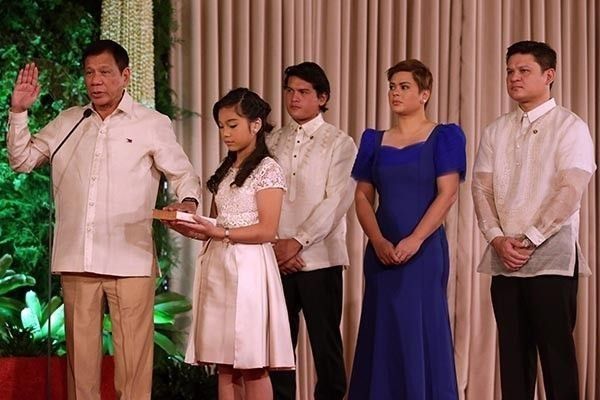 A PCIJ report showed the incomes of Duterte and his children – Davao City Mayor Sara Duterte and former vice mayor Paolo Duterte – rose significantly while they were in office.
File
Duterte slams media over report on wealth: Bayad 'yan lahat, mga pulubi kayo
(Philstar.com) - April 18, 2019 - 2:33pm
MANILA, Philippines — President Rodrigo Duterte on Wednesday slammed the media following the release of an investigative report on his family's wealth, claiming without proof that journalists are mendicants who are paid to write stories to discredit his family.
A Philippine Center for Investigative Journalism report showed the incomes of Duterte and his children – Davao City Mayor Sara Duterte and former vice mayor Paolo Duterte – rose significantly while they were in office.
The PCIJ report was based on the Dutertes' Statements of Assets Liabilities and Net Worth, a requirement for government workers and that are public documents.
Duterte, Sara and Paolo have "consistently grown richer over the years" despite the modest salaries they received for holding various government posts and the "negligible" retained earnings from the companies they own or co-own, award-winning news organization reported.
In a speech in Batangas City, Duterte called PCIJ journalists paid hacks and urged the public not to believe in the group's report on his family's earnings.
He then said he would release evidence that reporters receive money to write negative reports about his family.
"Bayad 'yan lahat. Kasi itong mga p***** i**** 'to, kung ang negosyo lang nila magsulat-sulat lang, mga pulubi kayo sa totoo lang. Hindi kayo makabili ng mga kotse, mga ganun. P*** mapupunta pa kayo doon sa mga — kay Belo nagpaganda. Saan niyo kunan ng pera? Milyonaryo kayo?" Duterte said.
(They're all paid. Because these sons of bitches, their only business is to write — all of you are beggars to be honest. All of you can't even buy a car or go to Belo for cosmetics procedures. Where do you get your money? Are you all millionaires?)
"Hindi kayo makabili ng deodorant ninyo... Ang babaho talaga ninyo. 'Yang Philippine Investigative, ilabas ko. May ilabas ako. Maybe this week. Puro bayad 'yan. Anak ng p*** puro pera-pera 'yan sila. Maniwala kayo. I'll show you how," he added.
(All of you can't even buy deodorant... You all stink. That Philippine Investigative, I will release something maybe this week. They're all paid hacks. Sons of bitches they are all about the money. Believe me. I'll show you.)
PCIJ has denied that its report was funded by the opposition and has pointed out that it has reported about the wealth of previous presidents.
The news organization said it would have been better had Duterte and his children granted its request for comments and sit-down interviews before the story ran.
RELATED: PCIJ twits Panelo on 'selective recall' on requests for comment
The PCIJ also reported that Duterte formed the Fabiosa, Duterte, Cimafranca, Carcedo Law Firm but the firm never appeared in any of his SALNs.
The report also said that the Carpio & Duterte Lawyers entity, which has presidential daughter and Davao City mayor Sara and husband Manases Carpio as partners, was created over 10 years ago but has not registered with the Securities and Exchange Commission.
It is common for subjects of unflattering articles to dismiss these as biased, or as "fake news" but is true that many journalists have issues with salaries and benefits and in their working conditions.
'Paid-for' coverage
In "Philippines: How media corruption nourishes old systems of bias and control" on the website of the Ethical Journalism Network, Center for Media Freedom and Responsibility executive director Melinda Quintos de Jesus writes that paid-for content has been around since as early as the 1970s when there was a call for journalism to aid development.
"The practice saw the wholesale and institutional re-purposing of journalism as a vehicle for state propaganda. This also encouraged and institutionalized the practice of cash incentives or gifts given to journalists to secure favorable coverage.
The conflict of interest is obvious: a journalist who takes bribes is reporting for his personal gain. A reporter then can slant the story to favor a subject who has paid or promised payment and shares the reward with other editors."
She also writes: "The practice cannot be excused because of low salaries: even those who are well paid succumb to bribery. The overall lack of transparency is sinister."
Global watchdogs have said that press freedom in the Philippines, where journalism has been historically vibrant and unafraid to question leaders, is under attack under Duterte.
The government, including the Presidential Task Force on Media Security, deny this allegation. — Ian Nicolas Cigaral with a report from The STAR/Alexis Romero