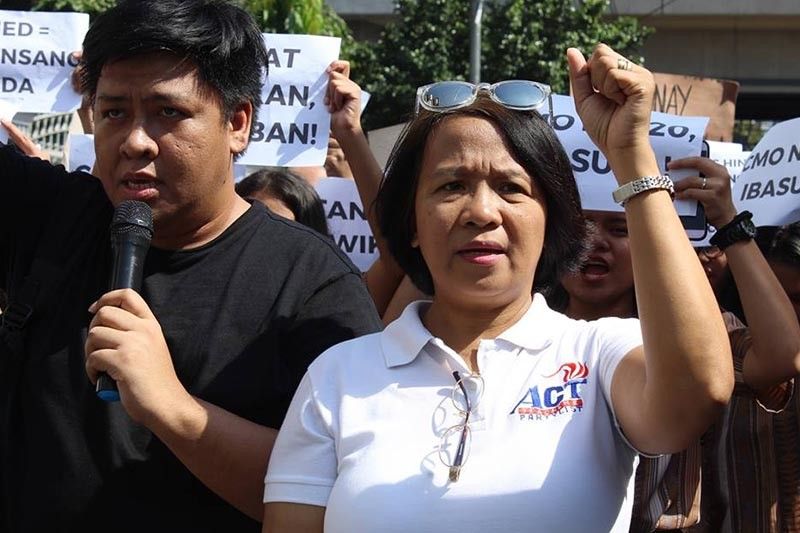 This photo shows Rep. France Castro (ACT Teachers party-list).
ACT Teachers Party-list/Release
ACT Teachers party-list solon awarded prize for trade union rights
MANILA, Philippines — Rep. France Castro (ACT Teachers party-list) has been named as a recipient of an international prize for her defense of trade union rights in the Philippines.
The Arthur Svensson International Prize for Trade Union Rights is given to an individual or an organization that has worked to promote trade union rights and/or to strengthen trade union organizing around the world.
In a statement, the Svensson Foundation said Castro was awarded the prize for "her struggle throughout many years to organize teachers and to fight for basic workers' rights in the Philippines."
The Philippines has been listed as one of the worst countries for workers in the world by the International Trade Union Confederation in its 2018 Global Rights Index.
"In a context of extreme state violence and suppression of civil liberties, workers and trade unionists in the Philippines faced threats and intimidation," ICUP, the world's largest trade union federation, then said.
Brave leader
The Svensson Foundation called Castro, a public school teacher for more than 20 years, a "brave" person for championing union rights.
"Despite threats and intimidation there are people who fight for democracy and human rights. Some active unionists, in particular and teachers, have been targeted by the regime and those around them. Some have been killed or imprisoned. Death threats are common," the foundation said.
It added: "France Castro is one of the brave persons who stands up for democracy and workers' rights."
The members of the Alliance of Concerned Teachers—in which Castro was a former secretary general from 2006 to 2015—have been subjected to profiling by the Philippine National Police.
Castro was also among those who were detained during a solidarity mission in Lumad schools in Talaingod, Davao del Norte in November last year.
The Svensson Foundation also lauded Castro for her works in the House of Representative such as pushing for the expansion of maternity leave, fighting for higher minimum wages and filing bills on the rights and welfare of teachers, among others.
"Both inside and outside the parliament, France Castro has been fighting for the poor, the workers and the human rights against powerful opponents," it said.