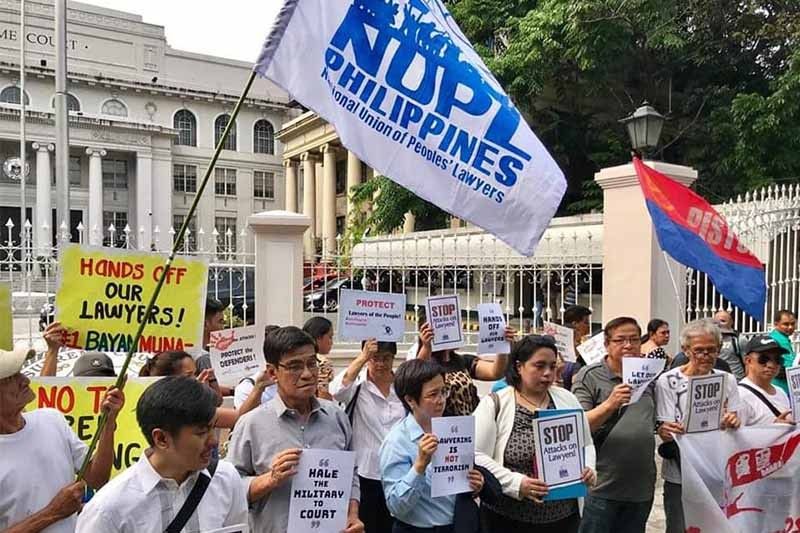 In this photo taken April 15, members and supporters of the National Union of Peoples' Lawyers troop to the Supreme Court in Manila ahead of their filing of a petition seeking protection from alleged threats of state agents.
National Union of Peoples' Lawyers/Facebook page
NUPL seeks court protection from 'threats' by state agents
MANILA, Philippines — The National Union of Peoples' Lawyers has knocked on the doors of the Philippines' highest court for protection from alleged "harassment and violence" by state agents.
The NUPL Monday filed a petition for a writ of amparo as they said that their rights to life, liberty and security have been violated by "persistent threats and harassment, and red-tagging," preventing them from carrying out their profession as members of the bar.
Philippine jurisprudence defines red-tagging as "the act of labelling, branding, naming and accusing individuals and/or organizations of being left-leaning, subversives, communists or terrorists (used as) a strategy... by State agents, particularly law enforcement agencies and the military, against those perceived to be 'threats' or 'enemies of the State.'"
RELATED: 14 farmers latest in killings of 'red-tagged' personalities in Negros — group
The petitioners asked the tribunal to issue a Temporary Protection Order to prohibit the respondents from threatening them.
The lawyers' group also asked the high court to issue a writ of habeas data to compel the government to "produce and, if necessary, to update and rectify, or to suppress and destroy, data, information, and files in their possession under their control or contained in their data base which relate to or concern Petitioners."
Named as respondents are President Rodrigo Duterte and his top security and military officials, including National Security Adviser Hermogenes Esperon Jr. and Defense Secretary Delfin Lorenzana.
EXPLAINER: Duterte's red-tagging endangers activists – militant groups
Attacks vs lawyers
NUPL said that from 55 lawyers have been attacked or threatened due to their profession, while at least 36 have been killed from July 1, 2016 to Jan. 2, 2019.
"Despite the increasing number of attacks against lawyers and members of the legal profession, apparently no case has been filed in court against any of the perpetrators," the petitioners said.
The NUPL recalled that they have been branded an "enemy" of the state since as early as 2013.
READ: CHR warns against 'red-tagging' of rights lawyers
Since then, the petitioners said that one of their members was subjected to harassment. A paralegal working with that NUPL lawyer was killed.
Another member was also killed by unidentified gunmen in 2014.
The group also said that rights lawyer Benjamin Ramos was included in a poster of supposed "CNN"—a government abbreviation for Communist Party of the Philippines-New People's Army-National Democratic Front—before he was slain.
They recalled that when NUPL president Edre Olalia visited Ramos' wake, he was harassed and threatened by two men "who turned out to be undercover agents of the military."
"All these orchestrated attacks came to a hilt when in April 2019, respondent Brig Gen. Antonio Parlade Jr. publicly accused NUPL, together with other organizations like its clients Karapatan and others as having links with the CPP and NPA," the petition read.
Following Parlade's pronouncement, the NUPL claimed that posters saying they have links with CPP/NPA were distributed in Malaybalay, Bukidnon.
"The labelling and vilification against petitioners particularly by respondent Parlade is not only vicious and unmitigated. It is unrelenting and continuous as he goes to town with reckless impunity. He just refuses to put up but never shuts up," the petition added.
"The foregoing circumstances, in their totality, serve to engender the well-founded belief that the respondents and their agents are responsible for the attacks on NUPL and its member-lawyers that include killing, threats, harassment, surveillance and red-tagging," they also said.
NUPL as petitioners
The NUPL is "a nationwide voluntary association of human rights lawyers, law students and legal workers in the Philippines."
Olalia, in an earlier interview with Philstar.com, said NUPL has 500 members, composed of litigators, prosecutors, public attorneys, judges, law professors, government lawyers, law students and paralegals. The union now has 20 chapters across the country.
Pro bono cases are, ironically, the bread and butter of NUPL lawyers. Their clients are farmers, workers, activists, indigenous peoples, the urban poor, mass organizations environmentalists and human rights defenders, added Olalia.
READ: 'Confusing' times call for more people's lawyers, NUPL says