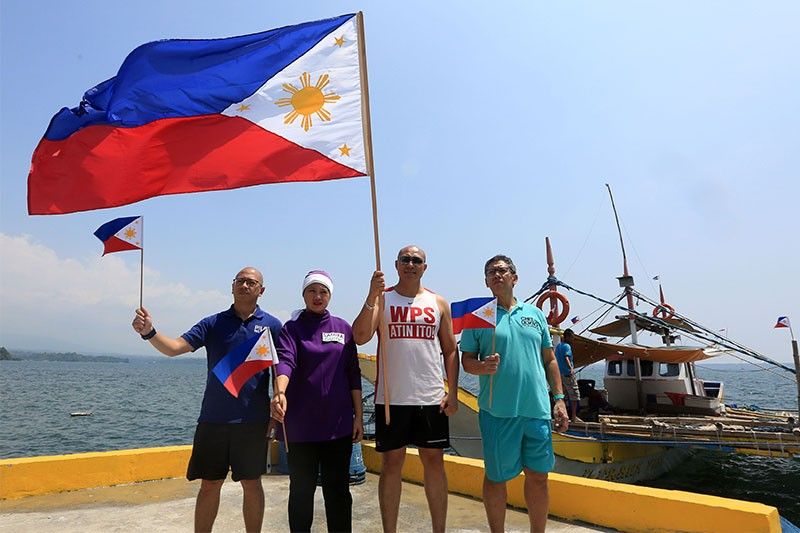 In this April 8, 2019 photo, Otso Diretso senatorial bets Florin Hilbay, Chel Diokno, Gary Alejano and Samira Gutoc goes to Masinloc, Zambales to reiterate their firm resolve to stand for the right of Filipino fishers to Scarborough Shoal, which is also called Bajo de Masinloc.
The STAR/Edd Gumban
Alejano asks Coast Guard for clearance to visit Scarborough
MANILA, Philippines – Rep. Gary Alejano (Magdalo Party-list), a candidate for senator under the Liberal Party-led opposition coalition, asked the Philippine Coast Guard to allow him to visit Scarborough or Panatag Shoal, a traditional fishing ground off the coast of Zambales.
In a letter addressed to Adm. Elson Hermogino, PCG commandant, Alejano requested for clearance to visit the shoal, which the Chinese Coast Guard had reportedly been blocking.
The senatorial candidate said in his request that the clearance is required for any individual or group before visiting the shoal.
"The clearance, likewise, is necessary for the records and monitoring of the Philippine Coast Guard in ensuring the safety of participants to the said trip if any unfortunate incident arises," Alejano said in his letter.
Alejano also said the clearance from the PCG would absolve fishermen should they assist his group in visiting the traditional fishing ground in the West Philippine Sea.
Last week, Alejano and his Otso Diretso slatemates human rights lawyer Chel Diokno, Marawi civic leader Samira Gutoc and former Solicitor General Florin Hilbay visited Masinloc, Zambales, which has jurisdiction over Scarborough Shoal.
The opposition candidates were supposed to visit the shoal itself but were not issued a permit.
According to a statement released by Otso Diretso, the coast guard refused to issue a permit to boat owners if there would be recording equipment in the boat that would carry the visitors.
Alejano, Diokno, Gutoc and Hilbay resorted to waving the Philippine flag, along with local fishermen, on the shores of Masinloc, the jump-off point to Scarborough Shoal.
The PCG, however, denied the claim of the opposition bets that they were barred from sailing to the fishing ground.
According to a report from CNN Philippines, Capt. Armand Balilo, PCG spokesman, said there was no policy preventing anyone from accessing Scarborough Shoal. He clarified that the Coast Guard should only be advised earlier for monitoring purposes.
The Palace played down the attempt as a publicity stunt.