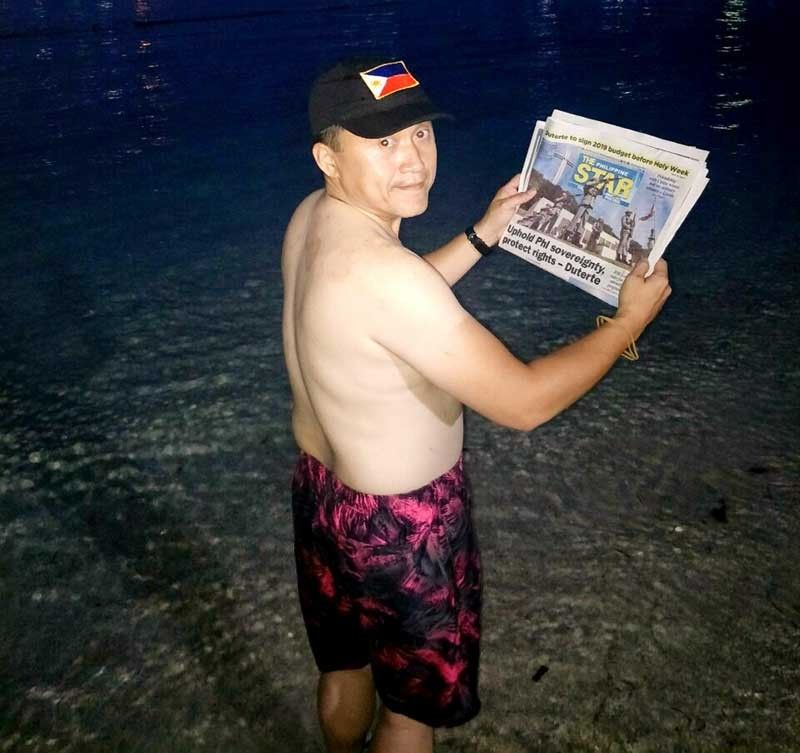 Former special assistant to the president Christopher Lawrence 'Bong' Go shows his back while holding the latest issue of The STAR at Samal Island in Davao del Norte yesterday.
Bong Go on drug links: Look, no back tattoo
Ben Serrano
(The Philippine Star) - April 11, 2019 - 12:00am
SAN FRANCISCO, Agusan del Sur, Philippines — Senatorial candidate and former special assistant to the president Christopher "Bong" Go showed his back at a press conference here yesterday to belie accusations that he has a tattoo with a supposed code linking him to the narcotics trade.
Persons in the room laughed as someone pointed out that Go's back had many ventosa or cupping marks.
"It's clear. I hope the rumors end now," he said in Filipino.
Earlier, Sen. Antonio Trillanes IV dared Go to show his back.
"Mr. Bong Go, people want you to show your back, not just your hips," Trillanes wrote in Filipino on Twitter.
"To all reporters covering Bong Go in the sorties, please ask him to show his whole back to disprove the allegations that he is a drug lord. It's difficult to have a drug lord in the Senate," Trillanes said.
Go said only PNSBB or pimples, nunal or mole, stretch marks, bilbil or fat and balat or skin can be seen on his back.
Former Davao City vice mayor Paolo Duterte was also tagged as among the leaders of syndicates who purportedly got kickbacks from the narcotics trade in the seven-minute video Ang Totoong Narco List-Episode 1 that went viral after it was uploaded on YouTube last April 2.
The narrator in the video, who identified himself as Bikoy, claimed that the dragon tattoo on Paolo's back can prove the President's son's ties to a syndicate, which is involved in a number of criminal activities.
Bikoy claimed that the code on the upper portion of Paolo's tattoo is similar to one of his supposed codenames: ALPHA TIERRA-0029.
As Go showed his back yesterday, Go dared Bikoy to surface.
"Show yourself. You're the drug lord," Go said.
Go lamented that Bikoy and the people behind him have even dragged the name of the President's youngest daughter Veronica or Kitty in the controversy.
"It's sad as it's Kitty's birthday today," Go said.
But while he has shown his back, Go refused to comment when asked if he would sign a waiver to disprove claims on his wealth.
Go's readiness to show his back to prove that he has no tattoo affirmed that the videos tagging him and members of the President's family to the narcotics trade are just black propaganda, Malacañang said yesterday.
"We've been saying all along that that was black propaganda. There are people who believe it – hook, line and sinker and it's now showing that it's not true. It's never been true," presidential spokesman Salvador Panelo said at a press briefing.
Asked if has any challenge to members of the opposition, whom President Duterte claimed are behind the videos, Panelo replied: "None. They can do their worst, we will do our best."
"One who alleges must prove. They have to prove what they are saying, that's why we have been repeatedly saying it's black propaganda," he added.
Panelo said the administration would counter the propaganda of the President's critics by releasing information about the positive developments in the country.
Last week, the President said the videos accusing his son Paolo of being a drug lord are just propaganda peddled by "yellows" or the opposition.
"Well, that is propaganda that has been repeated all the time... I assure you, we are not into it," the President said in a chance interview in Palawan last April 5.
Duterte has accused Trillanes of being behind the video.
Right to privacy
For his part, Foreign Affairs Secretary Teodoro Locsin Jr. likened the showing of tattoos by Paolo to disclosing the country's notes verbale.
"I won't even show our notes verbale regarding China… It is a matter of honor never to accommodate enemies," Locsin posted on Twitter.
If Mayor Sara Duterte-Carpio were her brother Paolo, she will not show the tattoo on her back or anywhere on her body unless charges are filed against her and a court would order her to do so.
Sara, who chairs the Hugpong ng Pagbabago political group, is now in a series of nationwide sorties for the HNP senatorial as well as local candidates. They were in Surigao City yesterday for the Mindanao leg of the campaign. – With Robertzon Ramirez, Alexis Romero, Pia Lee-Brago, Edith Regalado, Cecille Suerte Felipe