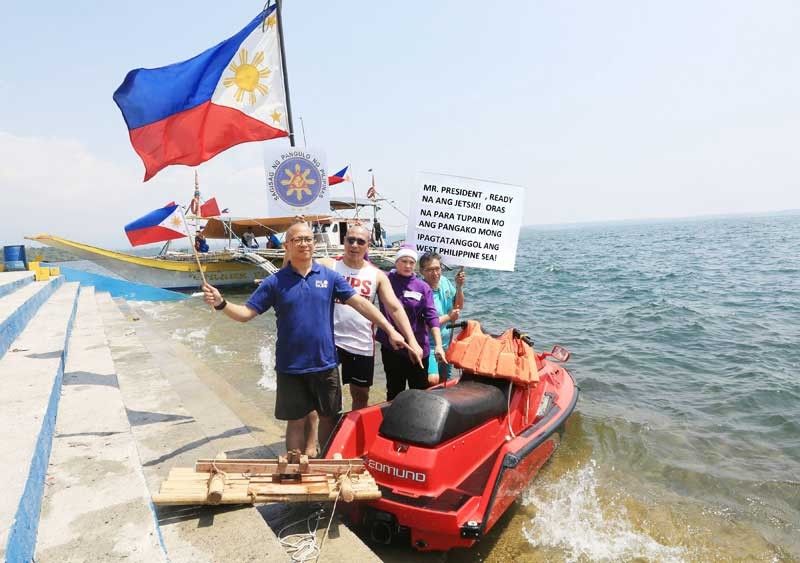 Otso Diretso senatorial candidates Florin Hilbay, Gary Alejano, Samira Gutoc and Chel Diokno point at a jet ski while challenging President Duterte to fulfill his campaign promise of riding one to fight for the country's sovereignty in the West Philippine Sea. The group was in Masinloc, Zambales for a sortie yesterday.
Edd Gumban
Otso Diretso bets 'barred' from going to Panatag Shoal
Helen Flores
(The Philippine Star) - April 9, 2019 - 12:00am
MANILA, Philippines — Local coast guards stopped opposition senatorial candidates yesterday from taking a boat ride to Panatag (Scarborough) Shoal to do a symbolic planting of the Philippine flag on a land feature now controlled by China.
Otso Diretso candidates expressed dismay at being prevented by the Philippine Coast Guard from leaving Masinloc, Zambales for a boat trip to Panatag.
Human rights lawyer Chel Diokno, Marawi civic leader Samira Gutoc, former solicitor general Florin Hilbay and Magdalo Rep. Gary Alejano had originally planned to sail to Panatag on a rented boat.
But they said the PCG refused to give the boat owners permit to ferry the senatorial bets because they were carrying recording equipment. The PCG threatened to seize their equipment if they persisted on taking the boat ride.
The PCG in Manila denied receiving report from its personnel regarding the candidates' complaint.
The opposition candidates instead decided to hold a dialogue with affected fisherfolk in Masinloc.
Diokno stressed the Duterte administration's failure to assert the country's sovereignty over the West Philippine Sea is not just hurting fisherfolk, but all Filipinos and future generations as well.
"Now, our fisherfolk are the ones affected (by Duterte's acquiescence), that's the short-term effect," Diokno said. He has filed a case for the protection of Filipino fishers before the Supreme Court.
"But if we think of the long-term effect, we should think of its impact on our next generation because of the continued incursion (of the Chinese) into our resources, which we fail to use for our own needs," he emphasized.
Filipino fishermen have repeatedly complained about harassment and intimidation by the Chinese Coast Guard.
Diokno said that while the government pays lip service to Philippine sovereignty over the shoal, it still restricts Filipino access to the area.
"It's truly an irony that even our government who said that this (Panatag Shoal) is part of the Philippines is the one restricting Filipinos' access to it," he said.
"I think they just don't want the Filipino people to know what's really happening there," said Diokno.
Hilbay was part of the Philippine legal team that defended the case against China before the international arbitral tribunal. The Philippines won that case.
Just last month, another video of Zambales fishermen being driven away with water cannon by Chinese vessels surfaced.
When asked to comment, Malacañang said there was nothing much it could do as the Philippines cannot declare war on China.
"I am shaking my head in disbelief at this response. We are telling our people we can't protect them while they fish in our own territory. That they can fish at their own risk," Gutoc said.
PCG spokesman Captain Armand Balilo said he has not received any report regarding the incident from PCG's Subic station.
"I asked our Subic station, there was no report of that incident and we are not preventing anyone from going to the Scarborough Shoal," said Balilo.
Balilo explained that the PCG only wanted those wishing to go to the shoal to first coordinate with the PCG.
"The important thing here is that the PCG is aware (of those who went to the shoal), so that if in case something happens we would be able to account, for instance how many people do we need to rescue and who are these people," he said. – With Evelyn Macairan