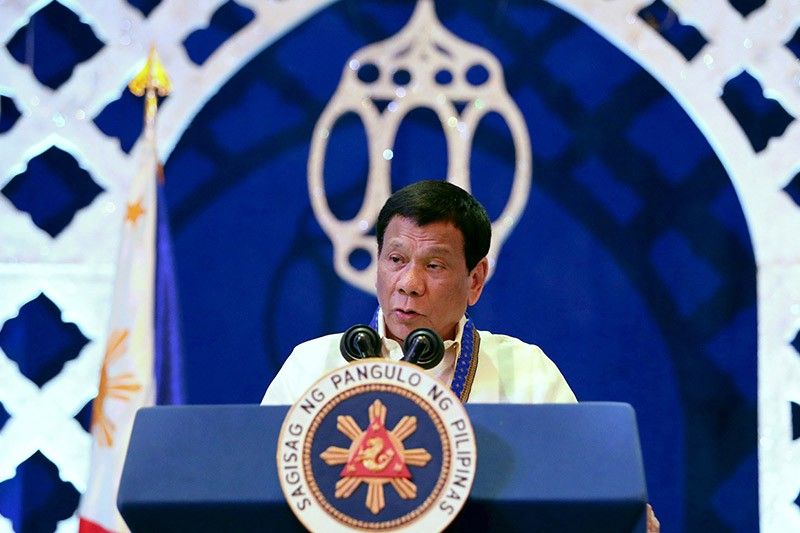 President Rodrigo Duterte delivers his speech during the inauguration of the Bangsamoro Autonomous Region in Muslim Mindanao at the Shariff Kabunsuan Cultural Complex in Cotabato City on March 29, 2019.
Robinson Niñal Jr./Presidential Photo
Palace: Duterte to fire another official next week
MANILA, Philippines — President Rodrigo Duterte is expected to fire another official next week as part of his campaign against corruption, a problem that he said is more prevalent at the ground level.
Presidential spokesman Salvador Panelo said Duterte announced his plan to dismiss the official during a meeting with business leaders in Malacañang last Wednesday.
"He mentioned last night (April 3) during the meeting with some businessmen, that he will be firing another official next week," Panelo told radio station dzMM Thursday.
Panelo did not elaborate.
READ: Duterte says he will fire more officials next week
Last week, Duterte announced he would dismiss some officials but no announcement has been made as of Thursday.
"(I promised to) lessen the corruption but I will fire more next week. I am just waiting for their report," the president said during the turnover of grants to government cash transfer program beneficiaries in South Cotabato last March 26.
Duterte has repeatedly said the Philippines would not become a developed country if corruption and law and order issues persist.
Duterte: Philippines corrupt to the core
During a campaign rally in Malabon last Tuesday, Duterte said the Philippines is "corrupt to the core."
"You ask me whether I can control corruption in all (government entities). I will tell you this: The Philippines is corrupt to the core. It has different forms whether in the city hall or at the national level," the president said, noting that corrupt officials use business permits to extort money.
READ: Duterte issues order banning junkets, team building activities abroad
Duterte said corruption is more rampant at the ground level, including the local governments.
"I have a direct control over Cabinet members. I'm supposed to lead but I cannot be the defense secretary all the time, the DENR (Department of Environment and Natural Resources) secretary. I function through Cabinet members. I don't have a problem at the upper level. There is no corruption," he said.
"But with regard to the elected officials, I do not have any control I can only exercise supervision to ensure that they do things the right way. This is where corruption comes in."
Duterte reminded the public that state programs and projects were funded by their taxes so these should not be credited to politicians.