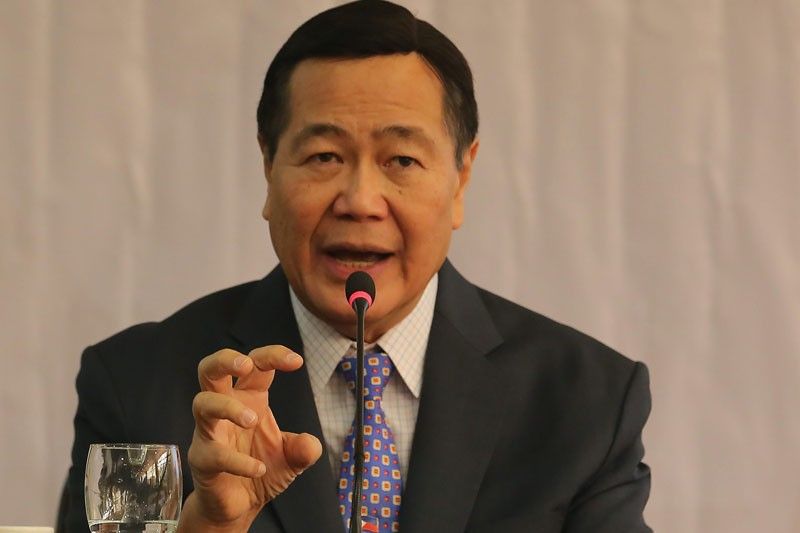 In a text message to reporters, Carpio cited an instance in 1983 when the government declared a moratorium on its foreign debt repayments because the Bangko Sentral ng Pilipinas "did not have sufficient foreign exchange to service its foreign debts."
Michael Varcas
Antonio Carpio rebuts Carlos Dominguez: Philippines had loan default
Edu Punay
(The Philippine Star) - April 3, 2019 - 12:00am
MANILA, Philippines — Supreme Court Associate Justice Antonio Carpio yesterday contested the claim of Finance Secretary Carlos Dominguez III that the Philippines had never defaulted on loans as an assurance that China would not seize natural gas deposits in Recto Bank (Reed Bank) as collateral to a $62-million loan agreement.
In a text message to reporters, Carpio cited an instance in 1983 when the government declared a moratorium on its foreign debt repayments because the Bangko Sentral ng Pilipinas "did not have sufficient foreign exchange to service its foreign debts."
"Under Article 7.1(6) of the Chico River loan agreement, there is an 'event of default' when 'the borrower stops or suspends repayment to its creditors generally,'" he said.
"So, it is not correct to say that the Philippines never defaulted on its debt because the mere suspension of repayment, like declaring a debt moratorium is already an 'event of default,'" he stressed.
Carpio has repeatedly warned that the Philippines stands to lose natural gas reserve in Recto Bank as a collateral to the loan with China for the Chico River irrigation project.
He reiterated that the Philippines would be in a disadvantageous position in case of dispute because the contract provides for arbitration to be held in Beijing and conducted by the China International Economic and Trade Arbitration Commission using CIETAC arbitration rules.
"Also, there must be public bidding of the projects to the present system where China pre-selects three Chinese contractors and the Philippines can bid our project only among the three Chinese contractors," Carpio said.
The 2016 ruling of the Permanent Court of Arbitration (PCA) had ruled that Recto Bank is within the country's exclusive economic zone, which means it is part of Philippine territory.
A 2013 report from the United States Energy Information Administration claimed Reed Bank could hold up to 5.4 billion barrels of oil and 55.1 trillion cubic feet of natural gas.
In 2010, the Philippines awarded the service contract to extract resources in Reed Bank to London-based Forum Energy Plc., more than 60 percent of whose shares is owned by Philex Petroleum Corp. (Philex).
China, however, does not recognize the PCA decision and had previously granted exploration rights to state-owned China National Offshore Oil Corp.