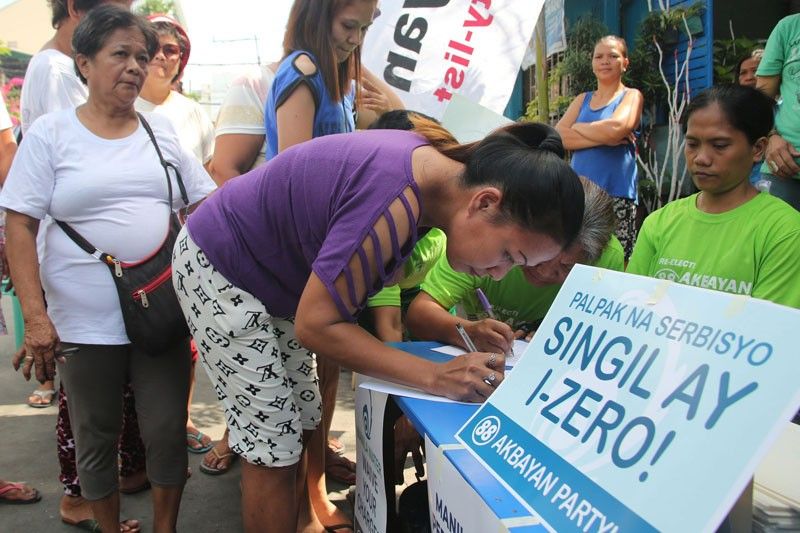 Residents of Barangay Barangka, Mandaluyong sign a petition to waive the water charges this March following water interruptions in the area.
Michael Varcas
Manila Water waives, cuts fees for March
MANILA, Philippines — The charges for some customers of the east zone will be dropped while others are going to pay lower bills as Manila Water Co. Inc. implements a one-time waiver amid the water supply crunch.
In a briefing yesterday, Ayala-led Manila Water said the one-time bill waiver of consumption in March will be reflected in the bill to be issued next month as the company tries to ease the inconvenience it has caused.
"We are waiving the minimum charge for all our customers. For those most affected, they will not be billed for their whole water consumption for March," Manila Water president and chief executive officer Ferdinand dela Cruz said.
The bill waiver consists of two parts. First, all Manila Water customers will no longer pay the minimum charge that represents 10 cubic meters covering water, environmental and sewer charges.
The typical minimum charge ranges from P76 per month for lifeline or low-consuming customers to P656 for industrial customers.
Second, severely affected customers or those who experienced no water service for at least seven days – consecutive or not – will not be charged for the whole month.
Severely affected areas are most likely those located on higher ground and near the tail end of Manila Water's distribution system, the company said.
"We want to first work on the validation of the areas. I don't want to give false expectations and create more confusion," Dela Cruz said.
Manila Water expects to come up with the full implementation of the scheme, including area validation, by the end of the month.
Manila Water estimates that an initial P150 million will be returned to its customers and will increase after validation in the severely affected areas.
"This is what we can give in the meantime just to address the inconvenience. This is separate and on top of the penalties to be imposed by the (Metropolitan Waterworks and Sewerage System Regulatory Office)," Dela Cruz added.
While the Metropolitan Waterworks and Sewerage System (MWSS) welcomed Manila Water's voluntary move, its Regulatory Office will pursue penalties under the concession agreement.
MWSS administrator Reynaldo Velasco said the company's move is a product of their negotiation following instructions from the MWSS board to work with Manila Water.
"Manila Water is aware that there are penalties in the concession agreement that they are going to face," Velasco said. "The more important part is for them to bring back their regular service."
As Manila Water implements the one-time bill waiver, the company said it continues to focus on its service recovery efforts.
As of March 25, Manila Water's eight- to 12-hour water availability at ground floor level has reached 97 percent.
"From a high of 61 hard-hit barangays, we are down to eight which are dependent on interim network solutions, static tanks or water tankers," Dela Cruz said.
Its supply deficit is also down from 150 million liters per day (MLD) to 107 MLD but there are still small pockets and streets with intermittent no water situations resulting from operational adjustments and pressure management.
Meanwhile, Manila Water has yet to determine if the move to waive consumers' bills will make a dent on the company's financial bottomline for the year.
"We are not thinking about that at this time. Our focus is to increase the eight to 12 hours supply availability and go back to 24/7," Dela Cruz said.
'Give back more'
Senators welcomed the move but said it was not enough, given the injury inflicted by the water shortage in many parts of Metro Manila and Rizal.
Sen. Panfilo Lacson said Manila Water still "has more to return or give back" to its customers.
He said the east zone concessionaire should also suspend charging customers for its Cardona water project in Rizal as it remains non-operational.
Lacson said the Cardona project was supposed to open last December but it has yet to operate, contributing to the water shortage.
Sen. Grace Poe, chair of the Senate public services committee, said the waiving of water bills was not enough as Manila Water must also undertake steps to make sure that the shortage will not happen again.
"We cannot fully compensate for the hardship our countrymen went through. (Waiving) is a nice start but it should not end there," Poe said.
Sen. Risa Hontiveros described the move as a "big win for ordinary paying consumers."
"There is more that needs to be done in order to prevent this crisis from happening again. I hope this development will serve as a stepping stone as we thoroughly scrutinize the concession agreements entered into by our government with private water companies and revisit the government's overall privatization policy of public utilities, such as water," Hontiveros said.
Hontiveros also called on Manila Water to reimburse public hospitals affected by the water crisis.
She said reimbursing public hospitals is the next step after waiving consumers' bill. – With Paolo Romero, Rhodina Villanueva