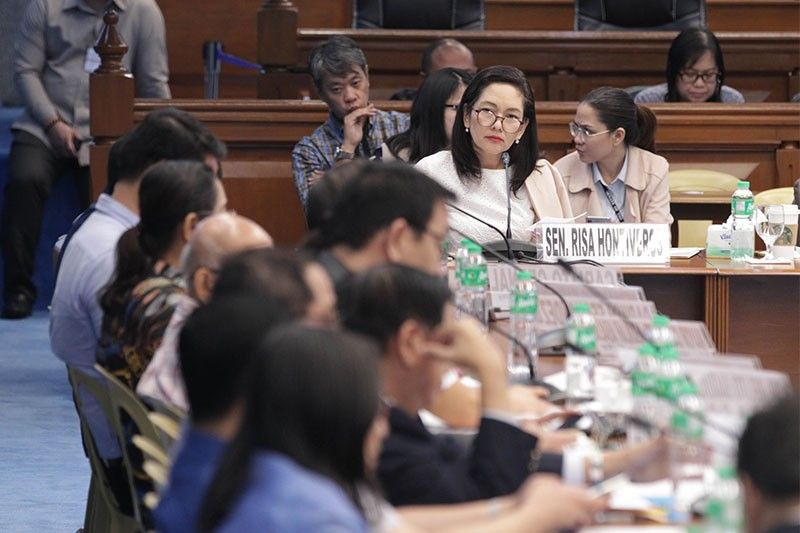 "This is certainly a big victory for consumers. But we must not stop here. There is more that needs to be done in order to prevent this crisis from happening again," Sen. Risa Hontiveros said.
The STAR/Mong Pintolo
Senators hail Manila Water bill waiver
(Philstar.com) - March 26, 2019 - 4:49pm
MANILA, Philippines — Senators commended private concessionaire Manila Water for implementing a bill waiver scheme in able to compensate their customers following a service interruption earlier this month.
The Ayala-led water service provider announced that it would not bill their east zone customers who were severely-affected by the water shortage.
Meanwhile, all other customers would have their minimum or basic charge suspended in their April bill, which would reflect their water consumption for this month.
Sen. Grace Poe, who led the Senate inquiry into the water shortage last week, expressed her gratitude to Manila Water for implementing the bill waiver scheme.
"Mabuti naman may magandang kinahinatnan ang ating pagdinig at ang ating apela sa kanila na dapat ay mabigyan ng tulong ang ating mga kababayan," Poe said in an interview Tuesday.
Poe added that the issue is not yet resolved as they have yet to determine the root cause of the water shortage and find out solutions on how to prevent this from happening again.
The best compensation that Manila Water could give to its customers is providing them with continuous water service so they should ensure that there would be enough supply.
Sen. Risa Hontiveros considered the voluntary and one-time bill waiver as a "big victory for consumers."
"But we must not stop here. There is more that needs to be done in order to prevent this crisis from happening again. I hope this development will serve as a stepping stone as we thoroughly scrutinize the concession agreements entered into by our government with private water companies and revisit the government's overall privatization policy of public utilities, such as water," Hontiveros said in a statement.
Hontiveros also called on Manila Water to reimburse government hospitals that have been affected by the water shortage.
The senator noted that six public hospitals suffered losses amounting to P4.116 million during the water crisis from March 8 to 18, according to data from the Department of Health. This includes the Rizal Medical Center, Quirino Memorial Medical Center, National Kidney and Transplant Institute, National Center for Mental Health, East Avenue Medical Center and the Amang Memorial Medical Center.
"In the same spirit and under the same principle that guided it in waiving its water fees as a form of compensation to consumers, Manila Water should immediately reimburse the said public hospitals and compensate them for the public health risks their patients were exposed to because of the water crisis," Hontiveros said.
Meanwhile, debt watchdog Freedom from Debt Coalition (FDC) raised concerns on the privatization of water service.
The FDC noted that private concessionaires Manila Water and Maynilad are still unable to provide water service to all households, particularly the poor, in Metro Manila.
"Clearly, private is not necessarily better than public," the FDC said in a statement.
Citing a 2017 study by the Public Sevtor International and the Transnational Institute of Amsterdam, the watchdog pointed out that more than 235 cities in 37 countries have re-municipalized water services to the benefit of over 100 million people.
"There is a democratization of the system of water governance, with the workers and citizens being involved in making decisions on reform and operation of the water service," the FDC said.
The FDC noted that there is a tendency for private water concessionaires to prioritize the development of water infrastructures for well-developed areas, neglecting those in low-income communities.
"This also explains why in the Philippines today, there is intense rivalry among the rich water companies on how they can acquire, via the so-called 'privatization' route, the most developed water districts in the different provinces," the statement read.
The group urged the government to develop a "more transparent and participatory public-people governance" in the operation of public services instead of public-private partnership. — Patricia Lourdes Viray