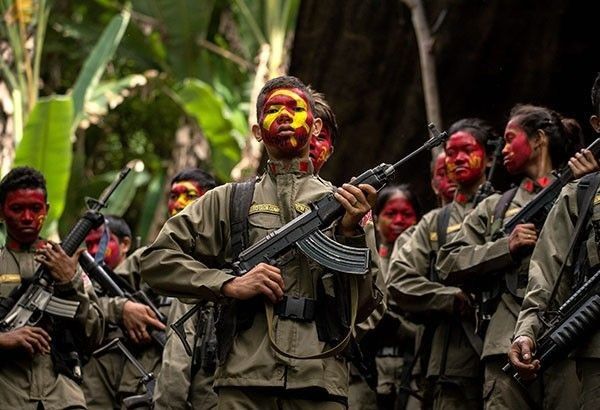 This photo taken on July 30, 2017 shows guerrillas of the New People's Army in formation in the Sierra Madre mountain range, located east of Manila.
AFP/Noel Celis, File
DILG: Cases to be filed vs officials, bets backing rebels
(Philstar.com) - March 26, 2019 - 12:56pm
MANILA, Philippines — The Department of the Interior and Local Government will file cases and seek the disqualification of local government officials and candidates whom they can prove have cooperated with communist rebels.
In a televised press briefing Tuesday, DILG spokesperson Jonathan Malaya said 364 local officials and candidates are included on a "watchlist" containing names of those allegedly providing financial and political support to the Communist Party of the Philippines and its armed wing, the New People's Army.
"Kung merong ebidensyang makakalap, bago pa man ang halalan ay magfa-file po kami bago ang halalan para mapanagot ang mga 'yun because an act of terrorism is an act against not only the state but also everyone," Malaya said.
(If there's verified evidence, we will file cases before the election to hold them accountable because an act of terrorism is an act against not only the state but also everyone.)
Malaya said the DILG may also seek the disqualification of these candidates proven to have cooperated with the communist rebels in accordance with the provisions of the Omnibus Election Code.
Danilo Dayanghirang, secretary general of the Union of Local Authorities of the Philippines, also called on candidates and their supporters "not to be complicit to the terror group's demands and extortion activties and to immediately report these activities to law enforcement agencies including the Commission on Elections."
The government had earlier terminated peace negotiations with the communist movement, citing continued rebel attacks. It has also labelled insurgents as terrorists.
Permits to campaign
Last month, Local Government Secretary Eduardo Año said that 349 local officials were paying rebels for "permits to campaign" in rebel-controlled areas.
Año said the NPA rebels would demand P300,000 to P500,000 as campaign fees for gubernatorial candidates, while those running for mayoral and vice mayoral posts in urban areas would have to shell out P200,000 to P500,000.
Congressional candidates, on the other hand, must give P300,000 to P650,000 before communist rebels allow them to campaign in areas in which they hold.
In October 2018, CPP founder Jose Maria Sison—now chief political consultant of the National Democratic Front of the Philippines—said the rebels do not collect "permit to campaign" fees.
He said then that "it is simply ministerial for the people's government to allow them to campaign provided they do not enter... with an armed force or sacks of money to buy votes." He did not deny, however, that candidates can make what he said are donations.
"It is purely voluntary for them to make such offer. The revolutionary movement rejects offers of sham help from malevolent forces who oppress and exploit the people," Sison said then.
But a Rappler report in 2015 quotes a "Ka Efren", identified as NDFP Far South Mindanao spokesman, as saying candidates should secure their permits to campaign and as saying some bets for governor in provinces in Mindanao have paid up to P1 million.
In 2010, the CPP's Information Bureau defended the party's "permit to campaign" policy, saying it "is principally about respecting the authority of the People's Democratic Government and protecting the rights of the people."
"By securing their permits to campaign, candidates and their campaign personnel are expected to act in accordance with prevailing policies that protect the democratic and human rights of the people," the CPP explained then.
It said the policy requires candidates to coordinate their campaign activities "with local organs of the People's Democratic Government" and prohibits them from going around "revolutionary areas" with their private armed escorts.
"These policies have been instrumental in reducing the political violence and abuse of human rights by politico-warlords," the communist party said then.
Support for communist rebels a crime, DILG stresses
In December last year, Año issued Memorandum Circular 2018-11, warning all local chief executives and LGU officials that giving any form of support to communist insurgents is a violation of Executive Order 733 and Republic Act 10168.
Executive Order 733 urges Regional Peace and Order Councils, Provincial Peace and Order Councils, and City or Municipal Peace and Order Councils to apply "moral suasion to and/or recommend sanctions against local chief executives who are giving material and political support to the communist rebels.
Republic Act 10168, known as the Terrorism Financing Prevention and Suppression Act of 2012, states that those who directly or indirectly, willfully and without lawful excuse, possesses, provides, collects or uses property or funds or makes available property, funds or financial service or other related services, by any means, with the unlawful and willful intention that they should be used or with the knowledge that they are to be used, in full or in part: (a) to carry out or facilitate the commission of any terrorist act; (b) by a terrorist organization, association or group; or (c) by an individual terrorist, shall be guilty of the crime of financing of terrorism" will be penalized.
Those found guilty would suffer the penalty of reclusion temporal in its maximum period to reclusion perpetua and a fine of not less than P500,000 but not more than P1 million. — Gaea Katreena Cabico