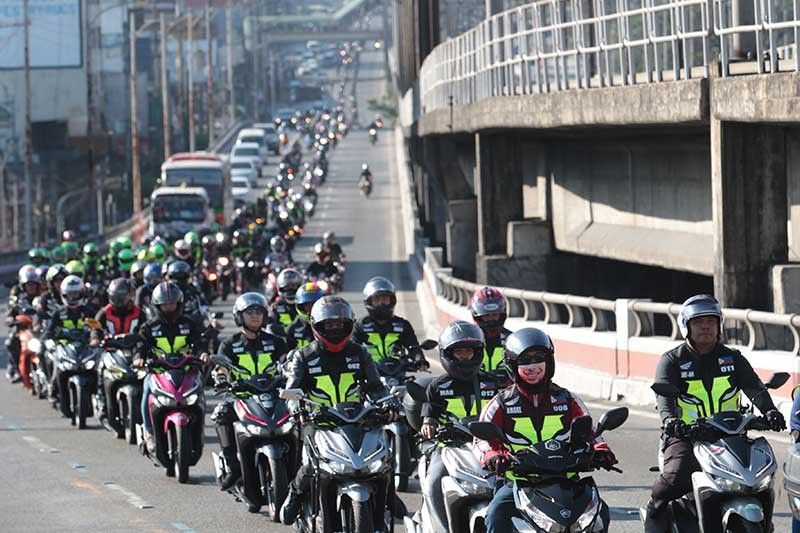 Some 10,000 riders joined what was dubbed a "unity ride" to protest Republic Act 11235 or the Motorcycle Crime Prevention Act along EDSA Sunday.
The STAR/Michael Varcas
PNP: No discrimination in requiring larger license plates for motorcycles
MANILA, Philippines — Mandating double plates for two-wheeled vehicles is not a form of discrimination and is necessary, Philippine National Police Director General Oscar Albayalde said.
"I don't think that is discrimination. This is part of security—security of the whole Philippines, not only to anybody, but for all. The government saw that we can prevent riding-in-tandem incidents with this," Albayalde said in a press briefing Monday.
"Remember that these riding-in-tandem [crimes] are perpetrated by suspects riding motorcycles," he said, adding motorcycle license plates currently in use are too small, making it difficult to read the license numbers of those involved in crimes.
He added that the Land Transportation Office has been implementing a new design for license plates. That new design covers plates those that are for motorcycles and that motorcycle riders point out have yet to be issued.
"This is all part of improvement of the peace and security of the whole nation," Albayalde said.
'Unity ride'
The country's top cop, a motorcycle rider himself, made the comment a day after thousands of riders joined what was dubbed a "unity ride" to protest Republic Act 11235 or the Motorcycle Crime Prevention Act.
The riders said that the supposed crime prevention measure poses safety risks because large plates in front may affect handling. Riding a motorcycle without the new plates is penalized with a fine of from P50,000 to P150,000 and confiscation of the unit. Failure to report a lost license plate is oenalized with fines of from P20,000 to P50,000, which is around the price range of lower-displacement motorcycles.
Riders' groups, including the Motorcycle Rights Organization, said the government is unfairly treating motorcyclists like criminals.
The law also orders the LTO to devise a color scheme of the readable number plates for every region to easily identify where a motorcycle was registered.
In a press briefing Monday, Presidential Spokesperson Salvador Panelo said "everyone should comply [with the law], no exception."
Operations center
Sen. Richard Gordon said the LTO and the PNP should immediately build an operations center to prevent delays in implementing the new motorcycle law.
Gordon, the law's main author and sponsor, said Republic Act 11235 calls for a joint PNP-LTO operations and control center, which should be operational and accessible real time.
"I will call on the LTO to build a 24/7 operation center immediately because we cannot implement the law without it. Therefore, the LTO, in coordination with the PNP, must prepare immediately so they are not delayed again," he said.
The senator also said that the operations and control center should be equipped with the latest available technology to facilitate the implementation of the law.
"It must have sufficient computers and software capable of addressing any emergency and inquiry. Also, a hotline, specifically for reporting of crimes or offenses committed with the use of motorcycles, should be established," he said.