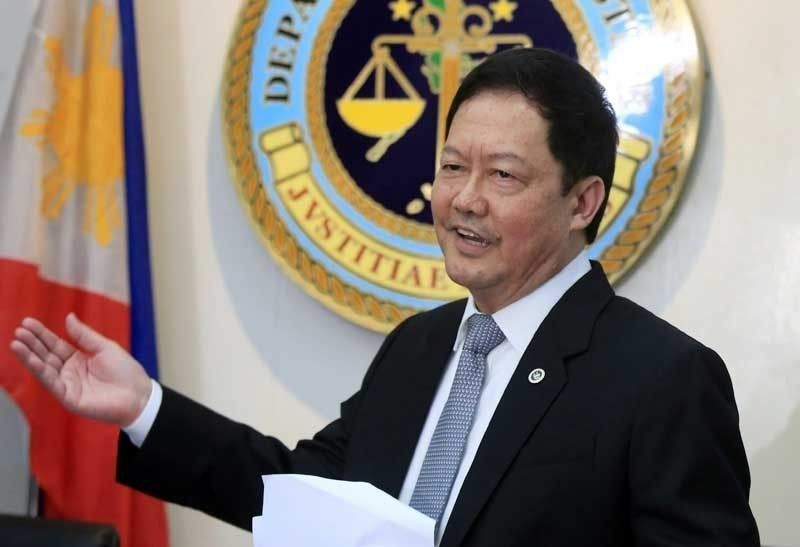 Justice Secretary Menardo Guevarra said that the communication against Chinese President Xi Jinping "is really a political statement more than legal action."
The STAR/Edd Gumban, file
Guevarra: Filing vs Xi a 'political statement,' not 'legal action'
MANILA, Philippines — Former Philippine government top officials filing a communication over China officials' alleged crimes against humanity is more of "political action," rather than a bid to score a legal victory, said Justice Secretary Menardo Guevarra Monday.
In a message to reporters, Guevarra said that the communication against Chinese President Xi Jinping "is really a political statement more than legal action."
In a follow-up message, he stressed that that does not mean the communications is necessarily partisan.
"Private citizens or groups can say or do something to influence public opinion or affect state action pertaining to matters of public interest, [while not] necessarily aligning themselves with mainstream political aggrupations in the partisan sense," he said.
The Justice chief said that jurisdictional issues and legal standing are seen as obstacles in scoring a legal victory in the international tribunal—a sentiment that is shared by the Palace and by international maritime expert Jay Batongbacal.
EXPLAINER: ICC correspondence vs China's Xi: What happens next?
Two days before the Philippine government's exit from the ICC took effect, former Ombudsman Conchita Carpio Morales and former top diplomat Albert del Rosario called the international tribunal's attention to Chinese officials' alleged crimes against humanity against the Philippines and our fishermen in the South China Sea, which is within Philippine territory.
Del Rosario and Morales argued that the ICC has jurisdiction over the "atrociously inhumane actions" of Chinese officials in the contested waterway as it occurred "within Philippine territory."
China, however, is not a party to the Rome Statute, the treaty that established ICC.
'Not filed for a favorable judgment'
Guevarra said: "I believe that the complaint was filed not with the hope of a favorable judgment by the ICC...but probably to impress upon China that if the Philippine government is not willing to vigorously assert its West Philippine Sea arbitration victory at this time, there are Filipinos who are unwilling to defer further action to enforce the arbitral ruling."
READ: ICC submission of Del Rosario, Morales vs Xi may be 'futile' — Palace
"The complaint may also have been filed to stress a point: That our withdrawal from the ICC was a mistake, as this is one forum where enforcement action in the WPS may actually be sought," he added.
On March 16, 2018, the Philippines formally submitted its letter of withdrawal from the Rome Statute after the tribunal's chief prosecutor launched a preliminary examination into the alleged crimes against humanity of Duterte and his men.
The Philippines became the second nation to leave the ICC, following Burundi in October 2017. The withdrawal became effective on March 17.
The Justice secretary however said that he believes that Duterte "has the greater interest of the country in mind in pursuing his kind of foreign policy, and for that reason we ought to give him all the leeway and flexibility he needs."