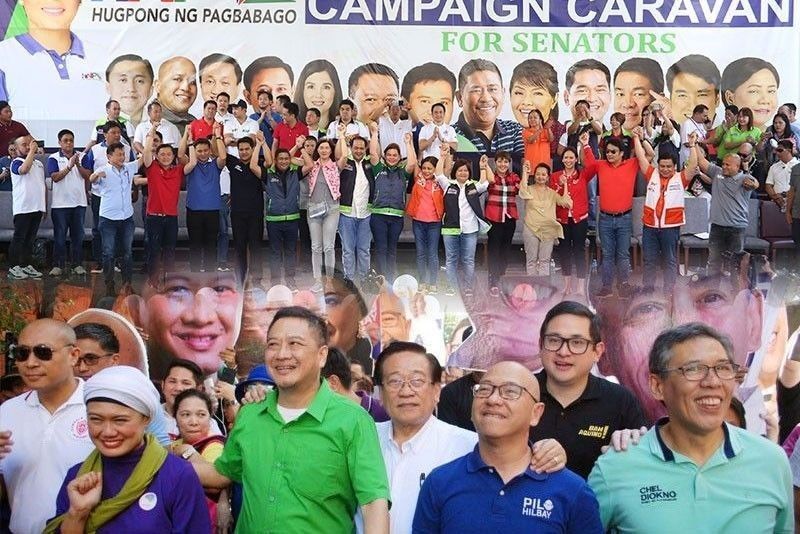 The campaign for the senatorial elections officially kicked off on February 12.
File photo
CBCP to Catholic voters: Don't be swayed by bets' 'winnability'
(Philstar.com) - March 21, 2019 - 1:33pm
MANILA, Philippines — The Catholic Bishops' Conference of the Philippines has cautioned Catholic voters against picking candidates just because they are likely to win in the May elections.
"Voters should not allow surveys to sway them from voting for the best and right candidates to choosing the 'winnable' ones," Fr. Jerome Secillano, CBCP Public Affairs Committee executive secretary, said in a report on the Manila Bulletin.
"Voters should vote for candidates based on abilities and their stand on issues and not on their association with any popular leader," he also said.
Earlier this week, Pulse Asia released the results of its February survey on senatorial candidates for the upcoming midterm elections.
The recent poll showed administration-backed candidates leading in a race for 12 seats at the Senate. Administration-backed candidates Christopher Go, Ronald "Bato dela Rosa and Francis Tolentino—also saw a jump in their survey rankings.
Manuel "Mar" Roxas II, a former Local Government secretary, was the lone opposition bet to make it to the Top 12.
CBCP guidance in past elections
Although the CBCP has admitted that there is no "Catholic vote" in the Philippines, it has, in the past, given guidelines that the Filipino faithful can use in electing their leaders.
A month before the 2016 elections, Lingayen-Dagupan Archbishop Socrates Villegas advised voters: "Do not choose depending on who is topping or trailing in the surveys."
"You are called to take courage and make moral decisions. Your vote can make heaven come down and make our country beautiful and good as God desires it," he added.
Months before the 2013 midterm elections, the Catholic bishops also urged voters not support candidates pushing for passage of the Reproductive Health bill.
In a November 2012 STAR report, Lipa Archbishop Ramon Arguelles said in Filipino: "If there is a candidate who does not follow Church teachings, we should reject this candidate. We must use the Catholic vote and show them what the real Catholic is."
On the eve of the presidential elections in 1998, bishops called on Filipino Catholics to "vote for persons who morally, intellectually and physically show themselves capable of inspiring the whole nation toward a hopeful future."
They said that electing a womanizer would be a "death blow" to the country's democracy.
Manila Mayor Joseph Estrada, then vice president and who had made no secret of his womanizing, won the presidential race by a landslide.
READ: CBCP warns pro-RH bets of Catholic vote
Court on pre-election surveys
Petitions seeking to stop the release of pre-elections surveys have also been filed in the past.
RELATED: Gadon asks Comelec to bar release of SWS, Pulse Asia surveys
SWS asked the high court to stop the Comelec from enforcing a provision of the Fair Election Act that held: "Surveys affecting national candidates shall not be published 15 days before an election and surveys affecting local candidates shall not be published seven days before an election."
The SC held that the assailed provision "imposes a prior restraint on the freedom of expression, a direct and total suppression of a category of expression even though such suppression is only for a limited period, and government interest sought to be promoted can be achieved by other means other than the suppression of freedom of expression." — Kristine Joy Patag