Court of Appeals rejects Trillanes' bid for halt order on rebellion trial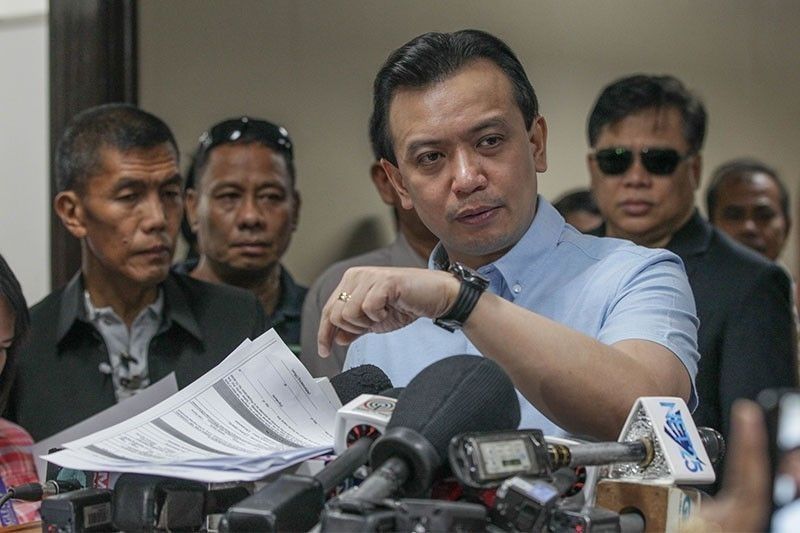 MANILA, Philippines (Updated 11:23 a.m.) — The Court of Appeals has denied Sen. Antonio Trillanes IV's bid to stop the Makati court's trial on the revived rebellion case against him.
The appellate court's Ninth Division, in a three-page resolution, denied Trillanes' application for a temporary restraining order against Makati Regional Trial Court Branch 150's September 25 and December 18, 2018 rulings.
On Sept. 25, 2018, the Makati court granted the Department of Justice's plea for an arrest warrant against the senator. This effectively revived the rebellion case against Trillanes over the Manila Peninsula siege in 2007.
Trillanes filed an appeal on the court's ruling, but Makati Judge Elmo Alameda stood firm on the decision and junked the lawmakers' motion for reconsideration on Dec. 18, 2018.
The CA, in a ruling dated March 18, held: "We may not temporarily restrain or preliminarily enjoin the procession of the criminal action for rebellion at this stage because to do so would be to grant the principal prayer for certiorari, prohibition and/or injunction without the benefit of a hearing."
The court instead ordered Makati Regional Trial Court Branch 150 Presiding Judge Elmo Alameda and the Department of Justice to file their comment or opposition on the petition within ten days.
Trillanes' camp meanwhile is given five days to file a Reply to the comment.
The court stressed that allowing the two camps to file their respective pleadings is "without necessarily giving due course to the petition."
Associate Justice Apolinario Bruselas Jr. penned the ruling. Concurring are Associate Justices Myra Garcia-Fernandez and Geraldine Fiel-Macaraig.
Rebellion trial reset
The Makati court is set to resume its trial on the revived rebellion case also on Wednesday, the court has reset the trial on May 27.
The court granted the motion of lawyer Reynaldo Robles, Trillanes' counsel, to move the hearing due to conflict of schedule.
Robles informed the court that he is set to appear in the trial of Sen. Leila De Lima in Muntinlupa City where he serves as defense counsel of former Bureau of Corrections chief Franklin Bucayu, who is one of the accused in the case.
"Since the court is convinced that the motion was filed not to delay but solely for the above purpose, the court is inclined to grant the same," Alameda said in his order dated March 18.
The rebellion case stemmed from the senator's participation in the 2007 Manila Peninsula siege.
Former President Benigno Aquino III granted amnesty to Trillanes and other mutineers, but President Rodrigo Duterte declared the senator's amnesty as void from the beginning through Proclamation 572.
Trillanes is assailing the constitutionality of the proclamation before the Supreme Court. The case is still pending.
EXPLAINER: Trillanes amnesty: Two courts and two rulings that may meet at SC
The prosecution is set to present their evidence against Trillanes when the trial resumes.