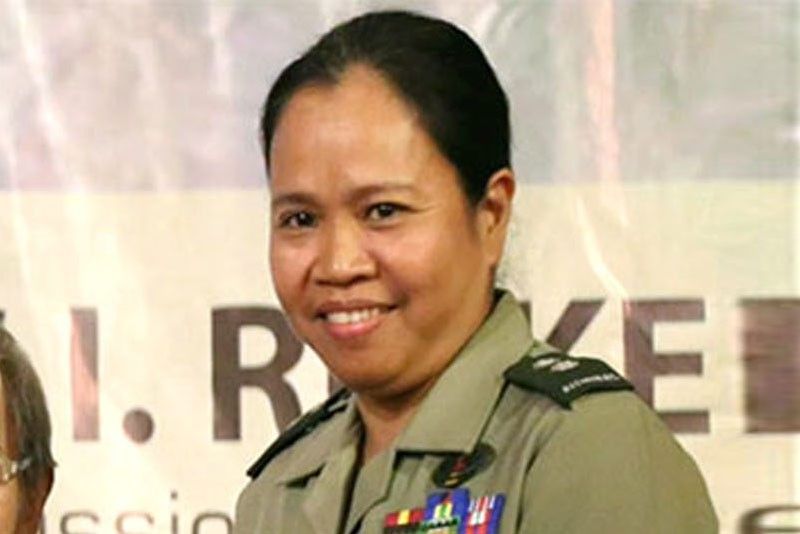 Army welcomes first female brigade commander
MANILA, Philippines — In time for this year's celebration of Women's Month, the Philippine Army has announced the appointment of its first-ever female brigade commander, Col. Joselyn Bandarlipe.
Lt. Col. Ramon Zagala, Army spokesman and public affairs office chief, said President Duterte had approved Bandarlipe's designation as commander of the 53rd Engineering Brigade in Lapu-Lapu, Cebu City.
"Our very first," he announced during the Kapihan sa Manila Bay weekly forum, noting that women are now playing important roles in the military.
Zagala said Bandarlipe is an engineer and one of 819 women officers and almost 3,400 enlisted women personnel of the 97,000-strong Philippine Army.
"They (women) are an integral part of the Philippine Army, they have a role to play. Colonel Bandarlipe will now command the engineers, she has a role to play – to dig wells, to build communities," he added as he encouraged more women to join the Philippine Army.
Zagala recalled that in the distant past, women were initially granted the right to serve in the Philippine Army only in the reserve ranks and the technical services as part of the Women's Auxiliary Corps.
In 1993, women were granted the right to be trained as combat soldiers in the Philippine military when Republic Act 7192 or the Women in Development and Nation Building Act was passed, thus granting women in the Philippines the right to become cadets in the Philippine Military Academy (PMA).
Zagala also cited that, in 2011, Brig. Gen. Ramona Go became the first female general in the Army who served as the assistant deputy chief of staff for personnel before retiring from the military service.