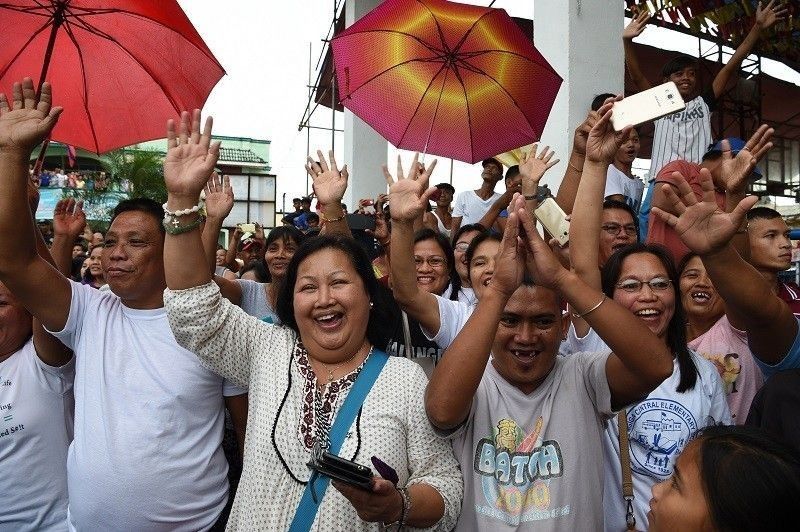 At least 87 percent of Filipino adults assessed their lives as "very/fairly happy."
AFP/File
SWS: Filipinos' happiness and satisfaction with life scores dip, lowest since 2014
(Philstar.com) - March 17, 2019 - 1:31pm
MANILA, Philippines — The happiness and satisfaction with life scores of Filipinos plunged to their lowest since 2014, a December 2018 survey by the Social Weather Stations released Sunday revealed.
The SWS poll, conducted from December 16 to 19, 2019, showed that despite the percentage drop, a large number of Filipinos are generally happy and satisfied with their lives.
At least 87 percent of respondents said their lives were "very/fairly happy." Of these, 39 percent of adult Filipinos said they are "very happy" and 48 percent of them were "fairly happy."
The score was a seven-point decline from the record-high 94 percent in December 2017. It is also the lowest since the 85 percent in December 2014.
On the other hand, the unhappiness score of 13 percent, who considered themselves not very happy and not at all happy, was the highest since the 15 percent record in December 2014.
Meanwhile, the SWS poll also showed that 82 percent of Filipinos are "very/fairly satisfied" with the lives they lead. This score is a 10-point decline from the record-high 92 percent in December 2017 and lowest in over four years since the 79 percent in September 2014.
Filipinos adults who are not very satisfied and not at all satisfied in December 2018 reached 18 percent, the highest since the 21 percent in September 2014.
According to the SWS survey, happiness was recorded the highest in Mindanao at 89 percent while the unhappiness score was highest in Metro Manila at 17 percent.
'Happiness declined in all classes'
It added that happiness also declined in all classes compared to 2017, especially in class E. Around 79 percent of adult Filipinos from class E assessed their lives as happy but it was a drop from the 90 percent in 2017.
The survey used face-to-face interviews of 1,440 adults (18 years old and above) nationwide: 360 each in Balance Luzon, Metro Manila, the Visayas and Mindanao. They were asked if they consider their lives happy and satisfied as a whole.
The poll has a sampling error margin of ±2.6 percent for national percentages, and ±5 percent each for Balance Luzon, Metro Manila, the Visayas and Mindanao.
The Philippine Statistics Authority medium-population projections for 2018 weighted the area estimates "to obtain the national estimates." — Rosette Adel