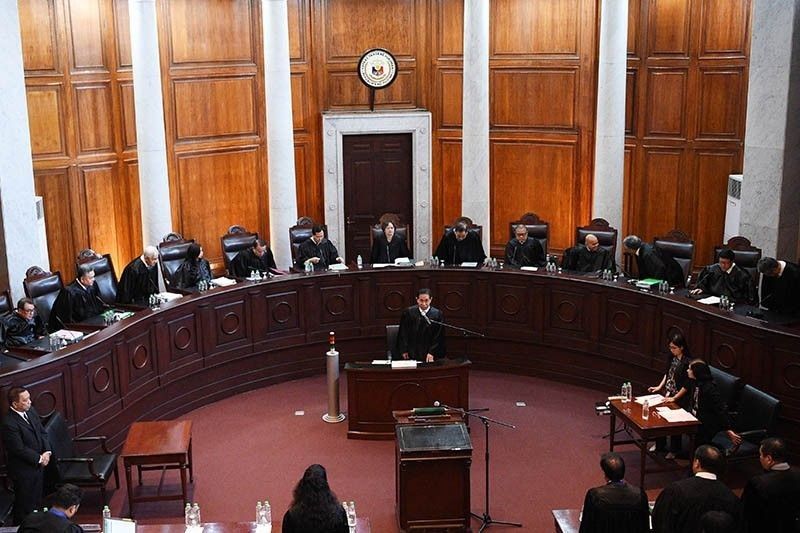 Members of the Supreme Court of the Philippines, led by its newly-appointed Chief Justice Teresita de Castro (back C), hear oral arguments on the petition to quit the International Criminal Court, at the Supreme Court in Manila on Aug. 28, 2018. The Philippines' top court heard arguments on August 28 against President Rodrigo Duterte's move to quit the International Criminal Court which is examining his deadly drug war, with advocates calling it unconstitutional.
AFP/Ted Aljibe
Petitioners knock on SC to rule on plea vs ICC before exit takes effect
MANILA, Philippines — The Philippine Coalition for the International Criminal Court urged the Supreme Court to resolve their petition challenging the Philippine government's withdrawal from the international tribunal.
The PCICC, one of the two petitioners, filed an Urgent Motion for Immediate Resolution on Friday, imploring the court that the country's exit would take effect on March 17.
"Petitioners fear that with the withdrawal taking effect without this Honorable Court's action, those who kill with impunity will only be further emboldened," lawyers Romel Bagares, Ray Paolo Santiago and Gilbert Andres said.
The PCICC and opposition senators asked the SC to declare the withdrawal as "invalid or ineffective" due to lack of concurrence from at least two-thirds of the members of the Senate.
The SC discussed the petitions through oral arguments last year and ordered the parties to submit their respective memoranda and to consider the case submitted for resolution.
But the high court on Tuesday, its last en banc session before the exit takes effect, did not issue a ruling on two petitions.
READ: Highlights from the oral arguments on ICC withdrawal
The PCICC, in their latest pleading, stressed that when the withdrawal becomes effective on Sunday, "Filipinos would be deprived of effective remedies, provided for under international law and constitutional law, against humanity, and war crimes—such as genocide, crimes against humanity, and war crimes—committed within the Philippine territory from March 17, 2019 onwards."
It would also leave Filipinos without remedy when there is government inaction on investigation or prosecution of impunity in the country.
Weeks after the international tribunal announced that it is conducting a preliminary examination into allegations of crimes against humanity in the country, President Rodrigo Duterte said the Philippines is withdrawing its ratification of the Rome Statue, which created the ICC.
Several communications alleging crimes against humanity due to extrajudicial killings in the country have been filed before the ICC, and a preliminary investigation involves the determination of whether the ICC has jurisdiction over the allegations.
Presidential spokesperson Salvador Panelo has asserted that the ICC never acquired jurisdiction over the Philippines since the laws were not published in the Official Gazette or a newspaper of general circulation.
He also said that the Philippines would not cooperate with the ICC probe. "There is no jurisdiction. Why would you cooperate? We're not bound by their rules."
READ: Groups: Withdrawal from ICC won't protect Duterte from being prosecuted