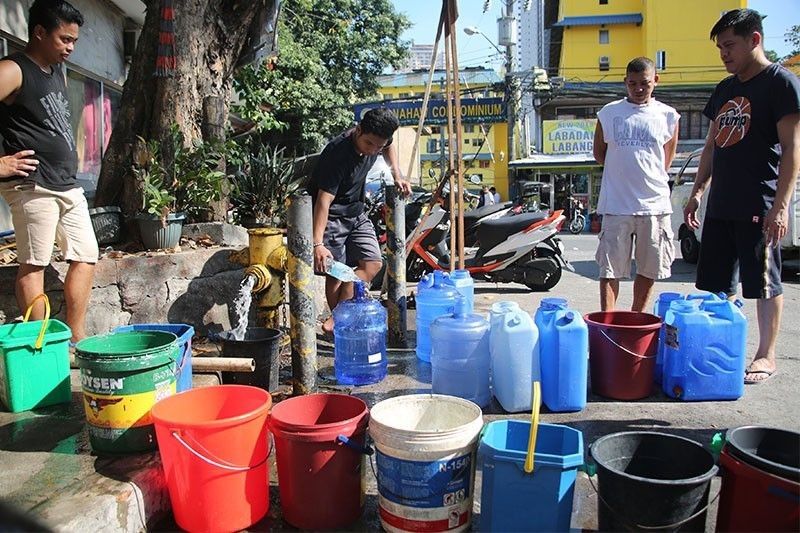 A fire hydrant is opened at Barangay Highway Hills in Mandaluyong City. Water concessionaires will have schedules of interruption on water service as La Mesa Dam is reported to hit critical level last March 10, 2019.
The STAR/Michael Varcas
EcoWaste laments increased use of disposable products amid water shortage
MANILA, Philippines — Environmental watch group EcoWaste Coalition lamented that the shortage of water supply in Metro Manila and nearby areas is causing the increased use of disposable products.
Manila Water, which provides service to over six million people in the east zone of Metro Manila, has been implementing water service interruptions since late last week. The Ayala-led water concessionaire said this is due to the high demand and low supply because of the El Niño phenomenon.
The situation prompted owners of eateries to use disposable plates, spoons, forks and cups and wrap plates with thin film plastic bags to avoid the use of water.
"The increased demand for disposable items during this time of water scarcity will surely add to the volume of residual garbage that generators from households to business establishments churn out every day," Aileen Lucero, EcoWaste Coalition national coordinator, said Thursday.
She added: "With taps running dry, we fear that more people and businesses will be encouraged to buy and use more single-use plastic disposables during the waterless period."
A report on the country's plastic pollution problem has shown the country uses nearly 60 billion pieces of plastic sachets a year.
The report, produced by the NGO Global Alliance for Incinerator Alternatives, also showed that more than 17 billion shopping bags are used across the Philippines every year. The use of smaller, thinner and often transparent plastic bags is at 16.5 billion pieces annually.
Filipinos also discard around 1.1 billion diapers per year.
EcoWaste Coalition is hoping that the water supply shortage would be resolved soon to meet the people's right to water and discourage the use of plastic disposables as it urged the public to conserve water more seriously.
"Let us all aim for zero water waste to reduce the impacts of low water supply during the summer months to the people, especially the poor, and the environment," Lucero said.