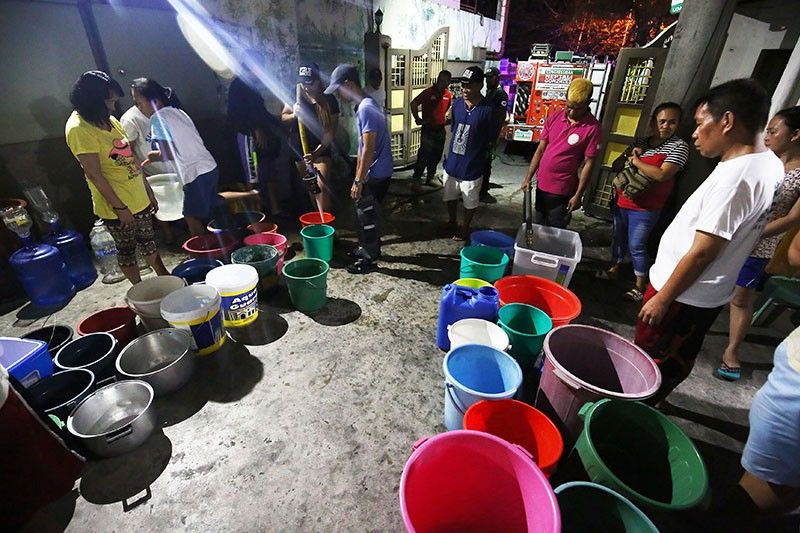 In this March 11, 2019 photo, residents queue with their pails and other containers as fire volunteers supply water at Brgy. Barangka Drive in Mandaluyong City water shortage the residents are experiencing in the area.
The STAR/Miguel de Guzman
Congress to probe water shortage
Paolo Romero
(The Philippine Star) - March 14, 2019 - 12:00am
Manila Water: Low supply, not mismanagement
MANILA, Philippines — Lawmakers yesterday called for a thorough investigation of the water crisis currently affecting residents in Metro Manila and Rizal.
Senate President Vicente Sotto III said there is a need to conduct an inquiry into the water shortage that he believes could have been minimized or even prevented had the proper agencies and private concessionaires acted promptly.
"We will have to find out, investigate why this happened," Sotto told reporters.
He said he would instruct the appropriate Senate committee to conduct the investigation.
The House of Representatives is conducting its own inquiry into the water supply problem in Metro Manila and nearby provinces.
Quezon City Rep. Winston Castelo, who chairs the committee on Metro Manila development, last night said his panel and the committee on housing headed by Negros Occidental Rep. Alfredo Benitez would hold a joint hearing on Monday.
"We need to get a clear picture of the situation and how we're going to deal with it because a lot of people are already getting adversely affected by the problem," Castelo said.
The two panels have sent invitations to Manila Water and Maynilad as well as the National Water Regulatory Board (NWRB).
"Where are the 100,000 barangay rainwater catch basins?" asked Sen. Nancy Binay as she cited the government's rainwater collector systems (RWCS) that were supposed to be put up in all barangays threatened by the El Niño dry spell.
Binay said Republic Act 6716, which was passed in 1989, provides for the construction of 100,000 water wells, rainwater collectors and rehabilitation of existing wells in all barangays.
Binay, who is running for re-election in the May elections, said the government failed to construct 100,000 water wells, cisterns and other types of rainwater harvesting facilities and catchment systems which should have been installed within the premises of public markets, public schools, farms and barangays with no existing water supply or where the source of water is scarce or limited.
Re-electionist Sen. Sonny Angara said Congress should also look into the water shortage problem to find long-term solutions to ensure adequate water supply amid the country's rising population and continued economic development.
Angara expressed concern over the ongoing water service interruptions across the concession area of Manila Water, causing inconvenience to many businesses and residents.
Manila Water, which covers the east zone of Metro Manila and Rizal province, has advised its customers to expect more water interruptions in the coming days due to limited water supply as El Niño begins to set in and could last until August.
Angara noted that while Manila Water has been suffering supply woes, its west zone counterpart Maynilad has not.
Rep. Jericho Nograles of the Puwersa ng Bayaning Atleta partylist said Manila Water should stop blaming El Niño for the company's failure to supply water in several cities in Metro Manila, calling it simply a case of mismanagement.
He cited Manila Water's "lack of foresight and mismanagement" that resulted in the total loss of water in key areas for almost a week now.
Rep. Carlos Zarate group of Bayan Muna yesterday asked the House of Representatives to look into the sudden water service interruptions in Metro Manila and nearby provinces.
In a resolution, Zarate said that an investigation is needed, considering that the NWRB and the Metropolitan Waterworks and Sewerage System (MWSS) have declared that there is no problem with water supply.
Manila Water not liable
Manila Water president Ferdinand dela Cruz said Ayala-led Manila Water Co. Inc. cannot be held liable as it maintains the problem is primarily due to supply deficit and not on any internal problem or mismanagement.
Dela Cruz has debunked possible internal issues that is causing limited or no water supply in parts of Metro Manila and Rizal province for several days now.
"There is no internal problem that caused the shortage, or any filtration and machine issue that we cannot draw water from Angat. Nor is this a prelude to a request for higher prices. This is really a supply deficit issue," Dela Cruz said during the Asia Water Council briefing on Wednesday.
Even the MWSS said Manila Water cannot be held legally liable as stated in the concession agreement.
MWSS chief regulator Patrick Ty added that there will also be no penalty on Manila Water as this is not covered in the concession agreement.
"The Kaliwa Dam was supposed to be delivered last year but it was delayed, you can't blame Manila Water for that. I can probably blame them a little because they should have done some mitigating factors but what is happening is not entirely their fault," Ty said.
"If this is staged then why does Maynilad have water? Second, where will the water go? They have been mentioning this since last year. It's just that they reached the tipping point," he added.
Manila Water has long projected that demand would continuously increase and it can only count on La Mesa Dam to bridge that gap.
"Right now, they have La Mesa but because of El Niño, it also decreased. And this will just happen again until we resolve the problem on a new water source," Ty said.
Dela Cruz maintained that Manila Water has not been remiss in advocating for new water sources for a long time.
The water at La Mesa Dam reached critical level of 68.76 meters as of Wednesday.
Supply from La Mesa Dam is Manila Water's reserve since it has maximized allocation from Angat Dam at 1,600 million liters per day.
"Our focus right now is make sure to get better predictability but it will take a little while to put things in motion," dela Cruz said.
"Manila Water is not sleeping and we are making sure to pinpoint which areas are affected and continue to work on additional supply," he added.
While cross-border flow or water sharing has been agreed with west zone concessionaire Maynilad Water Services, Dela Cruz said the company does not want to give false hopes as to when supply will be back to normal.
"This will continue to persist for a while because it is a high consumption period. We may have more aggressive rotational interruptions," he said.
Malacañang has started to consolidate efforts from concerned departments, particularly from the economic development cluster, to address the issue of water supply crisis in Metro Manila, Cabinet Secretary Karlo Nograles said yesterday.
According to Nograles, an executive order will be presented to President Duterte to allow government to properly address water issues in the country.?The proposed EO aims to address the fragmentation in the water sector by providing the framework for an integrated and coordinated effort in planning and implementing the programs and projects to address all issues in the water sector, he added.
The economic cluster led by Finance Secretary Carlos Dominguez III has vetted the EO now up for review of the Cabinet Assistance System (CAS) to help the government better resolve the many issues involving the supply and distribution of water.
Even before water interruptions in some areas in Metro Manila, Nograles said the Palace has been looking at inter-agency efforts to address the matter after the government saw some issues while in the process of finalizing the 2017-2022 Philippine Development Plan (PDP).
Buhay party-list Rep. Lito Atienza said he would file a bill making it mandatory for all building owners, both private and government, as well as households around the country to provide their own rainwater catchment facilities.?"We need to take seriously the threat of a water-less Philippines or face the dire consequences. We warned about this four years ago and it is now happening. We urgently need a law requiring all building owners as well as households to put up their own rainwater catchment facilities," he said.
Magdalo party-list Rep. Gary Alejano, a senatorial candidate of the opposition Otso Diretso, sought yesterday a congressional inquiry on the water shortage in Metro Manila and Rizal.
Alejano filed a resolution directing the appropriate committee in the House to immediately conduct an investigation to look into reported water shortage.
"The water service interruptions evidently experienced by numerous residents and consumers in Metro Manila and the province of Rizal is a matter of utmost public interest and deserves the immediate attention of Congress," Alejano said.
To save water, Isabela Rep. Rodolfo Albano lll said the government could regulate supply to carwash shops and golf courses.
He said Malacañang could order state agencies to reduce their use of water.
Marawi civic leader Samira Gutoc is also calling for an investigation on the water shortage being experienced in many parts of Metro Manila.
Gutoc, a senatorial candidate of Otso Diretso, said the water crisis is fast becoming a catastrophe and a probe should be conducted to identify the cause.
She said there is a great disconnect between the government and private water companies on the cause of the water shortage. With Cecille Suerte Felipe, Jess Diaz, Delon Porcalla, Helen Flores, Louise Maureen Simeon, Christina Mendez