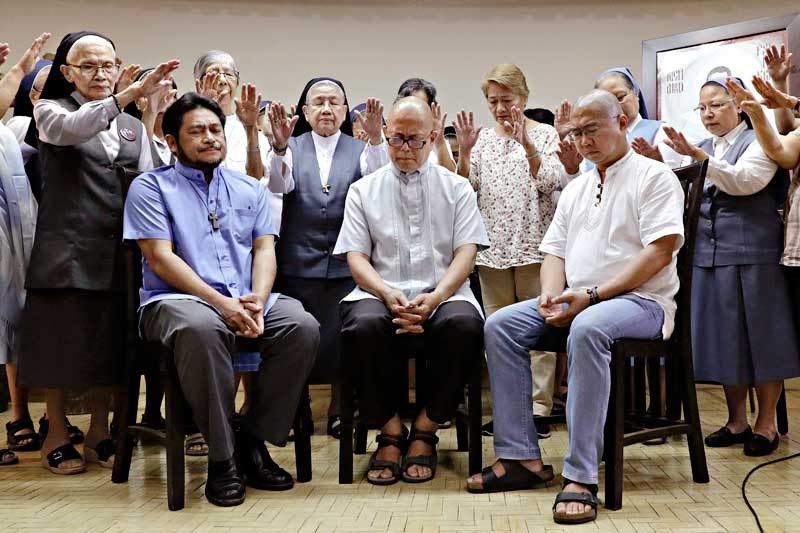 Nuns pray over Fathers Albert Alejo, Robert Reyes and Flavie Villanueva after the priests talked about the death threats they said they received from unknown persons during a press conference at St. Vincent Seminary in Quezon City yesterday.
AP
Priests recount death threats
MANILA, Philippines — Three priests who have received death threats allegedly for their criticism of the Duterte administration's war on drugs declared that they are not scared.
Fathers Robert Reyes, Flavie Villanueva and Albert Alejo yesterday went public and said that they have been receiving death threats and even monitored suspicious men lurking near their houses and offices.
"We took a stand to speak out and say, Digong, we're not afraid of you… we only abide by our lord God," Reyes said in Filipino.
Reyes, a vocal critic of the administration, was the most daring in his words, directly addressing President Duterte in his message.
Reyes said the threats, insults and curses all stemmed from the President's sharp tongue against the Catholic Church.
He noted that there have been at least 26 instances of Duterte insulting the Church, its workers and even Pope Francis.
"The President is the President, whatever he says even if it is a joke, becomes policy. What he says becomes true, and everybody listens to it," he said yesterday.
Malacañang has already denied that the administration is behind the death threats on the Catholic clergy, saying that it might have been fabricated or may have been plotted by the President's foes.
"Pranksters" and anti-Duterte "trolls" might be behind the threats against the clergymen, according to presidential spokesman Salvador Panelo.
"(The threats) could be coming from pranksters or anti-Duterte trolls to put (Duterte) in a bad light or from personal enemies of the priests," Panelo said in a text message. "Sending threats via text messages is the easiest and convenient things to do, you can't trace the source."
Lingayen-Dagupan Archbishop Socrates Villegas and Caloocan Bishop Pablo Virgilio David, who are both critical of Duterte's bloody war against illegal drugs, have also reportedly received death threats via text messages.
Duterte earlier said that Manila Archbishop Luis Antonio Cardinal Tagle had sent a message through former special assistant to the president Bong Go about the threats against the clergy.
Alejo came forward and said threats against the clergy are true, showing repeated text messages against him.
He recounted that the threats started when he got repeated calls late in the evening last month. – With Evelyn Macairan, Alexis Romero