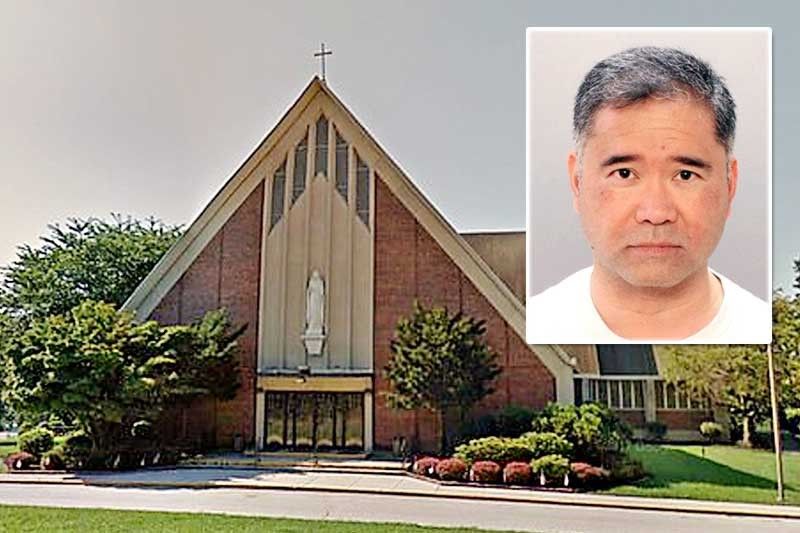 Suspended Filipino priest Rev. Armand Garcia (inset) has been charged for allegedly raping a teenage altar girl in August 2014 while he was preaching at the Immaculate Heart of Mary church in Philadelphia (in photo).
Filipino-American priest charged with rape, recording sex acts
Janvic Mateo
(The Philippine Star) - March 8, 2019 - 12:00am
MANILA, Philippines — A suspended Filipino Catholic priest has been arrested and charged over the alleged rape of a girl in Philadelphia in the US.
Rev. Armand Garcia, 49, was arrested on Monday and charged with rape, corruption of a minor and sexual abuse of a minor, the Archdiocese of Philadelphia confirmed in a statement.
Garcia was released on Monday night after posting $250,000 bond, according to a report by news site philly.com.
The incident is alleged to have occurred during the period from 2014 to 2017, while the priest was serving at the parish of Immaculate Heart of Mary in Philadelphia. It was reported that the priest recorded their sexual encounter.
No other details were provided, but local reports said the victim was a teenage altar girl.
The archdiocese described the charges against Garcia as "serious and disturbing."
"The archdiocese is cooperating fully with law enforcement regarding this matter and remains fervently committed to preventing child abuse as well as protecting the children and young people entrusted to its care," it said.
"Information regarding Father Garcia's arrest will be shared with parishioners at Saint Martin of Tours Parish and Immaculate Heart of Mary Parish, his two most recent assignments. Counselors will be made available when those announcements are made," it added.
Last year, the archdiocese placed the Filipino priest on administrative leave and he was prohibited from exercising public ministry, administering any of the sacraments or presenting himself publicly as a priest.
"At the time he was placed on administrative leave, Father Garcia possessed clear criminal background checks as well as child abuse clearances and had successfully completed safe environment training courses," the archdiocese said.
"The archdiocese cooperated with law enforcement during the course of the criminal investigation that has been ongoing for the past year. Father Garcia lived in a private residence for the duration of that period with no access to any parish or school," it added.
Ordained in 2005, Garcia served in various parishes, schools and offices in Philadelphia.
His arrest came amid criticisms of the Catholic church over sexual assault allegations against priests worldwide.