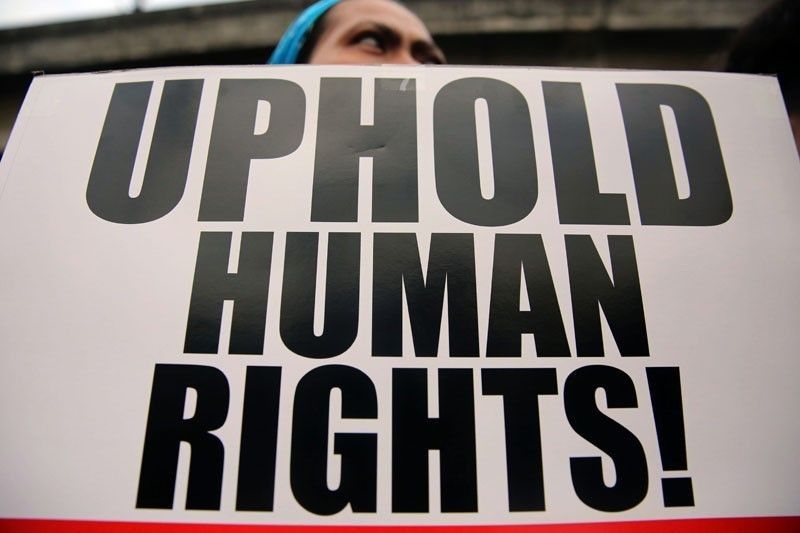 This file photo shows a protester holding a placard that says, "Uphold human rights."
The STAR/KJ Rosales, File
Group tells public to vote for bets who include human rights agenda in their platforms
(Philstar.com) - March 7, 2019 - 3:59pm
MANILA, Philippines — The May midterm elections would give Filipinos an opportunity to prevent "further erosion" in the country's democratic traditions and processes, a human rights group said Thursday.
"The 2019 elections is a defining moment for the aggrieved Filipino masses, whether we move forward as a nation hoping for better lives or as doomed souls, is literally in the hands of every voter inside the polling booths come May 13," the Philippine Alliance of Human Rights Advocates said.
It added: "At this juncture, we simply cannot afford a business-as-usual approach to this political exercise."
To guide voters in the upcoming polls, PAHRA introduced a 10-point agenda called #Sampusigurado. It called on the Filipinos to vote for candidates who would incorporate the following in their platforms:
Human rights-based governance
Compliance with international human rights treaties and instruments
Access to justice, accountability and ending impunity
Protection for vulnerable sectors
Protection for human rights defenders
Attainment of sustainable and inclusive peace and security
Enforcement of food sovereignty, decent livelihood and sustainable housing
Enforcement of laws toward a healthy and safe environment
Enforcement of a people-centered development program
Protection against foreign aggression and exploitation
"We call on the public to demand that candidates adopt this human rights agenda and to vote for those who do, in order to further erosion of our democratic traditions and processes and build the future with decent, competent leaders with effective programs," PAHRA said.
Various rights groups stressed that the Philippines under President Rodrigo Duterte is in its worst human rights landscape since the dictatorship of Ferdinand Marcos as thousands—mostly urban poor dwellers—have been killed in the brutal campaign against illegal drugs in so short a period.
The government has been also slammed for attacking those perceived to be critics of the administration. — Gaea Katreena Cabico