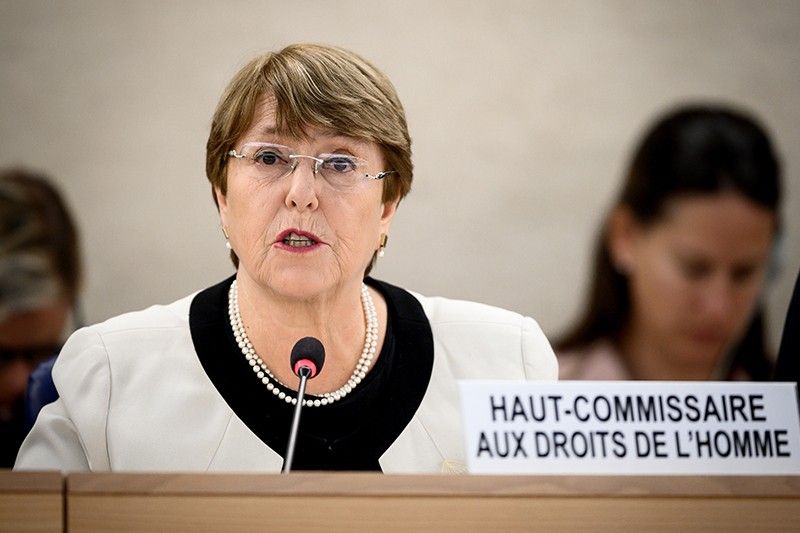 United Nations High Commissioner for Human Rights Michelle Bachelet presents her annual report before the UN Human right council members on March 6, 2019 in Geneva.
Fabrice Coffrini/AFP
UN rights chief criticizes Duterte's drug war, calls for public health approach
MANILA, Philippines — United Nations High Commissioner for Human Rights Michelle Bachelet issued a statement slamming the Philippines' deadly war on drugs and urged the government to take a "public health approach" to comply with human rights standards.

Agnes Callamard, the UN's special rapporteur on extrajudicial killings, shared the statement on a Facebook post on Wednesday.
"I encourage the Philippines to adopt a public health approach, and harm reduction initiatives, that comply with human rights standards, as recommended to the 2016 General Assembly Special Session," Bachelet, who was the president of Chile from 2006 to 2010 and again from 2014 to 2018, said.
"Despite serious allegations of extra-judicial killings, only one case – the widely reported killing of a teenage boy – has been subject to investigation and prosecution," Bachelet added.
While she didn't name the case she was referring to, in 2018 Caloocan police officers were convicted of murder in the highly-publicized case of 17-year-old Kian delos Santos.
READ: Cops convicted in Kian delos Santos murder

She added that independent and impartial investigations into reports of "thousands of killings" attributed to the Philippines police and security forces should be conducted.
President Rodrigo Duterte, however, has not taken kindly to international criticism.
In 2017 Duterte threatened to slap Callamard for saying she would investigate the administration's drug war.
READ: Duterte warns Callamard: If you investigate me, I'll slap you

"People who have fallen into the trap of drug reliance need help to rebuild their lives; drug policies should not be more of a threat to their lives than the drugs they are abusing," Bachelet said.
Duterte, however, has rebuked the idea that drug addicts can be rehabilitated, hence the need for an iron-fist approach to the drug war.
Since 2017, the president has repeatedly claimed that brains of shabu users shrink, despite expert opinion that it does not.

READ: Duterte defends claim shabu shrinks brains with tirade

Another South American politician, former Colombian President César Gaviria, was called an "idiot" by Duterte for urging the Philippine president not to repeat the mistakes of Colombia in a 2017 New York Times opinion piece.
Bachelet also highlighted that special rapporteurs of the human rights commission, opposition politicians, human rights defenders and journalists have been the subject of threats, attacked or jailed for expressing dissent against the drug war.
READ: Duterte calls Colombian ex-president 'idiot'
"And I am extremely concerned by Congress consideration of measures to reintroduce the death penalty for drug-related crimes, and reduce the age of criminal responsibility from 15, to 12 – or even 9 – years old," she added.
While the Philippines' neighbors Sri Lanka and China are the only countries to praise the Philippines as a role model in fighting drugs, the UN commissioner said the opposite.

"The drug policies in place in the Philippines, and its lack of respect for rule of law and international standards, should not be considered a model by any country," Bachelet said.