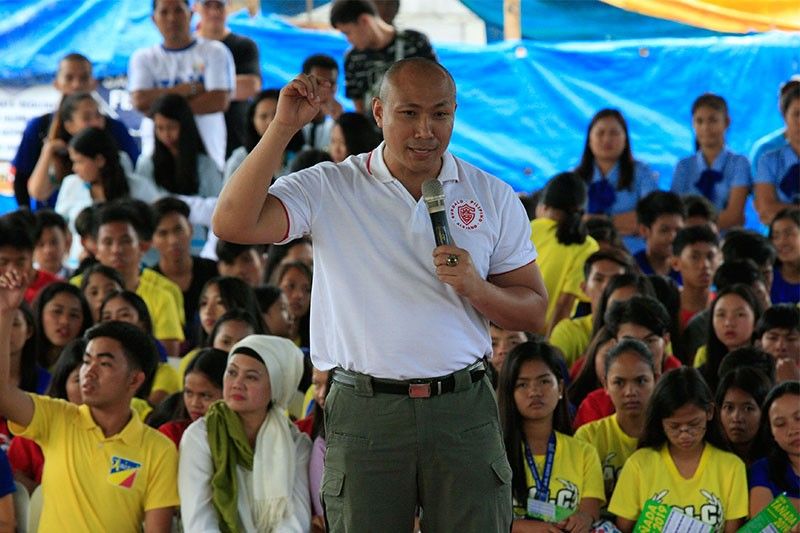 In this Feb. 13, 2019 photo, Rep. Gary Alejano (Magdalo party-list) attends a campaign sortie with the "Otso Diretso" coalition in Iriga City, Camarines Sur.
The STAR/Edd Gumban
Alejano presses gov't to protest Chinese intimidation of Filipino fishermen
MANILA, Philippines — Following reports that Chinese vessels have been denying access to Filipino fishermen on Pag-asa Island sandbars, Rep. Gary Alejano (Magdalo party-list) urged the Duterte administration to protest China's actions.
Kalayaan Mayor Roberto del Mundo confirmed that the presence of Chinese vessels near Pag-asa Island, one of the largest features in the Spratly Islands, have been affecting their fishing activities, according to a report from Inquirer.net.
Alejano, who is gunning for a Senate seat in the 2019 midterm elections, condemned China's act of intimidation against Filipino fishermen in the West Philippine Sea.
"It is a demonstration of their ability to occupy that part of our territory. China's pronouncements does not also agree with its intimidation against our countrymen," Alejano said in a statement released Monday.
The former Marine officer pointed out that he has been warning of Beijing's attempt to control sandbars near Pag-asa Island since 2017.
In August 2017, Alejano claimed that at least two fishing ships, two Chinese naval vessels and a Chinese Coast Guard ship have been operating around Pag-asa Island.
The Magdalo lawmaker even released a timeline of Chinese incursions in the West Philippine Sea during that period.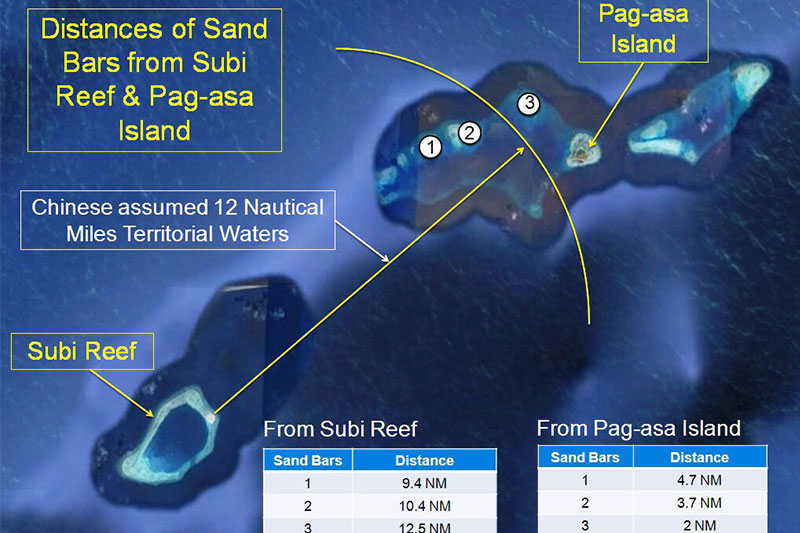 Philippines-controlled Pag-Asa Island is 12 nautical miles away from Subi Reef, one of China's artificial islands in the Spratlys. Rep. Gary Alejano/Released
Then Foreign Affairs Secretary Alan Peter Cayetano, however, said the reported presence of Chinese vessels near one of the biggest island in the Spratlys should not be a cause for alarm.
Alejano also decried the decision of President Rodrigo Duterte to stop building a shelter for Filipino fishermen in the area.
"The grievances of fishermen who were recently robbed by Chinese Coast Guard were just belittled and ignored by the administration," Alejano said.
"Despite the government's deaf ears, we will not stop seeking for justice and protecting the country from China's silent but widespread occupation," he added.
Presidential spokesperson Salvador Panelo said the latest report of the activities of Chinese vessels in the West Philippine Sea are subject to validation by the Department of Defense.
In May 2018, Alejano reminded Cayetano that the country effectively lost control of Sandy Cay, which lies four nautical miles from Pag-asa Island, under the Duterte administration. He was responding to the then foreign affairs secretary's challenge to prove that the Philippines lost an island to China under the term of Duterte.
Cayetano, on the other hand, insisted that the Philippines still has control over Sandy Cay and called Alejano a "liar."