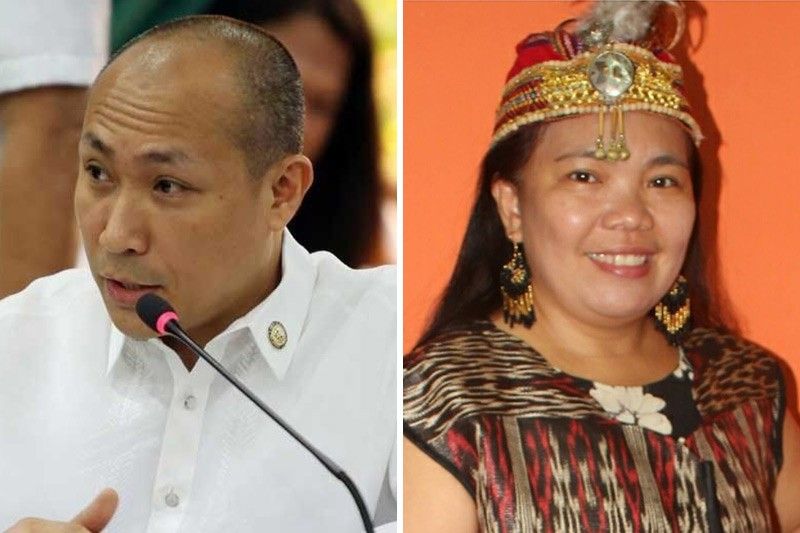 The two Senate hopefuls expressed opposition on legalizing divorce in the country. In a vote of 134-57, the lower house of Congress on March 19, 2018 approved on third and final reading House Bill 7303 or "An Act Instituting Absolute Divorce and Dissolution of Marriage in the Philippines."
Composite photo, Agnes Nieva Escudero Facebook and File photo
'Go... to church': Senate bet Agnes Escudero tells women seeking divorce from abusive husbands
(Philstar.com) - February 25, 2019 - 11:11am
MANILA, Philippines — Two Senate candidates on Sunday expressed their opposition to legislating divorce in the Philippines.
During the ABS-CBN's Harapan 2019 debate, independent candidate Agnes Escudero and Rep. Gary Alejano (Magdalo party-list) said that they are not in favor of divorce.
READ: LIVE updates: 2019 Senatorial Debate
Escudero, for her part, said she is not for legalizing divorce even if her husband is physically abusing her as she'd "rather want the women go to the church."
"Because the church said 'til death do us part.' The church also said that 'no man must divide what God has united,'" Escudero said.
In an earlier held debate — at the GMA 7 Senatorial Faceoff — Escudero said that divorce is for those who are "bitter."
"Dapat gumawa tayo ng batas para sa pagpapatatag ng pamilya. Dapat bigyan ng incentive ang mag-asawa na 25 years, 50 years ng kasal, dahil mahirap na humanap ng forever," she quipped.
Earlier asked who is funding her campaign, Escudero said that religious organizations are aiding her.
The Philippines is the only other country aside from the Vatican where divorce has not been legislated.
The lower house of the Congress approved on March 19, 2018 House Bill 7303 "An Act Instituting Absolute Divorce and Dissolution of Marriage in the Philippines."
During the interpellations of the bill, the Catholic Bishops' Conference of the Philippines said in a statement that it recognizes that "there are indeed failed marriages and that not all married couple were 'joined together by God.'"
It has, instead, called for lawmakers to look into the possibility of divorce being seen as an "easy option" that would produce children deprived of care from parents.
The bill was hailed for being a "pro-women legislation," as it notes that in most case of irreparable marriages, it is the wife who is entitled to liberation from an abusive relationship.
RELATED: Legalizing divorce in the Philippines: What you need to know
Alejano also said that he is not in favor of divorce, but did not expound on his answer.
In a report on April 2018, a month after the bill reached the House plenary, Alejano said that divorce "would most likely force Filipino women to destitution." — Kristine Joy Patag