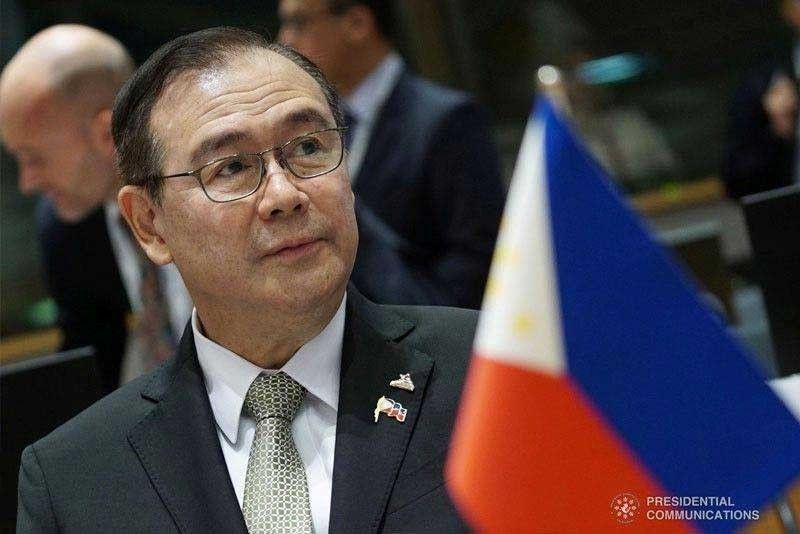 Journalist Arnd Henze of Berlin-based ARD Capital Studio yesterday claimed that the German government summoned the Philippine envoy and "made very clear that the remarks by Locsin were totally unacceptable."
Presidential Communications Photo
Germany summons Philippine envoy over Locsin's Nazi remarks
Janvic Mateo
(The Philippine Star) - February 23, 2019 - 12:00am
MANILA, Philippines — The German Federal Foreign Office has reportedly summoned the Philippine acting ambassador over remarks made by Foreign Affairs Secretary Teodoro Locsin Jr. about Nazi leader Adolf Hitler.
Journalist Arnd Henze of Berlin-based ARD Capital Studio yesterday claimed that the German government summoned the Philippine envoy and "made very clear that the remarks by Locsin were totally unacceptable."
The embassy is currently headed by chargé d'affaires Lilibeth Pono.
The Department of Foreign Affairs, the German Federal Foreign Office and the German embassy in Manila have yet to respond to inquiries regarding the report.
But on Twitter, Locsin said the Philippine embassy in Berlin is already handling the matter.
"I already told them to tell the German Foreign Ministry to send the German ambassador to me because I'd rather finish my own fights than have others do it," he added.
In an earlier interview with the broadcast network, a clip of which was uploaded online, Locsin appeared to defend President Duterte's previous remarks comparing his drug war to what Hitler did to Jews.
"It's how he expresses himself. Remember, his policy, according to the surveys, has inspired greater confidence. Why would we give up on that?" Locsin said.
"He just mentioned it, I don't think (Hitler) is a role model for his policy," he added.
Locsin was later heard saying he does not know what Duterte meant by his statement, noting that he himself said the same thing even before the President made the controversial remarks.
On Twitter, the secretary said he could not do mind-reading when asked by the journalist to interpret Duterte's remarks.
"I don't do mind-reading so I asked him, 'No you tell me what did you Germans mean by killing six million Jews; you should be able to explain; Germans voted to make it criminal to be born a Jew,'" he wrote.
"I got hell when I said what was true: Hitler's economic minister Hjalmar Schacht set up our brilliantly anti-inflationary Central Bank after prison in Spandau. But we must give credit where it is due – even to a Nazi," he added in response to a tweet of German journalist Martin Kaul, who urged him to use his stay in Germany to learn about the issue.
Foreign Affairs Assistant Secretary Elmer Cato accused Henze of "biased representation" of his interview with Locsin.
"The video posted by Mr. Henze on his blog is incomplete and misleading. It failed to show Mr. Henze's deliberate attempts to provoke Secretary Locsin into giving controversial remarks," said Cato, in a statement released last night.