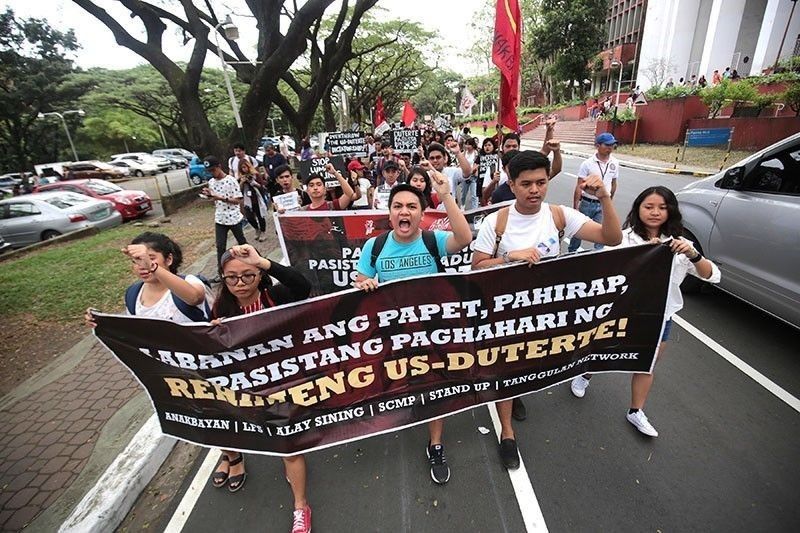 This file photo shows youth participating in a rally inside the University of the Philippines Diliman.
File
CHR slams proposal to revoke scholarships of 'anti-government' students
(Philstar.com) - February 22, 2019 - 3:08pm
MANILA, Philippines — Expressing dissent to the government's policies should be not be used a basis to remove scholarships of students deemed to be "anti-government," the Commission on Human Rights said.
The CHR issued the statement after National Youth Commission chair Ronald Cardema called for the revocation of scholarships of students suspected to have links with leftist organizations.
Jacqueline De Guia, CHR spokesperson, stressed that freedom of speech and of expression and freedom to petition the government to redress of grievances are guaranteed by the Constitution.
"These should not be used as basis to strip off deserving students access to education through scholarships," De Guia said.
She added: "It is also equally important to recognize the people's right to self-organization and freedom of association for as long as they are within the bounds of law."
The CHR spokesperson, moreover, reminded government of its obligation to serve the people, not the other way around.
"As such, it is important to continuously seek ways on how to improve access to education envisioned to hone critical, productive citizens meant to benefit the entire nation," De Guia said.
The suggestion of Cardema—also the chair of the so-called Duterte Youth Movement—has been roundly criticized by youth groups, lawmakers and even Cabinet members.
Amid calls for him to quit his post, Cardema said he would not resign and apologize.
President Rodrigo Duterte on Wednesday said there is nothing wrong with students expressing dissent against his administration. But he also warned that those who "espouse the destruction" of the government might lose their scholarship. — Gaea Katreena Cabico
Related video: