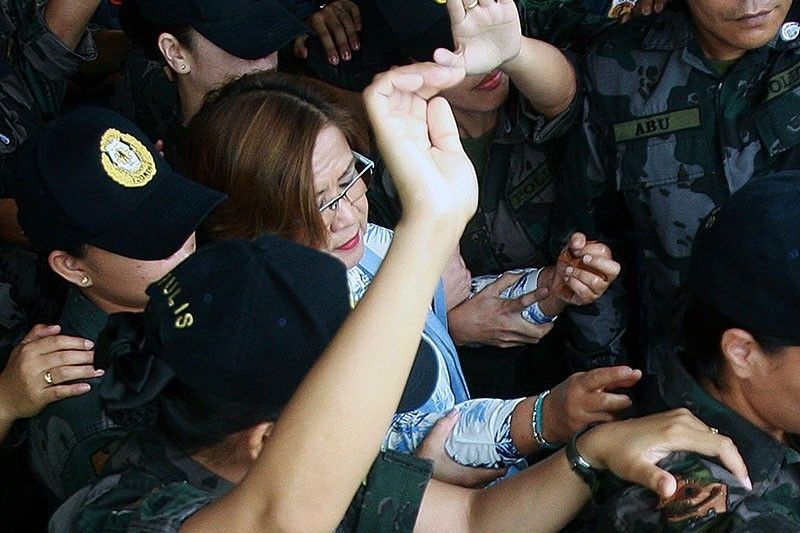 This file photo shows Sen. Leila de Lima upon her arrival at Muntinlupa Regional Trail Court to attend her hearing.
The STAR/Joven Caganda, File
Int'l rights groups call on gov't to drop 'preposterous' charges vs De Lima
MANILA, Philippines — Three international human rights organizations called on the Philippine government to drop the "politically-motivated" charges against Sen. Leila de Lima, who has been detained since February 2017.
In a release Friday, Human Rights Watch, Amnesty International and Asian Forum for Human Rights and Development (FORUM-ASIA) noted the "arbitrary detention and mistreatment" of De Lima is indicative of the "deteriorating" situation for human rights defenders in the Philippines.
Brad Adams, HRW Asia director, said the prolonged detention of De Lima is the culmination of President Rodrigo Duterte's "long demonization campaign against a critical sitting senator."
"These preposterous charges against her should immediately be dropped and the senator be released," Adams said.
FORUM-ASIA executive director John Samuel, for his part said: "Senator De Lima's two year in custody show the lengths the Duterte administration will go to stifle dissent and threaten human rights defenders who demand accountability for violations."
He added: "The government's fabricated charges against her only reflect how compromised its institutions have become under the present administration."
Nicholas Bequelin, Amnesty International's East and South East Asia and the Pacific regional director, called De Lima a "brave champion of human rights" who was detained solely for her criticisms of the Duterte administration.
"This is a blatant attempt to silence her courageous voice as she continues to speak out against widespread human rights violations, including thousands of extrajudicial executions of mostly poor and marginalized people," Bequelin said.
Last year, a United Nations Working Group on Arbitrary Detention adopted an opinion that categorized De Lima's pre-trial detention as "arbitrary" and that she should be released.
The senator's colleagues in the upper house called on their fellow lawmakers to heed the UN panel's call early in February.
The Duterte administration has long rejected numerous calls to release De Lima, saying these are intrusions of country's domestic affairs.
De Lima has been detained at Camp Crame in Quezon City since Feb. 24, 2017 over the government's drug charges against her. She was initially detained on an illegal drug trading charge that has since been amended to charge of conspiracy to commit illegal drug trading.
It took more than a year for De Lima's arraignment—to which she refused to enter a plea on all charges—to happen. She was arraigned on her last drug-related charge on February 1.
The Commission on Human Rights earlier called out the Philippine National Police for its treatment of the senator.