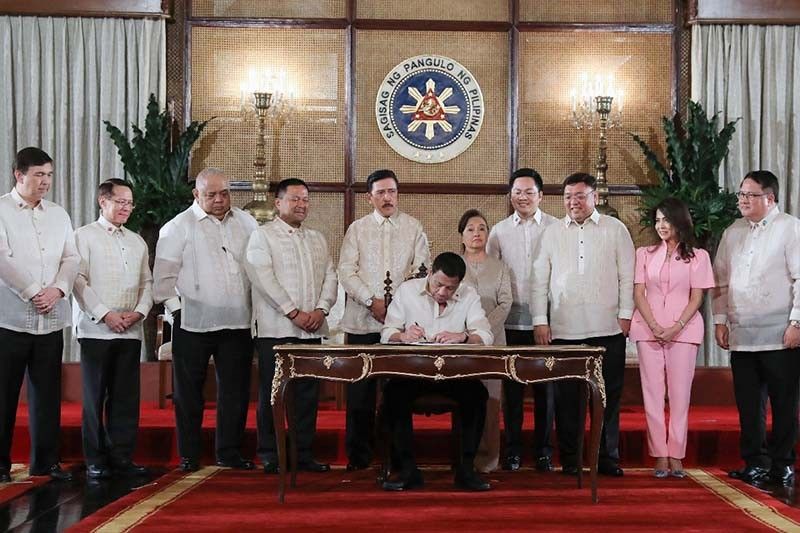 President Rodrigo Duterte leads the ceremonial signing of the Universal Health Care Act at the Malacañan Palace on February 20, 2019.
Presidential Photo/Rolando Mailo
WHO lauds signing of 'landmark' health care act
(Philstar.com) - February 21, 2019 - 4:17pm
MANILA, Philippines — The World Health Organization on Thursday welcomed the passage of the Universal Health Care Act, which would enable Filipinos to have access to quality health services at lesser cost.
President Rodrigo Duterte led the ceremonial signing of the Universal Health Care Act Wednesday.
Gundo Weiler, WHO country representative, said the landmark legislation has a "tremendous potential for expanding quality and affordable health services for every Filipino."
"We are very happy to see in this act that there are very important provisions addressing financial protection and increasing access to the services. We do believe this is an excellent basis for realizing universal health coverage in the Philippines," Weiler said in a press briefing Wednesday.
He added: "This is not the end point but just a starting point for major reform effort in the Philippines."
In a separate statement hours after Duterte officially signed the measure into law, WHO called the UHC law a "critical step" toward health for all Filipinos.
"It will facilitate major reforms to consolidate existing yet fragmented financial flows, increase the fiscal space for benefit delivery, improve the governance and performance of devolved local health systems and institutionalize support mechanisms such as health technology assessment and health promotion," UN agency said.
One of the salient features of the law is the automatic enrollment of all Filipinos into the National Health Insurance Program of the Philippine Health Insurance Corporation as either as direct or indirect contributors. Direct contributors are those who have capacity to pay premiums, while indirect contributors are the indigents, senior citizens, persons with disabilities, among others.
In November last year, the bicameral conference committee headed by Sen. JV Ejercito and Rep. Angelina Tan (Quezon) passed the consolidated version of the Universal Health Care bill.