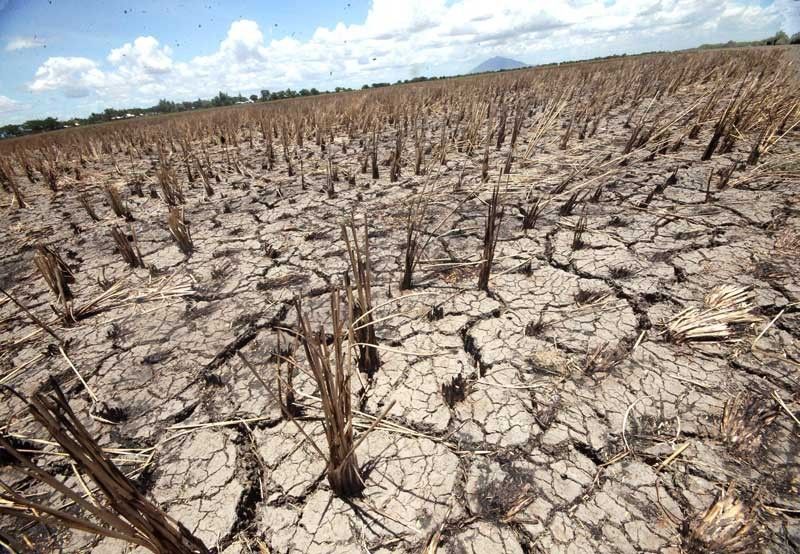 File photo shows a farm in Jaen, Nueva Ecija hit by drought as a result of El Niño. The state weather bureau expects temperatures in Metro Manila to reach 38.2 C and 40.7 C in Tuguegarao by May due to the El Niño phenomenon.
Boy Santos
Hotter, drier El Niño ahead
Helen Flores
(The Philippine Star) - February 21, 2019 - 12:00am
MANILA, Philippines — Residents of Luzon, including Metro Manila, should brace for a hotter dry season due to El Niño, which is expected to become full-blown by the end of this month, the state weather agency warned yesterday.
The temperature in Metro Manila is expected to reach 38.2 degrees Celsius and 40.7 degrees Celsius in Tuguegarao City, Cagayan by May, it said.
Although comparatively "weak" in intensity, the weather phenomenon may still bring "way below normal" rainfall in some parts of the country that may significantly lower the water supply in major dams in Luzon, including Angat Dam in Norzagaray, Bulacan.
Angat Dam supplies 98 percent of Metro Manila's water requirement and powers a hydro-electric power plant.
"The weak El Niño is likely to have an effect on energy, especially now that we're approaching the dry season," Esperanza Cayanan, weather division chief of the Philippine Atmospheric, Geophysical and Astronomical Services Administration (PAGASA), said at a press conference yesterday.
"The water level of the dam which supplies our electricity will be affected and could lead to frequent brownouts," she said.
Ana Liza Solis, head of PAGASA's climate monitoring and prediction section, said the criteria for declaring an El Niño have been met.
She said a prolonged dry season is expected this year.
Below normal rainfall is likely over most parts of Luzon until June, Solis said.
Due to El Niño, the country is also expected to experience "fewer but stronger" tropical cyclones this year.
"This year we expect 16 cyclones compared to the average 20 cyclones every year," she said.