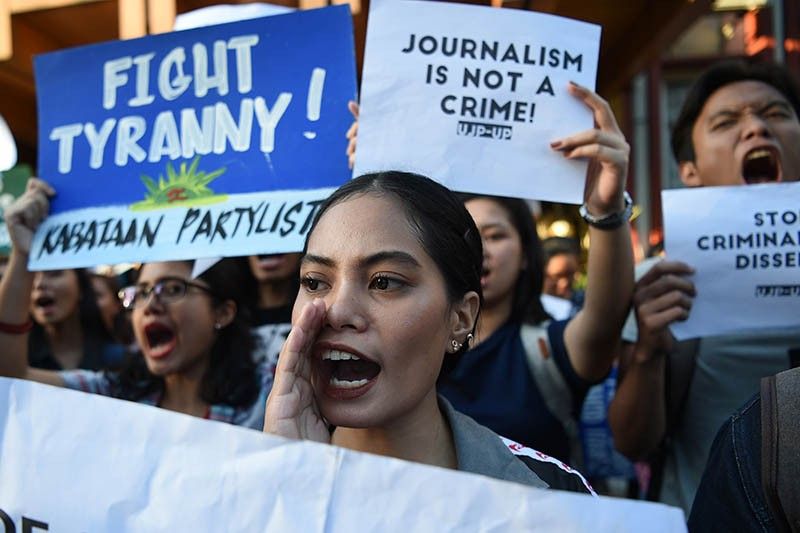 Students hold placards as they shout slogans during a protest at the state university grounds in Manila on February 14, 2019, in support of CEO of Rappler, Maria Ressa, who was arrested a day earlier for cyber libel case. Ressa was freed on bail on February 14 following an arrest that sparked international censure and allegations she is being targeted over her news site's criticism of President Rodrigo Duterte.
AFP/Ted Aljibe
UN rights body calls on review of cases vs Ressa
MANILA, Philippines — The Office of the United Nations High Commissioner for Human Rights called on a review of the cases filed against Rappler and its CEO Maria Ressa.
In a statement, Rupert Colville, spokesperson of the OHCHR, said its office is calling for "an independent and thorough review of all charges against Ms. Ressa and other media professionals in the Philippines."
The UN office also urged the Philippine judiciary to remain independent and reject politically motivated cases and those that run in contrast with international human rights standards, including freedom of opinion or expression.
"Any charges that appear to be aimed at preventing journalists from undertaking their profession, thereby depriving the public of their right to information should be dropped immediately," Colville added.
"Attempts to intimidate or muzzle independent news sources has a serious effect on freedom of opinion and expression in general, and the rights of journalists to carry out their professional duties safely and without fear of reprisal are clear under international law," the statement, released to media on Monday, further said.
READ: Regional press alliance condemns 'intimidation' of Philippine media
Malacañang distanced itself from Ressa's cases, with President Rodrigo Duterte saying that he does not know businessman Wilfredo Keng — who filed the complaint against Rappler over a five-year-old article in 2017.
The president also said: "I do not relish picking on her [Ressa]. I'm out of it."
Presidential spokesperson Salvador Panelo asserted the legitimacy of Ressa's case and said that the veteran journalist should defend her case in court.
Ressa and her company have filed an appeal over the Securities and Exchange Commission ruling that ordered the cancellation of their license and are facing tax evasion charges at different courts.
RELATED: PCOO to hold Europe caravan to explain to int'l media Duterte not behind Ressa arrest | Pangilinan questions PCOO's 'press freedom caravan' in Europe
The UN has, in the past, also called for the dropping of charges against Sen. Leila De Lima, who like Ressa, called her case a persecution of the government.
In October 2018, Panelo dismissed concerns raised by the Inter-Parliamentary Union over the cases against De Lima and Sen. Antonio Trillanes IV, another government critic.
"It is apparent this organization of foreign parliamentarians does not respect the ongoing proceedings being conducted by our courts of justice when it reached an incredible solution on the cases involving senators De Lima and Trillanes," Panelo said then.
'Big picture' in libel case overlooked
For Center for Media Freedom and Responsibility Chairman Vergel Santos, the "big picture" behind Ressa' arrest seemed to have been overlooked.
"What we have today is a regime that has a tendency towards reprisal and repression," Santos said in an interview with ONE News' "The Chiefs."
Santos, also a veteran journalist, pointed out that Duterte has not made secret his "wish to declare a dictatorship."
He explained that while journalists have freedom of expression and speech without the interference of the state, the government has power — making it a "lopsided" battle.
"I think it is totally wrong to compare what we journalists have and what the government which is itself a monolithic entity... it's power. So, by that equation itself, you can see that we journalists are lopsidedly mismatched against power," he added.
"What we have, which is freedom, should be defended to the end," Santos added.
In an earlier interview with CNN Philippines, the head of media watchdog CMFR also called on journalists to stand for press freedom.
He hammered on the role of journalists to defend the very core of their profession, which is at the center of a thriving democracy.
READ: UN rapporteur includes De Lima, Sereno, Ressa in report on rights defenders