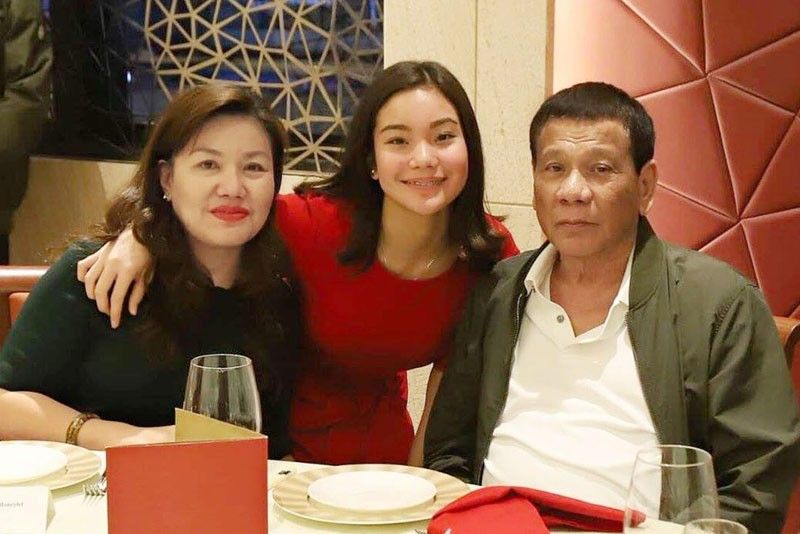 President Duterte, Honeylet and their daughter Kitty.
Image courtesy of Duterte's former special assistant Christopher Go, who accompanied them on the trip.
Duterte flies to Hong Kong For Honeylet's birthday
DAVAO CITY, Philippines — After watching the concert of Brazilian artist Sergio Mendes on Valentine's Day at Solaire Resort and Casino, President Duterte flew his long-time partner Honeylet Avanceña to Hong Kong for her 47th birthday last Saturday.
The pair and their daughter Kitty were spotted in the shopping district of Causeway Bay at around 8 p.m., according to the South China Morning Post.
Duterte was accompanied by a group of bodyguards at the World Trade Center in Causeway Bay, according to the report.
"Then he boarded a bus and headed for Wan Chai," said the news article, translated in English.
The report also said some shoppers recognized the President but no one greeted him.
Former special assistant to the president Christopher Go joined Duterte and his family on their "rest and recreation" trip.
"It was actually Kitty who requested her father for the trip, as a gift. They took a similar trip when Duterte was still mayor of Davao City," Go said in Filipino.
Photos released by Go showed Duterte and his family celebrating Avanceña's birthday in a restaurant. The President's partner was also seen blowing out a candle on a cake.
Duterte designated Executive Secretary Salvador Medialdea as officer-in-charge before he left late Friday night.
The President, Avanceña and Kitty were expected to return yesterday afternoon.
It was Duterte's second visit to Hong Kong in over four months.
Last October, the President and his family went to the special administrative region days after he admitted to undergoing medical tests and raised the possibility that he may have cancer. The President later announced he tested negative for cancer. – With Alexis Romero