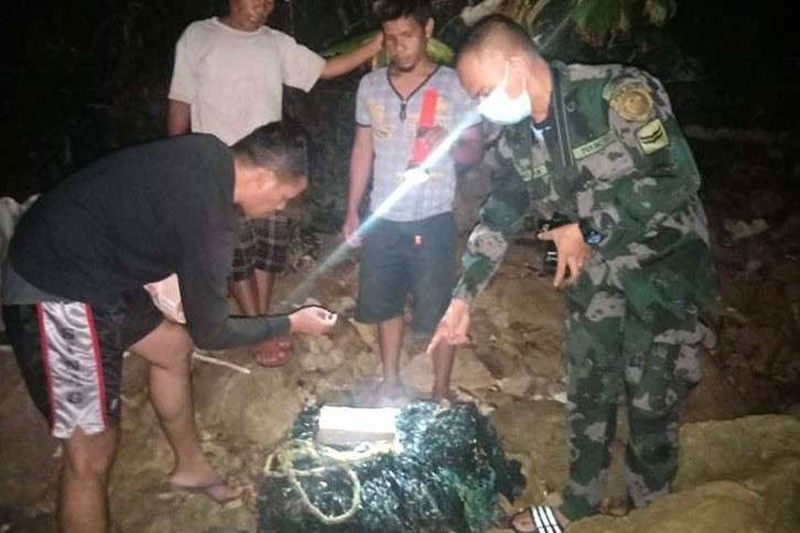 Based on their initial assessment, PDEA director general Aaron Aquino said the Golden Triangle syndicate based in China and Hong Kong is known for producing illegal drugs in large quantities.
File
Chinese syndicate, Colombian cartels behind Dinagat, Siargao cocaine bricks?
MANILA, Philippines — The Chinese-run Golden Triangle syndicate and Colombian drug cartels are being eyed as possible sources of the cocaine bricks recovered in the waters off the islands of Dinagat and Siargao on Friday, the Philippine Drug Enforcement Agency (PDEA) said over the weekend.
Based on their initial assessment, PDEA director general Aaron Aquino said the Golden Triangle syndicate based in China and Hong Kong is known for producing illegal drugs in large quantities.
"The Golden Triangle manufactures cocaine in volumes," Aquino said in a text message yesterday.
Aquino is also not discounting the possibility that drug cartels in Colombia could be behind the cocaine bricks, noting the similarities it had with the same drugs that were recovered in Matnog, Sorsogon in January last year.
Samples of the cocaine recovered in Matnog were sent to the United States Drug Enforcement Administration for testing.
"The result in the method used in processing the cocaine is traditionally Colombian," Aquino said.
Around 48.2 kilos of cocaine were recovered in Barangay Poblacion, Dinagat while some 40 kilos were retrieved off the coast of Barangay Pacifico, Siargao.
Aquino added it is possible that whoever are responsible for the drugs are just using the Philippines as a transshipment point, noting that there is only a small demand of cocaine in the country.
Caraga Police Director Chief Superintendent Gilbert Cruz initially said the cocaine bricks could be worth P462 million but said it could be valued as high as P1 billion, citing a survey conducted in other countries that a gram of cocaine is worth 255 euros.
Cruz said the drugs could have been thrown at sea and was supposed to be picked up by another group.
"Ang modus ay ibabagsak sa tubig, may (global positioning system) and then naka-monitor na roon sa tatanggap (The modus is to release into the water, there's GPS and then it is monitored by the receiver)," Cruz said in an interview over radio station dzBB.
The Philippine National Police (PNP), meanwhile, has started to strengthen the capabilities of its Maritime Group to curb drug smuggling through the sea.
PNP chief Director General Oscar Albayalde said among their priorities is the procurement of motorized boats.
"We are modernizing our Maritime Group. We have procurement last year and there will be a portion of our 2019 budget that will be allocated for the capability enhancements," Albayalde said in an interview with reporters in Baguio City on Saturday.
Maritime Group director Chief Supt. Rodelio Jocson said they procured 28 gunboats last year.
"Seven of the boats have already been delivered and we are expecting the rest this year," Jocson said in a phone interview.
He said they will buy 18 more boats this year. Other assets expected to be delivered are bulletproof vests and drones.
"We will deploy these boats in strategic areas in the country," Jocson said.
Probe sought
A senior administration lawmaker wants to dig deeper and conduct an investigation following reports that authorities have recovered 77 blocks of suspected cocaine estimated to be worth P500 million washed ashore in Dinagat Islands and tourist attraction Siargao Island.
"It is an open secret in my province that some politicians are involved, directly or indirectly, in illegal drug operations," Surigao del Norte Rep. Robert Ace Barbers, chairman of the committee on drugs of the House of Representatives, said.
"It is not farfetched to think that people involved in this have heightened their illegal activity and use their loot for election purposes," he said, referring to the 40 cocaine blocks recovered along the coast of Barangay Pacifico, San Isidro, Siargao.
Barbers also expressed fear that the illegal drugs recovered in Siargao and Dinagat Islands, and other places have connection to "narco-politics" because they happened in the middle of the election period.
He said it is very alarming and frightening that his province could be or has become a dumping ground of illegal drugs by foreign and local drug syndicates.
Barbers asked Aquino and Albayalde to dig deeper into the identities of those who dumped the cocaine in the seas, what boat or ship they used and who the intended local recipients of the illegal cargo are.
Recently, some P5.4 million worth of cocaine were found floating along the shores of Vinzons, Camarines Norte.
A recent buy-bust operation in a Tampa, Cavite warehouse also yielded P1.9 billion worth of shabu believed to have been brought to the country through "shipside smuggling."
Aquino said drug syndicates have resorted to this route after security in all possible entry points – the various air and seaports in the country – have been intensified. – Delon Porcalla