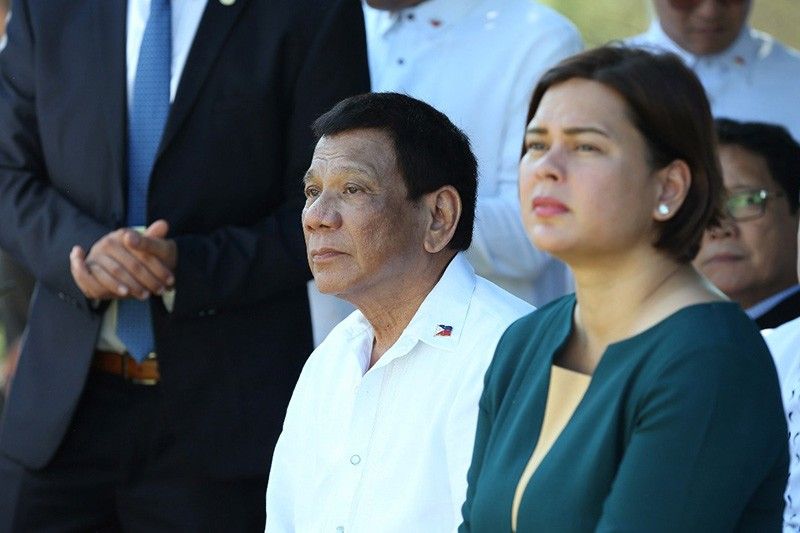 President Rodrigo Duterte witnesses the program proper before leading the wreath-laying ceremony at the Holocaust Memorial Park in Rishon Lezion, Israel on Sept. 5, 2018. Joining the president is presidential daughter Davao City Mayor Sara Duterte-Carpio.
Karl Norman Alonzo/Presidential Photo
'Si Inday ang... di ko talaga kaya': Duterte apologizes to Alvarez over ouster
SAN JOSE DEL MONTE, Bulacan — President Rodrigo Duterte Thursday apologized to former House Speaker Pantaleon Alvarez, who was ousted last July supposedly because of the maneuverings of presidential daughter and Davao City Mayor Sara Duterte-Carpio.
Duterte admitted that he could not control his daughter, who is known for being assertive and outspoken about her views.
"Sorry, it had to happen. Si Inday (Sara) ang... di ko talaga kaya," the president said during the proclamation of the senatorial candidates of the ruling PDP-Laban here.
READ: Duterte: 'Sara behind Pantaleon Alvarez ouster'
Alvarez was present during the event, the first political sortie attended by the president.
Duterte said fathers like him do not want to clash with their daughters, saying such disagreement could lead to a shouting match.
Alvarez was ousted as House speaker and was replaced by former president and now Pampanga Rep. Gloria Macapagal-Arroyo during Duterte's second State of the Nation Address in July 2018.
READ: Arroyo confirms 'thank you' lunch with Sara Duterte
Duterte, later on, admitted that Sara was behind the leadership change.
"Be careful with that woman. She can even oust the speaker. She operated in Davao," Duterte said last October.