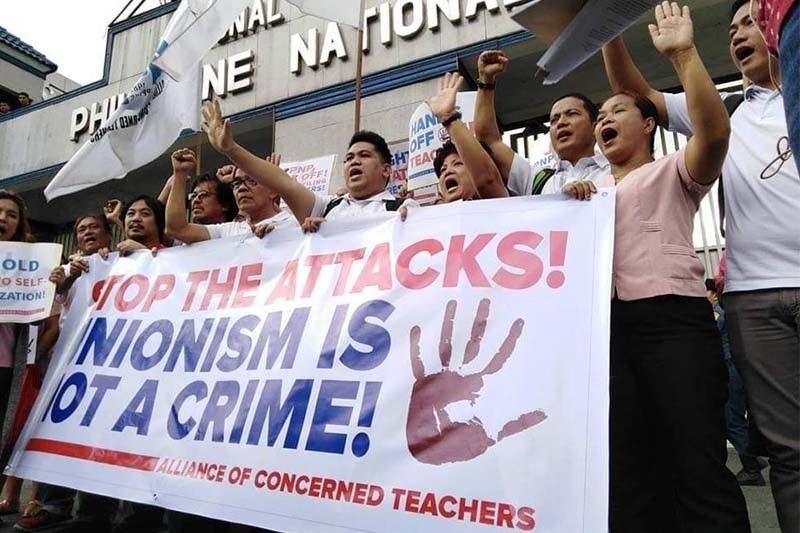 In this photo taken on Jan. 7, 2019, members of the Alliance of Concerned Teachers trooped to the Philippine National Police headquarters in Camp Crame to denounce the profiling of their members.
Alliance of Concerned Teachers-Philippines/Facebook
ACT asks Comelec to dismiss petition seeking to disqualify members as poll workers
MANILA, Philippines — As the campaign period starts Tuesday, the Alliance of Concerned Teachers urged the Commission on Elections to dismiss the petition seeking to exclude its members from serving in the May midterm polls.
In a letter to Comelec, ACT called for the dismissal of the "misplaced, uninformed, if not malicious" petition filed by Tao Muna party-list.
In late January, Tao Muna Secretary General Mohammad Fajardo said ACT members should not be appointed as members of the board of election inspectors because they belong to a party-list group.
But ACT argued in the letter that the request of Tao Muna party-list was "devoid of factual and legal basis."
"Fajardo seems to have forgotten that there is no such thing as a wholesome disqualification of organizations, especially not on completely false and inaccurate grounds. Or is it just that they have no knowledge of election rules and policies?" Raymond Basilio, ACT secretary general, said.
ACT stressed that the organization composed of teachers, education workers and advocates is distinct and independent from ACT-Teachers party-list. The party-list is represented by Reps. Antonio Tinio and France Castro in the lower house.
ACT added that it has been registered with the Securities and Exchange Commission since its founding in 1982.
'Persecution' of ACT
ACT, moreover, said that the move of Tao Muna party-list is an attempt to bolster its publicity at the expense of teachers. Tao Muna party-list is eyeing to have a seat in the lower chamber.
The group said Fajardo and his party-list "unjustly discriminated legitimate teachers in the performance of poll duties and attempts to tarnish the integrity of our teachers who have long been entrusted by the people with the sanctity of their votes."
Basilio noted the instance when Fajardo was joined by senatorial aspirant Larry Gadon — a supporter of the president — in a press conference asking for the disqualification of ACT teachers as poll watchers prior to the filing of the petition.
"This appears to be part and parcel of the state's schemes to persecute ACT, along with the profiling, harassment, vilification and red-tagging of our leaders and members," he said.
Last week, the Court of Appeals junked a petition of ACT to put a halt to what it said is police "profiling" of its members.