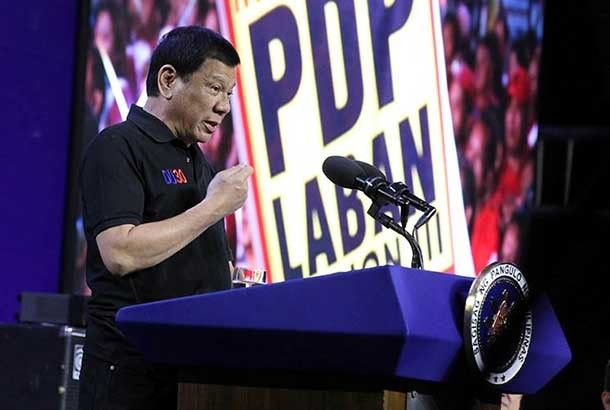 In this March 12, 2017 photo, President Rodrigo Duterte renews his promise to eradicate the illegal drug trade and end corruption in government in his speech during the 35th anniversary celebration of the Partido Demokratiko Pilipino-Lakas ng Bayan at the Philippine International Convention Center Grounds in Pasay City.
Presidential Photo/King Rodriguez, File
Palace: Duterte has 'deep bench' of senatorial bets to choose from
(Philstar.com) - February 11, 2019 - 4:36pm
MANILA, Philippines —President Rodrigo Duterte's endorsement of candidates from several political parties only means that he has a "deep bench" to choose from, presidential spokesperson Salvador Panelo said on Monday.
The president has yet to throw his support behind a full senatorial slate from a specific political party. Davao City Mayor Sarah Duterte, the president's daughter, has a slate for her regional party Hugpong ng Pagbagago. Duterte's PDP-Laban party is also fielding its own bets.
Panelo said that Duterte vouching for candidates from different slates "only means he has a deep bench of senatorial hopefuls so regardless of who among them wins, it would be okay with him."
The president's spokesman added that Duterte endorsing a candidate only means he is voicing a "personal choice," which, Panelo added, is not illegal.
Duterte has raised the arms of several hopefuls at his events.
Among the people has vouched for are his close-in aide Christopher "Bong" Go, folk singer Freddie Aguilar, former national police chief Ronald "Bato" dela Rosa and former Sen. Jinggoy Estrada.
Whiff of corruption?
The presidential spokesman said that honesty and efficiency is one of the qualities Duterte is looking for candidates.
Panelo also defended Duterte, who vowed to not tolerate even a "whiff of corruption," backing Estrada who is facing a string of graft cases over the multi-million pork barrel scam.
"Estrada is charged with corruption and the Constitution says unless you are convicted a final judgment, you are presumed to be innocent," Panelo said adding that Estrada enjoys the presumption of innocence.
Duterte has fired officials for frequent travels and other "whiffs" of corruption but the Palace did not pursue cases against them.
Panelo also stressed that the former senator was granted provisional liberty because the evidence of guilt is not strong.
"So you cannot begrudge the president for endorsing a man who is presumed to be innocent under the law," he said.
'Debt of gratitude for Imee'
Meanwhile, Duterte is endorsing Ilocos Norte Gov. Imee Marcos out of a debt of gratitude.
"According to the president, he is helping Imee because he is indebted to her, because she is only one of the two governors who helped him in the campaign," Panelo said.
In 2016, Duterte said that Marcos supported his campaign and noted that his father was a close ally of ousted dictator Ferdinand Marcos.
Imee, however, was not among the donors listed by Duterte in his Statement of Contributions and Expenditures. The younger Marcos said that she only supported Dutere with a donation of one empanada and soda.
READ: Imee Marcos denies funding Duterte campaign
The official campaign period for Congress hopefuls starts on Tuesday. — Kristine Joy Patag