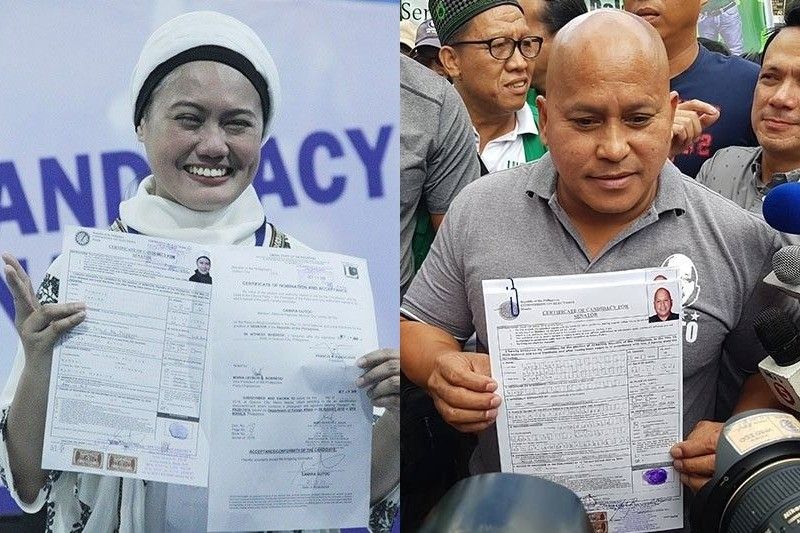 Composite photos show senatorial candidates Samira Gutoc and Ronald "Bato" Dela Rosa showing off their certificates of candidacy in October 2018.
Philstar.com/Kat Leandicho
Gutoc on Bato's support for 'tokhang': How many cops were made accountable for deaths?
MANILA, Philippines — Opposition senatorial bet and Marawi civic leader Samira Gutoc said a drug-free and death-free enforcement of laws to combat illegal drugs is possible in the Philippines as she renewed her opposition to the government's drug war.
The #OtsoDiretso senatorial candidate made the argument against her rival, retired Philippine National Police chief Ronald "Bato" Dela Rosa, who is still expressing support for Oplan Tokhang.
Gutoc, a peace advocate running under the Liberal Party, cited that a village in Cebu had 1,000 surrenderees without brutal killings.
"Hindi po kailangan ng Oplan Tokhang. It was drug-free and death-free," Gutoc said during GMA's "Senatorial Face-Off Debate" on Saturday.
'Drug addicts lesser, streets safer'
Dela Rosa, who previously led Oplan Tokhang, stood by the anti-illegal drug program and said it bore positive results and made the streets safer.
He claimed 1.3 million drug suspects surrendered while 130,000 were arrested.
"Dapat ipagpatuloy ang Oplan Tokhang dahil ito ay nag-resulta ng record numbers, (We should continue Oplan Tokhang because it resulted in record numbers,)" Dela Rosa said.
"Bumaba ang index crime volume by 49 percent at ang pinaka-importante diyan (The index crime volume went down by 49 percent and the most important is) we were able to give the streets back to the law-abiding citizens and the most vulnerable sectors of our society na mga kabataan at mga kababaihan na noon ay takot na takot na lumabas sa kanilang pamamahay dahil nagkalat ang adik at criminal sa kalsada (The index crime volume went down by 49 percent and the most important is we were able to give the streets back to the law-abiding citizens and the most vulnerable sectors of our society that included the youth and women who used to be too scared to go outside of their houses due to the drug addicts and criminals loitering on the streets)," he added.
Dela Rosa made the same claims in 2016 after Oplan Tokhang was implemented.
'No need for Tokhang to kill drugs'
The former police chief's rival Gutoc, however, questioned the number of those who were made accountable in deaths during anti-illegal drug operations.
"You don't need Tokhang to kill drugs! You only need strong enforcement," Gutoc said.
"Ang tanong ko po Sir Bato (My question is this, Sir Bato): 'accountability,' marami ka ngang napa-surrender pero ilan naman ang naging accountable sa atin? (Several surrendered but how many were accountable?) How many are made accountable sa ating (in our) police force?" she asked Dela Rosa.
In 2016, rights groups and watchdogs claimed in various estimates that around 7,000 to 9,000 were killed in the "Tokhang" and "Double Barrel" programs — both from legitimate police operations and vigilante-style or unexplained killings — of the government since President Rodrigo Duterte assumed the presidency on June 30 that year.
'Oppose anti-poor drug war'
Dela Rosa also asked his opponent Gutoc what she can do to combat illegal drugs as a woman and mother.
"Kailangan ko sabihin, tindigan, na bakit ang tonelada (at gramong droga) ay di pa rin nag-stop at ang namamatatay ay naka-short pa ring mahihirap. Kailangan po natin, as women, we must be... part of our local systems of protection. Kailangan po kami mismo ang parte, partner ng PNP, army in reporting the drug problem," the LP candidate said.
Meanwhile, Gutoc asked Dela Rosa about his reaction if one of his family members becomes collateral damage in the controversial drug war.
"Sir Bato, may asawa ka, may anak ka. Kung mamamatay anak mo sa collateral damage, ano kaya ang sentimyento mo (Sir Bato, you have a wife, a child. If your child died as collateral damage, what would be your sentiments)?" Gutoc asked.
'We will all attain justice in heaven'
Dela Rosa urged the public to trust the police force and the Philippine justice system. He also cited God's final judgment.
"Ang mga namatayan ay itong advice ko sa kanila: yung ating internal cleansing program ng PNP ay tuloy-tuloy 'yan. Maraming nahuli na pulis [na] nag-abuso, nakasuhan (To those whose loved ones died, this is my advice to them: our internal cleansing program in the PNP is continuous. Several abusive cops were arrested and charged)," Dela Rosa said.
"Pero ito, itaga mo sa bato, kung hindi mo makuha ang hustisya dito sa lupa, makukuha mo 'yan sa langit dahil tayong lahat ay mananagot sa Poong May Kapal pagdating ng araw (But mark my words, if you don't get justice on earth, you will get it in heaven because all of us will have to answer to God when the time comes)," he added.
In 2017, the PNP drew flak after alleged police abuse in the continuing crackdown said to have killed thousands of urban poor.
Duterte in October that year designated the Philippine Drug Enforcement Agency as the "sole agency" in charge of the war on drugs. However, two months later, the president brought back the PNP to the drug war operations, with PDEA as the lead agency.