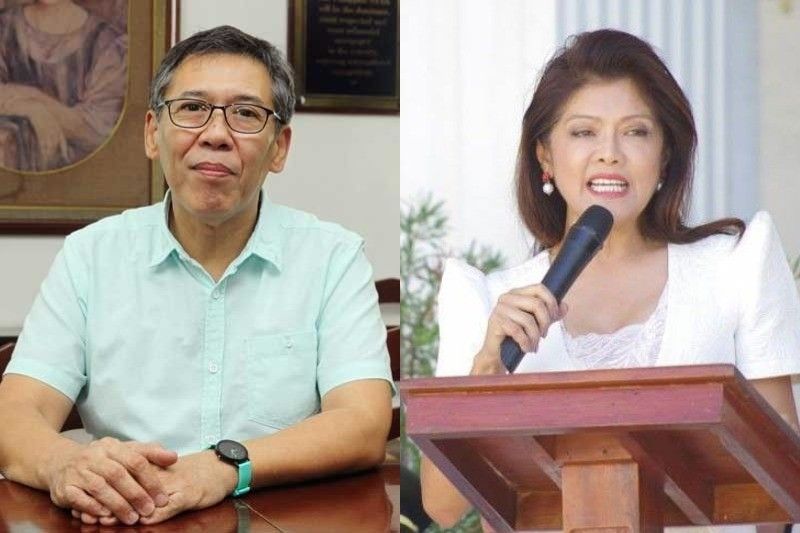 Composite photo shows aspiring senatorial candidates Chel Diokno and Imee Marcos.
Photos from The STAR/Joel Viduya and provincial government of Ilocos Norte
Chel Diokno on Imee's opposition to term limits: Hindi pa ba tayo nadala noong Martial Law?
MANILA, Philippines — Opposition senatorial candidate and human rights lawyer Jose Manuel "Chel" Diokno countered his rival Ilocos Norte Gov. Imee Marcos' stance on term limits by citing the situation during Martial Law.
On Saturday, the two aspiring senators faced off in a televised debate and were asked about their position on the removal of term limits in the draft federal constitution.
Marcos said she agrees with it, citing that it avoids political dynasties.
'No to term limits for public officials'
"Tanggalin na ang mga term limits, (Remove the term limits)," Marcos said.
"Imbis na mabawasan 'yung dinastiya e talagang naging prangkisa pa 'yung apelido, (Instead of lessening the dynasty, the surname has become a franchise)," she added.
Marcos, who is part of a political dynasty in the Ilocos Norte region, said having term limits gives families an option to pass on their posts from father to "unknowledgeable wives" and "stubborn" children.
The governor cited the October 2011 study of Pablo Querubin at Harvard Academy for International and Area Studies titled "Political Reform and Elite Persistence: Term Limits and Political Dynasties in the Philippines." She claimed this study proves that having term limits are ineffective.
Marcos said instead of just having 67 percent of elected officials with similar family names, it rose to 91 percent. She added that term limits hinder the plans of elected officials.
"Kapag nag-jackpot tayo at may matinong kandidato hindi ba walang panahon ang pagsusupil ng, halimbawa kahirapan, ay hind pabago-bago ang kundi tunay na pagbabago na nangangailangan ng deka-dekada na trabaho," she said.
'Have we forgotten our history?'
Diokno, whose father, the late Sen. Jose "Pepe" Diokno, was detained during the Martial Law period, opposed this stance of Marcos.
He did not mention the name of Imee's father, the late dictator Ferdinand Marcos, but alluded to him during his rebuttal.
"Hindi pa ba kayo nadala sa nangyari sa'tin noong Martial Law (Haven't we had enough with happened during Martial Law)?" Chel said.
"Nakalimutan na ba natin ang ating kasaysayan na mayroon tayong isang pangulo na niluklok ang sarli bilang diktador (Have we forgotten about our history that we had a president who placed himself as a dictator)?" he added.
"Dahil para nga maiwasan ang term limits at ginawa niyang kasangakapan 'yan para siya ay magkamal — ang pamilya nila ay magkamal ng kay laki-laking pera na sabi nga mismo ng ating Korte Suprema ay pera ng bayan at ill-gotten wealth," the Liberal Party senatorial bet continued.
The late dictator declared Martial Law in 1972, allowing him to rule the country for 13 years.
Diokno maintained the need for term limits.
"Dapat po meron tayong term limits. Pati mga kamag-anak ng incumbents ay dapat sakop ng term limits (We should have term limits. Even the relatives of the incumbents should be covered by term limits)," he said.
Despite their disagreement, the two senatorial hopefuls agreed that term limits pave the way for political dynasties.
"Parang naging pag-aari ng mga naka-pwesto ang kanilang mga pwesto. Pag-aari na lang ng mga politiko 'yan (It's like these officials own their government posts. It has become the property of politicians," Diokno said when asked if aspiring government officials whose names are not familiar to voters would be given an opportunity to hold office by imposing term limits.
Meanwhile, asked for an alternative measure in case term limits are removed, Marcos said she helped in researching for the new Sanggunian Kabataan format, which she claimed contains the first anti-dynasty provision.
Under the said provision, Marcos explained that those with "second degree of civil relations, consanguinity and affinity" would not be allowed to run.
Marcos also called for studies on electoral reform and the real definition of a dynasty.
In December last year, the House of Representatives approved on third and final reading its version of a federal constitution scrapping the term limits for members of the lower chamber and other local officials.
At present, senators are only allowed to have two terms while House members are allowed a three-term tenure.