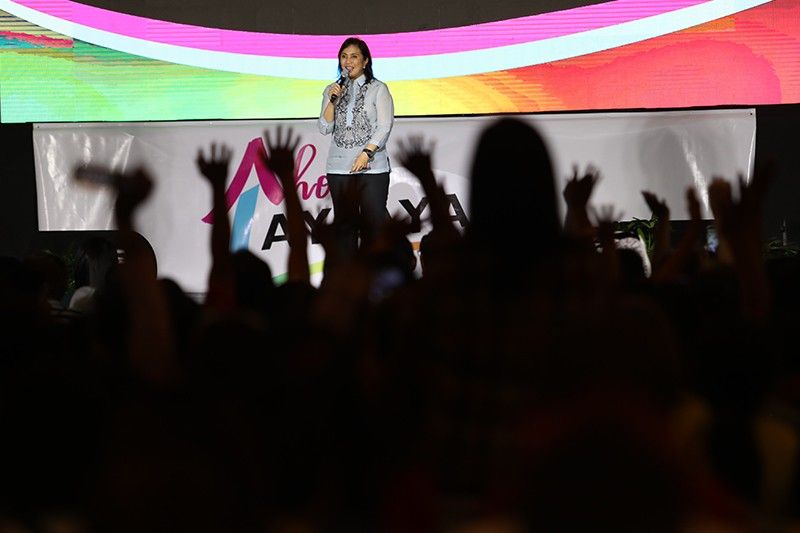 Vice President Leni Robredo asks the public to refrain from making irresponsible comments against vaccines
Office of the Vice President
Avoid irresponsible comments vs vaccines, Robredo says, amid measles outbreak
MANILA, Philippines — Vice President Leni Robredo called on the public to avoid making irresponsible comments and accusations that could endanger the health of ordinary Filipinos, especially children, amid the measles outbreak in Metro Manila and Central Luzon.
"[S]ana naiiwasan iyong mga irresponsible na mga comments saka accusation, na nakaka-erode ng tiwala ng tao sa kung ano iyong dapat nilang gawin, lalo na pagdating sa health ng mga bata," Robredo said Wednesday, speaking on the sidelines of an event of the "Otso Diretso" opposition slate at the University of the Philippines' Bahay Alumni.
"Itong vaccination na ito, parang — halimbawa, iyong measles, ano na tayo, eh, maganda na iyong numero natin at papunta na tayo doon sa eradication. Tapos dahil sa mga irresponsible na mga accusations, mga buhay ng ating mga kabataan iyong itinataya."
On Wednesday, Health Secretary Francisco Duque III confirmed that there is a measles outbreak in Metro Manila following the rise in the number of cases.

Data from the DOH showed that 169 cases have been recorded in the region, as opposed to the 26 cases reported in the same period last year.

READ: DOH declares measles outbreak in Metro Manila, Central Luzon
Central Visayas, meanwhile, recorded the highest increase in the number of measles cases with 2,550 percent. From January 1 to February 6 last year, only two cases were recorded but present cases have reached 53.
PAO to blame?
Health Secretary Francisco Duque III blamed Public Attorney's Office chief Persida Acosta's investigations that children were allegedly killed by the controversial Dengvaxia vaccine.
He said the "baseless" statements have eroded the agency's reputation and affected trust in vaccines.
A 2018 study of the London School of Hygiene and Tropical Medicine noted that the country's "highly-politicized response" to the reported risks posed by Dengvaxia has eroded overall public trust in immunization.
The research, which involved 1,500 participants, found that the respondents who expressed confidence in vaccines declined to 32 percent last year from 93 percent in 2015.
READ: How the Dengvaxia scare helped erode decades of public trust in vaccines
'Stop finger-pointing'
Asked who should be blamed for the outbreak, Robredo declined to name anyone in particular, saying she doesn't want it to become a "word war."
"For me, let's stop the finger-pointing and move forward to find a solution. Many were the cause of this [outbreak]," she said.
"This isn't the time to play the blame game," Robredo said. She encouraged the public to allow the authorities to investigate who was the cause of the erosion of trust in vaccines.
Robredo: Let's help each other
President Rodrigo Duterte himself urged the public last week to get vaccinated amid fears of an outbreak.
"Do not be lulled and be complacent about it because a baby really needs it. If you do not want Dengvaxia, that's OK," he said.

On Acosta's part, she believes she's not to blame for the measles outbreak.
Acosta said in Filipino in an interview with GMA's Unang Balita November last year that "she wasn't against tried-and-tested vaccines that aren't 'experimental' like Dengvaxia."
READ: Acosta urges public to get vaccinated amid measles outbreak

On Robredo's end, she admitted that what her office could do was "limited."
"On our part, helping educate people to not believe things damaging to vaccines that aren't true," she said, talking about how her office would help spread correct information in areas where the office's Angat Buhay program is present.
"We should help each other recover from the bad things caused by these irresponsible comments."