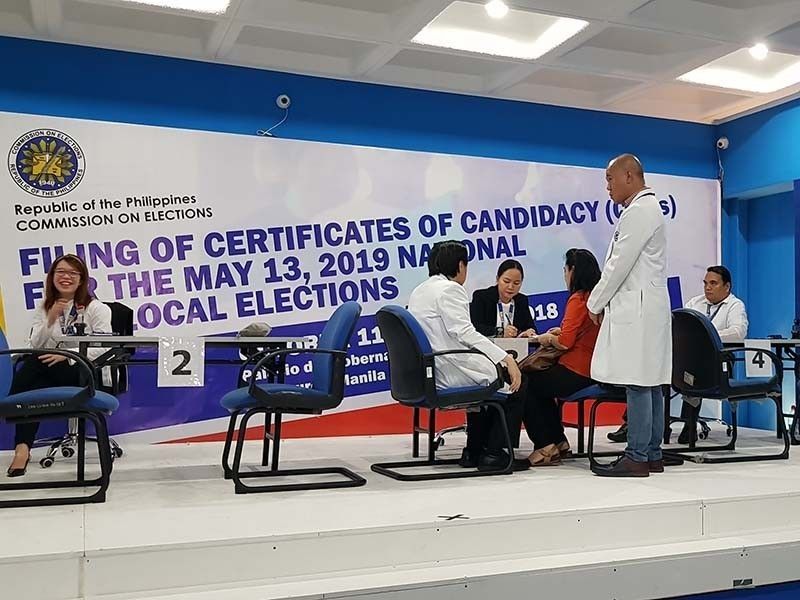 In this October 2018 file photo, an aspiring senatorial bet files his certificate of candidacy.
Philstar.com/File
List: Certified senatorial candidates for 2019 elections
MANILA, Philippines — The Commission on Elections last week released the certified list of candidates for senators in the upcoming May elections.
The poll body said there are 62 official senatorial candidates for the elections on May 13, 2019.
It initially certified 63 candidates. However, former Malacañang spokesperson Harry Roque withdrew his senatorial bid last February 1 citing his health condition.
The certified list was signed by administering officer Maria Norina Tangaro-Casingal.
Comelec spokesman James Jimenez said senatorial candidates could still drop out from the race as the campaign period for the national positions officially starts on February 12.
Here is the certified list of senatorial candidates for the May 2019 polls:
ABEJO, VANGIE (IND) Independent

AFUANG, ABNER (WPP) Workers and Peasants Party

AGUILAR, FREDDIE (IND)

ALBANI, SHARIFF (WPP)

ALEJANO, GARY (LP)

ALFAJORA, RICHARD (IND)

ALUNAN, RAFFY (BGMBYN) Bagumbayan Volunteers or a new Philippines

ANGARA, EDGARDO SONNY (LDP) Laban ng Demokratikong Pilipino

AQUINO, BENIGNO BAM (LP)

ARCEGA, GERALD (WPP)

ARELLANO, ERNESTO (IND)

ARIAS, MARCELINO (WPP)

AUSTRIA, BERNARD (PDSP) Partido Demokratiko Sosyalista ng Pilipinas

BALDEVARONA, BALDE (FFP) Filipino Family Party

BINAY, NANCY (UNA) United Nationalist Alliance

BONG REVILLA, RAMON JR. (LAKAS) Lakas Christian Muslim Democrats

CACERES, JESUS (IND)

CASIÑO, TOTI (KDP) Katipunan ng Demokratikong Pilipino

CAYETANO, PIA (NP) Nacionalista Party

CHAVEZ, MELCHOR (WPP)

CHONG, GLENN (KDP)

COLMENARES, NERI (MKBYN) Makabayang Koalisyon ng Mamamayan

DE GUZMAN, KA LEODY (PLM) Partido Lakas ng Masa

DELA ROSA, BATO (PDPLBN) Partido Demokratiko Pilipino Lakas ng Bayan

DIOKNO, CHEL (LP)

EJERCITO, ESTRADA JV (NPC) Nationalist People's Coalition

ENRILE, JUAN PONCE (PMP) Pwersa ng Masang Pilipino

ESCUDERO, AGNES (IND)

ESTRADA, JINGGOY (PMP)

FRANCISCO, ELMER (PFFP) Partido Federal ng Pilipinas

GADDI, CHARLIE (IND)

GADON, LARRY (KBL) Kilusang Bagong Lipunan

GENEROSO, GEN PEDERALISMO (IND)

GO, BONG GO (PDPLBN)

GUIGAYUMA, JUNBERT (WPP)

GUTOC, SAMIRA (LP)

HILBAY, PILO (AKSYON) Aksyon Demokratiko

JANGAO, BFG ABRAHAM (IND)

JAVELLANA, RJ (KDP)

LAPID, LITO (NPC)

MACALINTAL, MACAROMY (IND)

MALLILLIN, EMILY (IND)

MANGONDATO, FAISAL (IND)

MANGUDADATU, DONG (PDPLBN)

MANICAD, JIGGY (IND)

MARCOS, IMEE (NP)

MATULA, JOSE SONNY (WPP)

MENIANO, LUTHER (WPP)

MONTAÑO, ALLAN (IND)

NALLIW, JOAN SHEELAH (IND)

ONG, DOC WILLIE (LAKAS)

OSMEÑA, SERGE (IND)

PADILLA, DADO (PFP)

PIMENTEL, KOKO (PDPLBN)

POE, GRACE (IND)

ROLEDA, DAN KAIBIGAN (UNA)

ROXAS, MAR (LP)

SAHIDULLA, LADY ANN (KDP)

TAÑADA, LORENZO ERIN TAPAT (LP)

TOLENTINO, FRANCIS (PDPLBN)

VALDES, BUTCH (KDP)

VILLAR, CYNTHIA (NP)